Samsung Galaxy S5 Lollipop Update Picking Up Steam
The Samsung Galaxy S5 Android 5.0 Lollipop update continues to pick up steam and it appears that Samsung is poised to make a large Galaxy S5 Lollipop update push in the near future.
Earlier this month, Samsung began rolling out its first Android 5.0 Lollipop update. The honor went to the Galaxy S5, the company's current Galaxy S flagship, and a device that the company has pitted against the likes of the LG G3, iPhone 6 and iPhone 6 Plus. In true Samsung fashion, the company limited the release to a few different regions, with a bigger push scheduled for the future.
The Galaxy S5 Lollipop update roll out started in Poland, a region where the country likes to test out its brand new updates before pushing them to a wider swath of devices in different regions. Soon after that roll out began, Samsung pushed out the Galaxy S5 Android 5.0 Lollipop update in Korea to three different carriers.
In the days since then, Samsung's confirmed a number of other Android 5.0 Lollipop updates including an update for the Galaxy S5 LTE-A, and now we're starting to see the Galaxy S5 Lollipop update itself pick up a ton of speed as we head deeper into December and towards the new year.
Today, Samsung's rolled out a new Galaxy S5 Android 5.0 Lollipop update in Poland. The update does not appear to be Google's Android 5.0.1 Lollipop update but is instead a newer build of the Android 5.0 Lollipop update that the company rolled out several days ago. The update, according to SamMobile, comes with a build date of December 11th and it's this update that could spark a wider roll out across Europe and perhaps, other regions as well.
Samsung always starts its roll outs off slow before making a wider push in the weeks after. And now that the company has pushed out a more stable Android 5.0 Lollipop build to Galaxy S5 users in Poland, it should only be a matter of time before the company starts spreading the Galaxy S5 Lollipop update to other users around the world.
The company rarely confirms release details ahead of time which means that there's a good chance that the roll outs will be unpredictable and perhaps, random. Often, we see the company focus in on key regions like the United States and the United Kingdom but without official information, it's impossible to say where the update will head to next.
One place the Galaxy S5 Android 5.0 Lollipop update is heading is to the Galaxy S5 LTE-A. Samsung recently confirmed the update for arrival in early 2015 and thanks to SamMobile, we now have a look at what the update will look like when it arrives next year.
As expected, the update looks a whole lot like the Galaxy S5 Android 5.0 update that pushed out earlier this year. The update, which will be exclusive to the South Korean market, is a test build but it appears that the software is running very smoothly on Samsung's limited edition release. The company hasn't outlined an official release date for the software though we expect it to fall behind some of the key Lollipop updates for other popular Galaxy S5 models.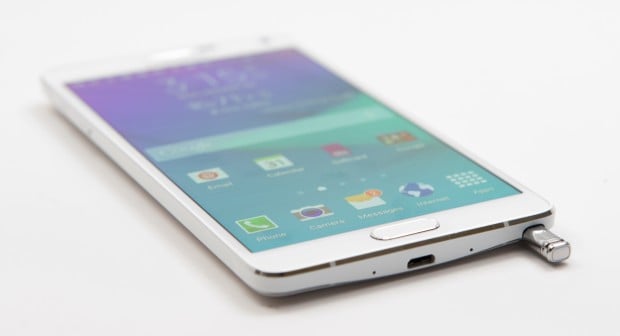 Samsung's Android 5.0 Lollipop release won't be limited to the Galaxy S5. The company is also set to deliver Android 5.0 updates to the Galaxy Note 4, Galaxy Note 3, and the Galaxy S4. All of those updates are confirmed and all of them should roll out in the early part of next year as Samsung upgrades them to do battle with top devices from Motorola, Sony, HTC, LG, and Apple.
Specific release dates for those updates remain unknown and they, like the Galaxy S5 Lollipop update, will almost certainly be rolled out slowly based on region and based on model number.

This article may contain affiliate links. Click here for more details.