Samsung Galaxy S5 Rumor Reveals How It Might Look
New Samsung Galaxy S5 rumors suggest that the device will come in three different sizes, mirroring the iPhone 5s, with two different color options that could take after last year's Samsung Galaxy S4.
Samsung Galaxy S5 rumors continue to emerge ahead of launch, a launch that is supposedly going to take place on February 24th at the company's Unpacked 5 Episode 1 event at Mobile World Congress 2014. Earlier today, alleged Galaxy S5 benchmarks shed some light on potential plans for Samsung's Galaxy S5 and now, a source from Weibo, a Chinese microblogging site, has apparently leaked some new details and at least one detail conflicting with earlier Galaxy S5 rumors.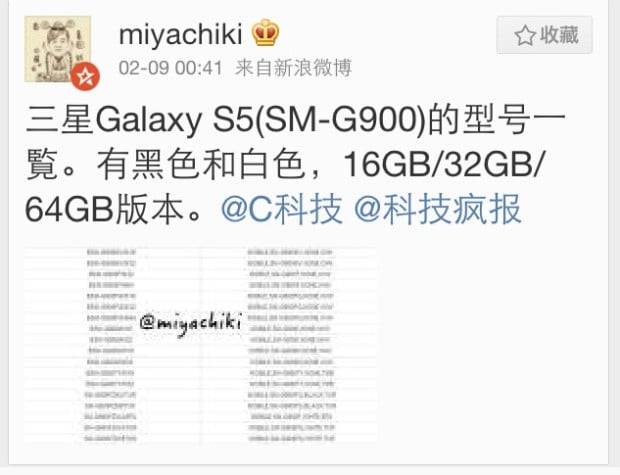 Weibo user Miyachiki, by way of SamMobile, has posted supposed Galaxy S5 information that seems to point to at least six different Galaxy S5 models. According to the leak, Samsung is planning three different storage options for the Galaxy S5 including 16GB, 32GB and 64GB models. This does not line up with an earlier rumor that suggested that Samsung would cut the 16GB model in favor of 32GB and 64GB models.
It also fails to line up with a research note from Korean firm KDB Daewoo Securities which claims that the Samsung Galaxy S5 will come in 32GB, 64GB, and 128GB form only.
It's entirely possible that different Galaxy S5 variants could come with their own storage options, thus the confusion. He claims that this storage setup will be for the SM-G900, a known model number for the Galaxy S5.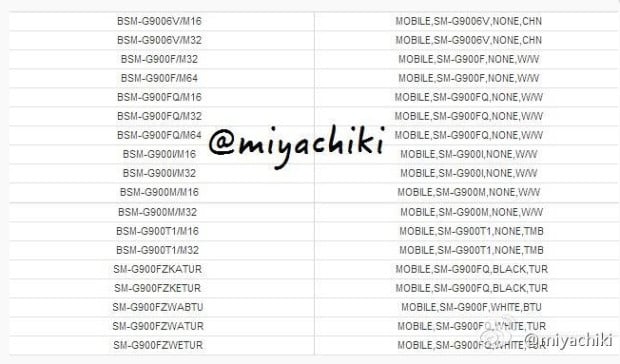 Furthermore, Miyachiki claims that the device will come in two different colors, black and white, same as the Samsung Galaxy S4. This is the first time that we're hearing about potential colors of the Galaxy S5. Samsung shifted from blue and white to black and white with the Galaxy S4, likely because of the production issues it encountered with the Pebble Blue Galaxy S3.
Samsung is also known to branch off with different colors as well though this evidence does not support the existence of a gold Galaxy S5 or a pink Galaxy S5. Samsung introduced a pink Galaxy Note 3 on stage next to its black and white models.
This new rumor injects some more mystery into the Galaxy S5 situation, a situation that continues the evolve as we get closer to the Samsung Galaxy S5 launch date.
While rumors center on a February 24th launch at Samsung's Unpacked 5 event, other Galaxy S5 rumors are far less firm. Earlier today, benchmark leaks breathed new life back into a possible QHD display on board a premium Galaxy S5 model. The benchmarks also seem to back whispers that suggested that Samsung would be looking to debut not one, but two Galaxy S5 models.
Other rumors point to a 16MP camera, Android 4.4.2 KitKat, and at the very least, Exynos 5 and Snapdragon 800 processors. Design rumors have pointed to both metal and plastic designs though that remains unconfirmed. Samsung typically keeps its flagship designs under lock and key until much closer to the actual launch event which means that we may not see the Galaxy S5 itself until it debuts on stage.
Samsung Galaxy S5 release date rumors point to April though that too will likely be confirmed on stage and not in advance.

This article may contain affiliate links. Click here for more details.