Samsung Galaxy S5 Price May Undercut iPhone 5s
New Samsung Galaxy S5 details have poured out of a new report just a week ahead of the supposed Galaxy S5 launch date on February 24th in Barcelona, Spain.
Samsung Galaxy S5 rumors have been flying around in recent weeks, pegging Samsung's next-generation Galaxy S for arrival alongside a host of new specifications and features. And while we've seen a number of Galaxy S5 rumors emerge in recent weeks, there are still some mysteries that remain ahead of launch.
A new report from Bloomberg attempts to clear up some of those mysteries and details several Galaxy S5 features in addition to some potential Galaxy S5 price information for potential buyers.
According to their sources, the Samsung Galaxy S5 will come with a 5.2-inch display that is sharper than the display found on the Galaxy S4. The report does not specifically mention a QHD display, something that has been rumored numerous times, and would indeed make for a much sharper screen thanks to better resolution and a higher pixel-per-inch count. A recent report from The New York Times suggested that the Galaxy S5 would come with a full HD display instead.
The report also suggests that the device will come with an upgraded camera and battery, something that Galaxy S5 rumors have alluded to. Leaks point to a 16MP camera in the rear and a battery that could be much bigger, and stronger, than the battery found inside of last year's Samsung Galaxy S4.
Unsurprisingly, it also claims that the company will debut the device at its Unpacked 5 Episode 1 event in Barcelona, Spain and that it will be released alongside a new Galaxy Gear. Both the date and the Galaxy Gear smartwatch have been all but confirmed thanks to a slew of leaks in recent days.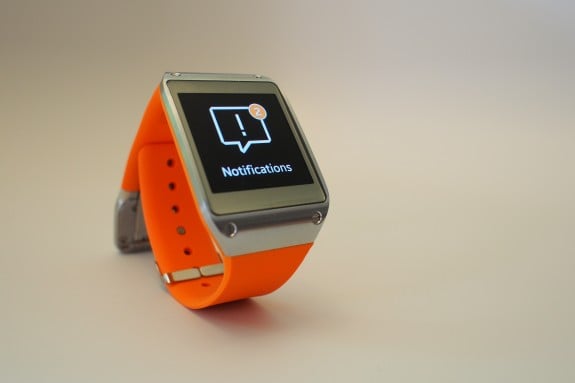 The report also attempts to fill in one of the biggest Galaxy S5 blanks. The Samsung Galaxy S5 price remains a mystery at this point though Bloomberg suggests that Samsung is, at the very least, considering dropping the price at the behest of one wireless carrier.
Samsung is adding features to the latest version of its most-popular device as it tries to counter slowing demand for premium smartphones, new models from Apple Inc. (AAPL) and a plethora of Chinese competitors selling devices for as little as $100. The world's biggest smartphone maker is releasing its new phone, which may be called the S5, after sales of the predecessor S4 unveiled last year fell short of analyst estimates.
Samsung's Galaxy S4 and Galaxy S3 both matched the iPhone with their $199.99 starting price tags. It's not clear how much of a price drop the Galaxy S5 would see, if there is a price drop at all.
Last year, AT&T announced the Galaxy S4 for $250 on-contract but quickly dropped the price to $199.99 before its release date. AT&T and Verizon both sold a 32GB version of the Galaxy S4 for $250 on-contract.
It appears that these details and more will be revealed in the near future. The Samsung Galaxy S5 launch date is all but confirmed for next week and Samsung typically reveals all of the key details at its launch events. That includes hardware, software and a release date.
Samsung Galaxy S5 release date rumors put the device into the second quarter and Gotta Be Mobile has learned that the device's release could come in late April, at least in the United States. Historically, Samsung has released its Galaxy S about a month after the announcement date so April lines up perfectly, at least at this point.

This article may contain affiliate links. Click here for more details.