Samsung Galaxy S5 Rumor Progress Report
With a Samsung Galaxy S5 announcement in sight, it's time to take another look at everything we know about Samsung's rumored Galaxy S as we rundown and dissect all of the latest Galaxy S5 rumors and offer our opinion on which features and dates are most likely to pan out for prospective buyers.
The first Samsung Galaxy S5 rumor emerged just a few short weeks after last year's Galaxy S4 arrived on shelves. That Galaxy S5 rumor may have been the first to arrive on the scene but it certainly was not the last as Galaxy S5 rumors have been pouring out over the past few months, piecing together Samsung's Next Big Thing.
We've seen huge Samsung Galaxy S5 leaks hint at a number of different features and we've seen tiny Galaxy S5 rumors point to some of the smaller supposed specifications. Nothing is sacred.
Problem is, the Samsung Galaxy S5 is still a mysterious device, despite all of the rumors. For instance, the Galaxy S5's display is still a big question mark. As are its processor, camera, software, design, release date, and price, just to name a few. The Galaxy S5 is the most rumored smartphone on the planet and it's still a big mystery.
With so many rumors, and so many unknowns, we want to take another look at the Samsung Galaxy S5's current situation and examine all of the rumors that have emerged in recent days. We also want to take a look at which rumors we feel like are the most credible and which rumored Galaxy S5 features probably won't make the final cut.
Here is how the Samsung Galaxy S5 looks, just a week out from its rumored launch date at Mobile World Congress 2014 in Barcelona, Spain.
Samsung Galaxy S5 Launch Date
Samsung recently sent out invitations for an Unpacked 5 Episode 1 launch event, set to take place on February 24th in Barcelona, Spain. February 24th just so happens to be the first day of Mobile World Congress, a massive trade show that typically attracts some of the biggest players in mobile including HTC, Sony and more.
In years past, Samsung avoided announcing the Galaxy S at a trade show but from the looks of things, the company's most popular smartphone will return to the big stage.
Samsung still hasn't said what it will be announcing on February 24th but it's looking like it will indeed be the Samsung Galaxy S5, accompanied by a new Samsung Galaxy Gear accessory. Here's why February 24th is looking like it will house a Galaxy S5 launch.
The New York Times claims that the Galaxy S5 will launch alongside the Galaxy Gear 2 on February 24th.
Samsung always uses Unpacked Episodes for big name Galaxy devices, not smaller mid-range devices.
The number "5″ is everywhere and the reliable @evleaks recently confirmed the Galaxy S5′s name. Samsung used the number "4″ everywhere it could with its Galaxy S4 launch.
Samsung is hosting a media event in New York City that Gotta Be Mobile will be attending and we doubt the company would throw its resources behind a launch for something other than a flagship.
Galaxy S5 rumors have pointed to a late February launch.
Again, nothing is set in stone but it's looking like the Galaxy S5 will indeed launch next week. Anything else would be a complete and utter surprise, especially for the media that will traveling to cover the event.
Samsung Galaxy S5 Release Date
One of the biggest unknowns is the Samsung Galaxy S5 release date. Historically, Galaxy S release date rumors have been vague ahead of launch, probably because Samsung and its carrier partners have been undecided on dates. Fitting devices like the Galaxy S5 into a pipeline can be an extremely tricky process.
We're seeing the same from the Galaxy S5 release date. We've heard vague details but nothing specific. Eldar Murtazin claimed, several weeks ago, that the Galaxy S5 release would come around the end of April, around May 1st. That's the same target that Samsung used for the Galaxy S4 release last year.
As we've pointed out, Gotta Be Mobile has reason to believe that the Galaxy S5 release date will land in late April. We haven't been able to narrow down a specific date, likely because it's still a moving target. April 25th might be a relevant date for the Galaxy S5 release in the United States but again, that's just a rumor at this point because we can't confirm it.
What we do know is that there is a pattern that Samsung tends to use with its big releases. Samsung tends to release its devices about a month after their launch which means that March and April seem like the most likely candidates for a Galaxy S5 release date. Anything longer than that could prove detrimental to the device as consumers grow antsy and find themselves looking at other devices. The HTC M8, the HTC One's successor, is supposedly coming in March.
Design
The Samsung Galaxy S5 design remains in flux thanks to rumors that simply cannot agree with one another. Early Galaxy S5 rumors pointed to two models, a premium model and a budget model. SamMobile believes that the premium model will be made out of metal while the budget model will be plastic. This was backed up by a research note from KDB Daewoo Securities, a brokerage firm in Korea.
Respected KGI Securities analyst Ming-Chi Kuo, the man who accurate leaked many of the iPhone 5s features ahead of time, believes both models will be made out of plastic. His information is based on details received from the supply chain in Asia.
The Galaxy S5's final design material remains out of reach not only because of the conflicting rumors but because Samsung has kept its device under wraps ahead of the launch. Samsung is known for guarding its flagship designs and it appears that the Galaxy S5's design is getting the same treatment. We still haven't seen any alleged official Galaxy S5 designs emerge. The build material isn't the only big question mark either.
Earlier this month, well-respected leakster Sonny Dickson leaked out what appears to be a 3D schematic for a smartphone that he says could be the Galaxy S5. The device uses a Galaxy S looking design with dimensions that measure 141.7 x 72.5 x 8.2 mm. The schematics also show the inclusion of a home button.
The Korea Herald recently reported that the Galaxy S5 would come without a physical home button and would instead employ on-screen buttons. The publication also claims that the device will use a bezel-free design, something that isn't show in these schematics.
This information contradicts new information from SamMobile who claims that the device will indeed have a home button and that the device's fingerprint reader will be embedded inside of it, just like it is on the iPhone 5s. Earlier rumors pointed to a fingerprint sensor residing underneath the display.
In early January, a Samsung executive told Bloomberg that the company is focused on the cover of the Galaxy S5, alluding to differences between it and the Galaxy S4′s plastic design. The company did not go into detail but it does confirm changes. Rumors, unfortunately, haven't been able to pinpoint those changes exactly.
Display
They also haven't been able to confirm the exact display, or displays, on board the Samsung Galaxy S5. Rumors across the board, including another benchmark leak that emerged today, all point to a display that is in and around 5.2-inches in size. This seems likely at this point given how many reports have put the display at that size.
What's not clear though is what type of display will be found on the Galaxy S5. Rumors have gone back and forth about the Galaxy S5 display with some suggesting that it will use a QHD display with 1440 x 2560 pixel resolution. This has been backed up by the report from SamMobile, Ming-Chi Kuo and several benchmark leaks though it's still flimsy thanks to several other bits of information.
The New York Times claims that QHD is out and full HD displays are in. The Galaxy S4 uses a full HD display which would mean a similar display on the Galaxy S5. Benchmarks and User Agent Profile strings discovered on U.S. carrier websites all point to at least one Galaxy S5 model with a 1080p display.
Remember, there are two Galaxy S5 models rumored for launch and so it could be that the premium model does sport a QHD display while the "budget" option comes with 1080p support. Samsung confirmed that it was looking at unleashing displays with more than 500 pixels-per-inch this year so it's entirely possible that QHD will make it onto the Galaxy S5. Rumors just haven't been able to confirm.
Specs
Of course, there are a number of other specifications that power Samsung's smartphones. And like the display and design, we've heard quite a bit about the other features on board the Galaxy S5.
Camera
Just about every single Galaxy S5 rumor has pointed to a 16MP camera sensor, a change from the 13MP camera sensor found in the Galaxy S4. Kuo believes that the 16MP camera sensor will be available in both the premium and budget options but that prediction still hasn't been confirmed.
In fact, the 16MP camera sensor is now in flux thanks to those User Agent Profiles. The UA Prof for a device believed to be Sprint's Galaxy S5 was shown touting a 13MP camera, same as the Galaxy S4. This was extremely strange to see given that all Galaxy S5 rumors have pointed to a 16MP sensor.
UA Profile strings are generally pretty accurate so it's possible that we could see one model, or both, arrive with a camera sensor that isn't 16MP. It's just not clear at this point.
Processor
The Galaxy S5 processor is currently up in the air, just like most of the other Galaxy S5 features. SamMobile believes that the device will use a Snapdragon 805 processor from Qualcomm and or a Exynos 6 processor from Samsung. Kuo believes that the device will use an older Snapdragon 800 or a Exynos 5.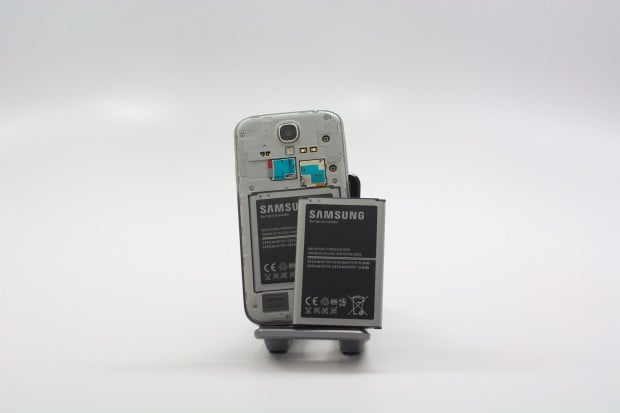 At the moment, things are leaning in Kuo's favor. Benchmarks have shown at least alleged Galaxy S5 model using a Snapdragon 800 rather than a Snapdragon 805. Perhaps, it's the budget model, perhaps Samsung is simply testing the device with a lesser processor. It's not clear.
Whatever the case is, it's looking like the device will offer an upgrade over the processor found in the Galaxy S5. That device used the Snapdragon 600 processor and in some regions, an Exynos 5 Octa.
Storage
Storage space is a key component of any smartphone. It was especially important with the Galaxy S4 because of the limitations of the microSD card and because Samsung took up a huge percentage of the storage space right off the bat, thanks to the extensive nature of TouchWiz.
Surprise, Galaxy S5 storage rumors haven't aligned either. KDB Daewoo Securities thinks Samsung will release three models: 32GB, 64GB and 128GB Galaxy S5 variants. Russian blogger Eldar Murtazin thinks Samsung will release two models, 32GB and 64GB. A source from Weibo, a Chinese microblogging site, claims that the Galaxy S5 will come in 16GB, 32GB and 64GB form.
And most recently, we saw the Sprint UA Profile point to a device with 16GB of storage with a microSD card slot for expanded storage space.
Battery
Battery life is also a key component of any smartphone and there is a good chance that Samsung will release a Galaxy S5 with a strong battery. Problem is, we're still not sure how strong it might be.
Kuo believes the Galaxy S5 will have an 2,850 mAh battery, PhoneArena believes the device will have a fast-charging 2,900 lithium ion battery that is capable of holding 20% more charge than other batteries its size and KDB's research note points to a much larger 3,200 mAh battery.
In other words, we'll probably have to wait until the device appears on stage or clears the FCC to see the exact size.
Software
According to SamMobile, the Galaxy S5 fingerprint sensor will tie into the device's software and allow users to utilize up to eight fingerprints for use with shortcuts and software features. From the looks of things, this isn't the only new software feature that will be on board the Galaxy S5.
Android 4.4 KitKat is rumored across the board, so that seems likely, but it also looks like Samsung will deliver some big changes to TouchWiz, the UI it puts over Android.
Leaks show a flatter overall design that could borrow from the card layout popularized in Google Now. The image below shows a possible Galaxy S5 Touchwiz screen shared by @evleaks.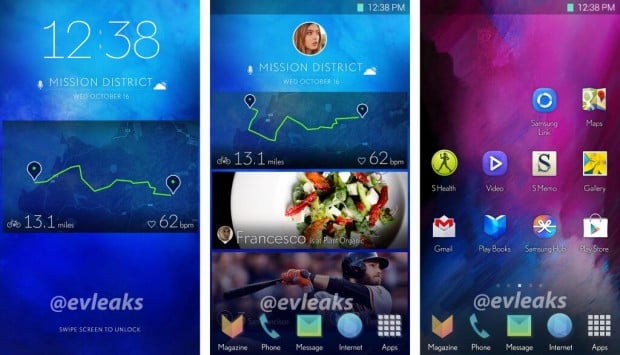 It also appears that Samsung will update at least some of its core apps to deliver a flatter, modern look. SamMobile shared several screenshots that appear to show a new version of S Voice and other apps that could debut on the Galaxy S5. S Voice is competitor to Apple's personal assistant, Siri.
These rumors seem solid but before getting too excited, we have to recall the report from Recode that suggested that Google is unhappy with the design changes that Samsung made to its user interface and wants the company to shift back to a more vanilla look for its Android software. So it's possible that Samsung may tweak the look and feel of the Galaxy S5's software before the final release. It may also trim official features.
Carriers
The Galaxy S5 is rumored for AT&T, Sprint, T-Mobile, U.S. Cellular, and Verizon in the United States and at the moment, there is no reason to doubt those rumors.
Samsung Galaxy S5 Price
The Samsung Galaxy S5 price is still a complete unknown. Typically, this is one of the last features to leak out ahead of launch, if it even leaks out at all. The price of the Galaxy S5 could stay hidden all the way up to its launch event. Last year's Galaxy S4 pricing wasn't confirmed until a few days after the launch event as carriers worked out their price points.
Galaxy S5 Rumor Breakdown
So that's the rundown of all of the latest Galaxy S5 rumors and here, we want to offer up our opinion on the features that we think will be coming with the Galaxy S5, probably won't be coming with the Galaxy S5 and the features that are simply too close to call either way. Here is how that all breaks down.
Likely
5.2-inch Display
16MP Camera
Tons of Carriers
New TouchWiz Software
Fingerprint Reader
Android 4.4 KitKat
February 24th Launch Date
Release in March or April
Qualcomm/Samsung Processor Combo
Design Changes
Possible
QHD Display
Unique Battery
13MP Camera
Metal Design
Unlikely
128GB of Storage
Bezel-free Display
Launch that isn't on February 24th

This article may contain affiliate links. Click here for more details.