Samsung Galaxy S5 Rumor Roundup (2013 Edition)
The Samsung Galaxy S5 rumor mill has unsurprisingly started to churn out rumor after rumor as we head into the new year. And with rumors emerging on a near daily basis, it can be hard to keep track of them all. Here, we offer up the latest, and most credible Galaxy S5 rumors that have emerged over the course of 2013.
Over the course of any given year, we see a number of smartphones rumored ahead of their official launch. However, only a few rumored devices are able to ignite intense anticipation among consumers, anticipation that lasts from the first rumor all way until the device is announced on stage and confirmed for arrival.
One of those devices is Apple's iPhone, the iconic smartphone that continues to dominate the smartphone market. Already, we've seen iPhone 6 rumors put consumers into a frenzy, months ahead of its launch. Another one of those devices is Samsung's Galaxy S smartphone, an iPhone rival, and one that typically stokes the flames earlier in the year.
This year, it's the Samsung Galaxy S5 rumored to be arriving at some point in the future to replace this year's Samsung Galaxy S4. And while Galaxy S4 rumors were few and far between in late 2012, the Galaxy S5 rumor mill is hard at work, pushing out new information almost every day of the week.
Those who are interested in the Galaxy S5 are likely keeping tabs on the rumors, wondering what the Galaxy S5 might have in store for consumers when it eventually arrives to reign as Samsung's iPhone killer. Tracking them all down is a difficult task given their numbers so it's time to roundup all the recent, credible Galaxy S5 rumors, rumors that have helped set expectations for next year's Galaxy S smartphone.
Galaxy S5 Launch Date & Release Date
In October, Korean news publication Naver reported that the Samsung Galaxy S5 could launch as early as January with a release date coming as early as February. Since then, we've only seen a couple of possibilities thrown around.
Korean publication ETNews has claimed that Samsung could be looking to release the Galaxy S5 within Q1, possibly before the end of March. If true, an announcement in January or February would be likely. That rumor, however, has been disputed by known insider Eldur Murtazin who says that the Galaxy S5 will arrive in April. That seems to point to a March launch date like the Galaxy S4.
Galaxy s5 launch date – late april. Not 1q.

— Eldar Murtazin (@eldarmurtazin) December 4, 2013
More recently, a report from ZDNet Asia claimed that Samsung will be announcing its first QHD smartphone at Mobile World Congress. We've seen a benchmark for a possible Galaxy S5 variant show off this type of 2560 x 1440 resolution and thus, there is speculation that MWC 2013 in late February could serve as the Galaxy S5 launch date.
Historically, Samsung has released its Galaxy S smartphone about a month after launch.
Galaxy S5 Design
All the way back in June, Android Geeks, a site that correctly reported the Galaxy Note 3 launch date months in advance, reported that the Galaxy S5 would come with a metal design. The report was vague but suggested that the Galaxy S5 would be the first device to feature Samsung's new design. Over the past few weeks, we've seen several publications back that Samsung Galaxy S5 rumor.
In late November, ETNews reported that Samsung would begin Galaxy S5 production in January ahead of a release in March or April. That same rumor suggested that Samsung would be deploying not one, but two Samsung Galaxy S5 models. One, a plastic model with lesser specifications. The other, a premium Galaxy S5 with a metal design.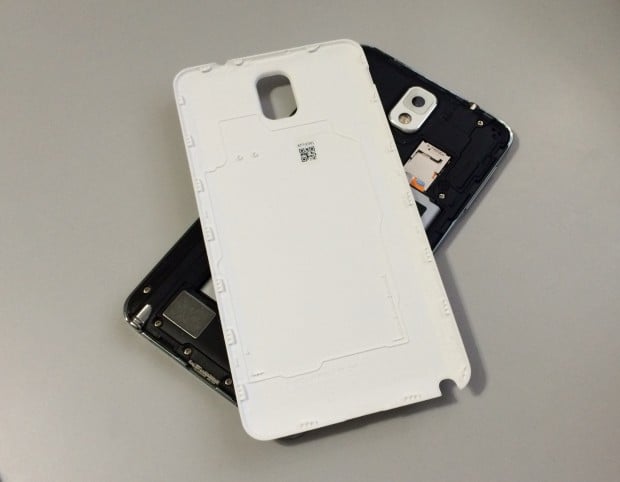 A few days later, a report from EMSOne backed claims of a metal design, suggesting that Catcher, a Taiwanese company, would start shipping metal casings to Samsung in December ahead of the device's launch.
Those rumors were contradicted by another report from Digitimes, a site known for its connections to the supply chain, which suggested that the Galaxy S5 would not come with a metal design due to the lack of production. The publication suggests that that information comes from Taiwanese-based manufacturers.
The report also claimed that Samsung is "currently still evaluating the adoption of metal chassis" and that future Samsung phones could adopt designs "featuring compound materials such as fiberglass/plastic or carbon fiber/plastic for its smartphones instead of a single materials to help save costs."
An early rumor suggested that the Galaxy S5 could feature a faux leather plastic design like the Galaxy S5 though rumors about the plastic Galaxy S5 has remained dormant since then.
Samsung smartphone designs are typically the last domino to fall and have historically been kept a secret right up until the event.
Galaxy S5 Display
Samsung Galaxy S5 display rumors have centered on its two most visible components, size and resolution. A report from ETNews vaguely mentioned that the  display would be 5-inches in size, same size as the Galaxy S4 display. No other display sizes have popped up this year leaving the 5-inch Galaxy S5 display rumor as the only rumor.
A report from OLED.at showed off Samsung's plans for 2014 which include displays that offer 2560 x 1440 and 56o pixels-per-inch. This type of resolution would offer extremely crisp looking content.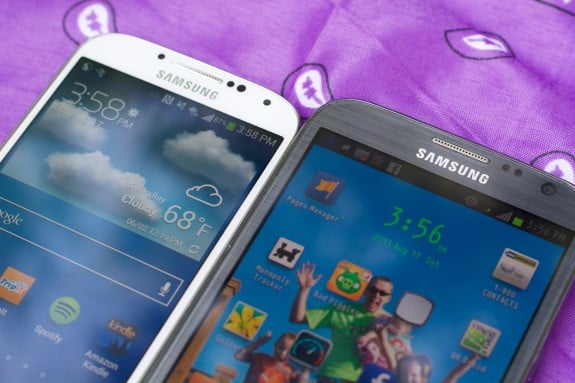 Recently, a ZDNet Asia report claimed that the first of these displays would debut at Mobile World Congress in late February. These rumors, and a GFXBench benchmark for a device dubbed SM-G900S, have led many to believe that it will be the Galaxy S5 that ushers in a new era of display technology on Galaxy smartphones.
Another benchmark, for a SM-900F, shows a 1080p display. Some believe that this is the cheaper version of the Galaxy S5 while the SM-G900S could be the premium model.
This week, a report from the Korea Herald suggested that the Galaxy S5 would not come with a flexible display like the display found on the Galaxy Round. The report cited analysts who believe that Samsung's yield will be too low to accommodate demand for a device as big as the Samsung Galaxy S5.
Galaxy S5 Camera, Processor & Other Specs
Other Galaxy S5 rumors have suggested that the Galaxy S5 will come equipped with a number of powerful upgrades. Galaxy S5 rumors, virtually along, have suggested that the device will come with a new 16MP camera with Auto Focus. The benchmark for the SM-900F, showed a 16MP camera on board.
The Galaxy S5 processor, according to the Korea Herald, will be a 64-bit processor just like the A7 processor found in Apple's brand new smartphone, the iPhone 5s. Benchmarks and rumors also have suggested that the processor will be a regular old Snapdragon 800 chip from Qualcomm. Samsung is known to use different processors inside of its flagship devices. Benchmarks have also pointed to 3GB of RAM being on board, something that would help with multitasking and gaming.
A report from ETNews suggested that the Galaxy S5 could feature a 4,000 mAh battery though that has not been echoed by other publications just yet.
Galaxy S5 Software
A report from ETNews claimed that the Samsung Galaxy S5 would be coming with Android 4.4 KitKat, Google's latest Android update and one that has already rolled out to the likes of the Moto X. Samsung Android 4.4 KitKat updates are expected to commence in January, starting with the Samsung Galaxy S4 and Galaxy Note 2.
The benchmark for the SM-900F included Android 4.4 KitKat on board, yet another sign that Samsung is going to outfit its new devices with Google's latest software.
We also saw a rumor from Android SAS, a site without much of a track record, claim that Samsung could be working on an eye-scanning unlock feature for the Galaxy S5. Such a feature would likely replace the need for a fingerprint reader, a feature that the company was reportedly forced to pull from the Galaxy Note 3.
An earlier report from ZDNet Asia claimed that the Galaxy S5 could indeed have such a feature and that it may be Iris-scanning technology that is on board.
Galaxy S5 Carriers
Information from the credible @evleaks Twitter account suggested that AT&T is currently testing a device dubbed Samsung SM-G900A, a model number that is similar to the other two model numbers that we've seen emerge as Galaxy S5 candidates. AT&T, over the years, has forged a close relationship with Samsung making it a probable Galaxy S5 carrier.
The operator of the @evleaks account, Evan Blass, isn't sure if the SM-G900A is the Galaxy S5, only that the model number is similar to those thought to be for the Galaxy S5. AT&T was the first U.S. carrier rumored to be bringing the Samsung Galaxy S4 to its network and it wound up being one of the first carriers in the U.S. to offer it.
Samsung Galaxy S5 rumors will continue to flow in 2014 as Samsung makes the final preparations for a launch date that could come as early as February.

This article may contain affiliate links. Click here for more details.