Samsung Galaxy S5 Could Skip Killer Feature
The Samsung Galaxy S5 could skip a killer design feature that would make the device both water resistant and dust proof. Instead of tacking the feature onto the main version of the new Galaxy S, a new report claims that the company might be issuing a Samsung Galaxy S5 Active to consumers instead.
In just a few weeks, the Samsung Galaxy S5 will arrive and replace the Samsung Galaxy S4 as the company's flagship Galaxy S smartphone. Rumors suggest that it will be doing so with a number of powerful features aboard including an upgraded screen, camera, and quite possibly, a brand new metal design.
One thing that will apparently not be on board the new Samsung Galaxy S5 is a water resistant and dust resistant design. Instead, according to Korean publication ETNews, the company will once again release a Samsung Galaxy S Active to replace the Samsung Galaxy S4 Active that is already on shelves.
The report claims that the company will release a Samsung Galaxy S5 Active that will indeed feature a rugged design, capable of warding off the elements. The site claims that Samsung hopes that this Galaxy S5 model will account for a much larger portion of sales than last year's Galaxy S4 Active did. The Galaxy S4 Active reportedly made up only three to four percent of sales. Samsung evidently wants this new Galaxy S5 Active to account for 20% or 30% of sales instead.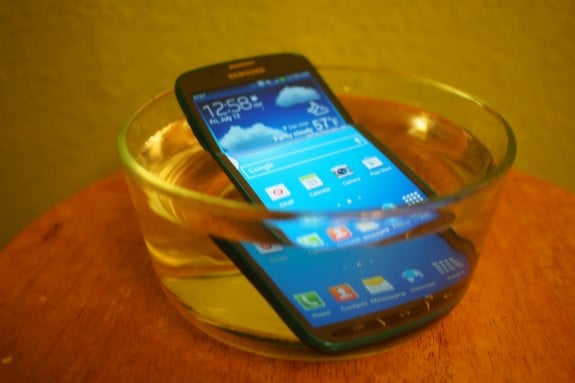 Interestingly, it appears that the publication has flip-flopped as it originally claimed that the regular Galaxy S5 would feature the same features as the Galaxy S4 Active. Plans can change though so it's possible that while Samsung might have wanted to combine the two, it simply could not make it happen.
While the design is said to feature different qualities, it's not clear what else this Galaxy S5 Active will have on board. Last year's Galaxy S4 Active featured a thicker, heavier design, something that may have led Samsung to keep it off its premium model. It also featured an 8MP camera as opposed to the 13MP on board the regular Galaxy S4 and it only arrived on AT&T in the United States in an extremely limited release.
The Samsung Galaxy S4 Active also launched later than the normal version of the Galaxy S4, arriving in late June as opposed to April. It's not clear when, or if, Samsung will release a Samsung Galaxy S5 Active.
All signs point to a Samsung Galaxy S5 announcement later this month on February 24th. Samsung sent out invites to an Unpacked 5 event, set to take place the day that Mobile World Congress 2014 kicks off in Barcelona, Spain.
Rumors point to a big time upgrade complete with a 5.2-inch QHD display, next-gen processor, 16MP camera, Android 4.4 KitKat, some major software changes, and a design that could be made out of plastic, metal, or perhaps, both.
Release date rumors have all pointed to April though a specific date still hasn't been nailed down. Gotta Be Mobile has heard that the device may arrive in late April though Samsung's plans are always subject to change.

As an Amazon Associate I earn from qualifying purchases.