Samsung Galaxy S5 Launch Could Bring Two Surprises
A new report claims that the Unpacked 5 event that Samsung detailed earlier this month will indeed be for the Samsung Galaxy S5 and a Samsung Galaxy Gear 2. However, it also claims that there will be two Galaxy S5 surprises in store for consumers come launch day.
The Samsung Galaxy S5 remains up in the air but rumors, leaks and speculation continue to try and pinpoint the device's features, launch date and release date. And while rumors have started to firm up ahead of the device's launch, there are still plenty of unknowns as we head deeper into the month of February.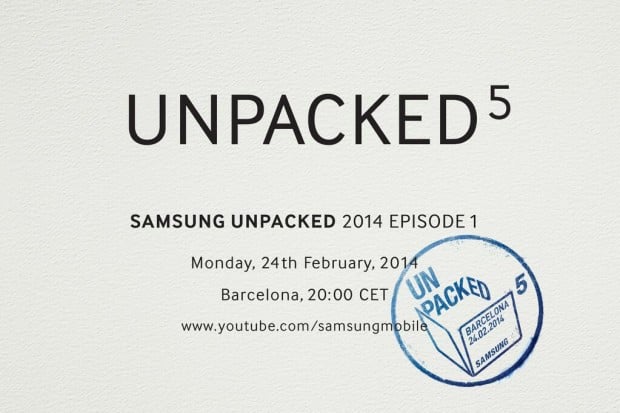 The New York Times has done its part in trying to quell the mystery as it has issued a new report that claims a great number of Samsung Galaxy S5 details.
According to its sources, the Galaxy S5 launch date will indeed go down on February 24th at Samsung's Unpacked 5 launch event in Barcelona, Spain. Unsurprisingly, the publication claims that it will be joined by the Galaxy Gear 2, an accessory that has emerged in recent weeks as a Galaxy S5 companion.
All signs point to a Samsung Galaxy S5 launch at MWC 2014 and this new report only helps to affirm them. Samsung itself likely won't confirm the Galaxy S5 for the event but at this point, a launch looks likely.
The report also surprisingly claims that the company will "reign in the theatrics" which likely means that it won't feature Broadway actors or magicians. The event will evidently be more business-like, perhaps a product of the criticism that the company received for its over-the-top events that have been deemed "tone-deaf" and "sexist" by the media.
The report also goes into some detail about the Galaxy S5 itself. Galaxy S5 rumors have been swirling for months and almost all of them have asserted that the phone will have a high-resolution QHD display, up from the 1080p Full HD display on the Galaxy S4.
In yet another surprise, the NYT claims that the Galaxy S5 won't have a QHD display nor an eye-scanner for security, something that was ruled out several weeks ago. They do claim that the Galaxy S5 will have an improved camera, probably 16MP, and a new processor, like the Exynos 6 or Snapdragon 805, or both.
This obviously puts the Galaxy S5 display into flux ahead of the launch event. Rumors will likely start to firm up either way ahead of Samsung's upcoming announcement.
Other Galaxy S5 rumors point to features like Android 4.4 KitKat, a design that is either comprised of plastic, metal or both, and new software from Samsung. There is also speculation that the device will have fingerprint technology embedded below the display for added security and convenience.
Samsung Galaxy S5 release date rumors point to April, or, about a month after the device's launch. Gotta Be Mobile has heard that the device could be released in April as well though we haven't been able to confirm a specific release date, possibly because Samsung is still trying to work with partners on figuring that out.

This article may contain affiliate links. Click here for more details.