Samsung Galaxy S5 U.S. Release Passes Roadblocks
The Samsung Galaxy S5 U.S. release date, which remains unknown across all confirmed carriers, cleared several roadblocks today on its way to consumers.
Last month, Samsung took the stage in Barcelona, Spain and announced the Samsung Galaxy S5, its brand new smartphone that is set to arrive for 150 countries on April 11th. Shortly after Samsung confirmed that detail, U.S. carriers confirmed the Galaxy S5 for arrival on their 4G LTE networks. Problem is, none of them confirmed anything specific.
AT&T, Sprint, T-Mobile, U.S. Cellular, Verizon, and MetroPCS all confirmed the Galaxy S5 for April on the day that the Galaxy S5 was announced. Boost Mobile and Virgin Mobile USA both confirmed the device for the second quarter though neither of them confirmed a specific month. None of these carriers confirmed specific release dates for the Galaxy S5, saving those announcements for a time that is still undetermined.
Prior to today, we knew, thanks to Samsung's Galaxy S5 splash page, that the device had yet to clear the FCC, an important hurdle for any smartphones release date. However, it now looks like Samsung has secured the approval it was looking for. It also means that we're now one step closer to the Galaxy S5 release inside the United States.
Blog of Mobile spotted three FCC filings for Galaxy S5 variants that it believes are headed to the United States. The FCC filings are for the SM-G900A, SM-G900T, and SM-G900V. Those devices are expected to be the AT&T Galaxy S5, T-Mobile Galaxy S5 and the Verizon Galaxy S5. The carriers themselves have not confirmed the model numbers but the names line up with information that leaked in the past.
Sprint's Galaxy S5 is expected to utilize the SM-G900P model number while the U.S. Cellular Galaxy S5 could be the SM-G900R4. We haven't found either of those devices in the FCC's data base though we imagine that they will pass through the FCC soon.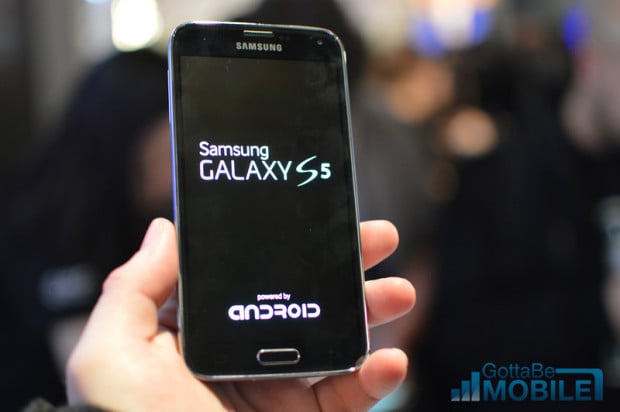 U.S. carriers typically offer a pre-order ahead of their release dates. We haven't seen carriers offer a Galaxy S5 pre-order just yet though they are taking registrations through their sign up pages.
The Samsung Galaxy S5 will be replacing the Galaxy S4 as the company's flagship smartphone and it will be doing so in style. The device comes with a brand new design that Samsung says gives its a "glam" look. The design is also water and dust resistant which means that users can now feel comfortable taking it in rugged environments.
Samsung's new flagship also features Android 4.4 KitKat, an assortment of new TouchWiz software features, a new 16MP camera, a speedy processor, and a large 5.1-inch display. It also comes with a fingerprint reader inside its home button for added security and convenience.

This article may contain affiliate links. Click here for more details.