Samsung Galaxy S5 vs. Galaxy Note 2: What Buyers Need to Know
Later this month, the Samsung Galaxy S5 will go on sale in 150 countries around the world including the United States. Those looking for a new smartphone and those looking to upgrade later this year will certainly want to have their eye on it as it will most likely be one of the top smartphones of the year.
In February, after months and months of rumor and speculation, Samsung debuted the Galaxy S5, its brand new Galaxy S smartphone that will be coming in less than two weeks to replace the Galaxy S4 as the company's flagship smartphone. As expected, the Galaxy S5 is full of bells and whistles that will be tempting to those in the hunt for a brand new device.
Already, we've been inundated with questions about the Galaxy S5. Friends, family and readers alike are curious about the Galaxy S5 and it features. Because of these questions, we've started to compare the Galaxy S5 to some of the biggest names around and today, we want to take a look at how the Galaxy S5 stacks up against the Samsung Galaxy Note 2.
The Samsung Galaxy Note 2 isn't Samsung's current Galaxy Note model but it is a device that remains an option thanks to its powerful hardware and software that continues to receive updates. It doesn't come highly recommended but those on a budget looking for a big screen and a powerful stylus will certainly want to take a look.
We also make this comparison so that those who currently own the Samsung Galaxy Note 2 can start to weigh their upgrade that should be coming along later this year. Those who bought the Galaxy Note 2 when it first came out will be looking for a new device towards the tail end of the year.
The Samsung Galaxy S5 is an old device and one that we've spent a great deal of time with. We've also been fortunate enough to be able to spend some time with the new Galaxy S5. While Galaxy S5 release is still a few days away, there is a lot we can share about how Samsung's Galaxy Note 2 and Galaxy S5 compare.
There are many features that only exist on one of these devices, so buyers will need to make an informed decision about what they want, based on the features they need most in a smartphone. That said, let's take a look at what upgraders, and prospective buyers, need to know about these two Galaxy-branded smartphones.
Release Date, Price & Carriers
When Samsung announced the Galaxy S5, it casually confirmed the its release date for April 11th in 150 countries. Problem was, it didn't announce exactly which countries and better yet, which carriers, would be getting the device that day. Carriers have started to clear that mess up but there are still some things that remain unclear.
The Samsung Galaxy S5 release in the U.S. will land on April 11th, just not for everyone. Those who are at all interested in the Galaxy Note 2 should know that the device has been on shelves for almost a year and a half. It's an old device but it's still available on shelves and will be available beyond the Galaxy S5 release date.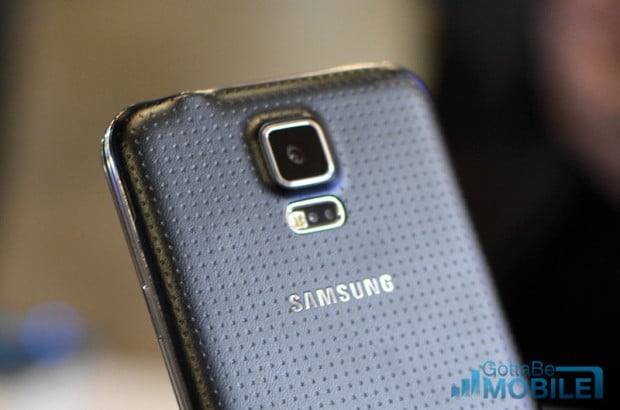 Those who are at all interested in these two devices would be smart to wait for the Galaxy S5 to show up on local store shelves in order to try out both devices before buying. Most carriers only allow one swap and a 14 day return window, so there is no need to be hasty about a decision.
For a select few, there is a way to check out the Galaxy S5 right now. There are about 100 Best Buy stores in the U.S. that have the Galaxy S5 out on display. Those that can't wait for April 11th can check this list to see if the local Best Buy has it available. The list is at the bottom of the page. Everyone else will have to wait 10 days.
The Samsung Galaxy S5 release date in the U.S. is confirmed for April 11th. AT&T, Sprint, T-Mobile, and U.S. Cellular are all taking pre-orders ahead of that date and several carriers say that they'll start shipping orders a few days before April 11th. That means that some will get the Galaxy S5 before it lands in physical retail locations.
Several carriers have yet to announce specific Galaxy S5 release details. Unsurprisingly, the Verizon Galaxy S5 release date remains unknown as Verizon tells us that it's focused on the new HTC One launch at the moment. We've heard that the Verizon Galaxy S5 will arrive in April and a Verizon customer service representative told us April 11th but that date remains unconfirmed.
Galaxy S5 release dates for MetroPCS, Ting, Boost Mobile, and Virgin Mobile also remain unknown though we've seen Best Buy put the MetroPCS Galaxy S5 up for pre-order ahead of its release. MetroPCS said that it would arrive in April but a specific date is not yet known. Boost and Virgin both said they plan to release the phone in Q2.
The Galaxy S5 price should be familiar to most consumers. Carriers are charging $199.99 for the Galaxy S5 16GB model and $650 and $660 for the Galaxy S5 off-contract. The 32GB Galaxy S5 remains unconfirmed but if one does arrive, it will likely be priced at $250.
Samsung's aging Galaxy Note 2 is cheaper than the Galaxy S5. Those looking to buy on-contract can still find it at Best Buy where it costs $99. Those looking to buy off-contract can find it through Amazon where it's a little over $400.
As far as carriers go, the Galaxy S5 is available on a wide swath of U.S. carriers while the Galaxy Note 2 is not. The Galaxy Note 2 is available for AT&T, Sprint, U.S. Cellular, T-Mobile, and Verizon. It is not available on smaller carriers in the United States.
Design & Durability
The Samsung Galaxy S5 and Galaxy Note 2 designs share some things in common but they also come with some major differences that buyers should be aware of.
Both the Galaxy S5 and Galaxy Note 2 are made of plastic though the Galaxy S5's design is, in our opinion, a big step up from the glossy plastic design found on the Galaxy Note 2. Instead of a smooth plastic back, the Galaxy S5 uses a perforated plastic back that comes in white, black, gold, and blue. The Galaxy S5′s back utilizes a matte finish that gives it a premium feel.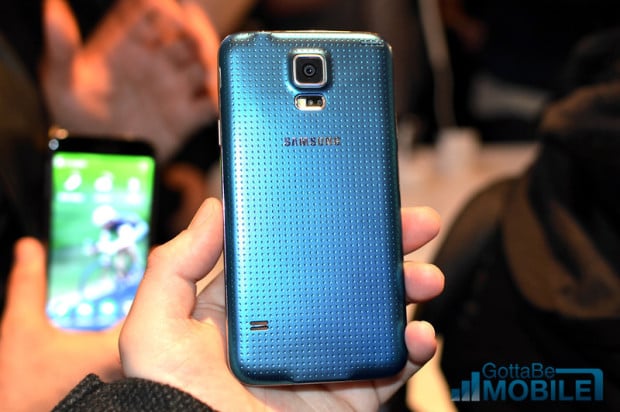 The Samsung Galaxy S5 is designed to be water-resistant and dust-resistant. Its IP67 certification allows users to carry the phone around without worrying that bathtub, shower or puddle will break the phone. The design also includes a seal to prevent water getting in the USB port and a seal on the back to keep water out. The Galaxy Note 2 design does not feature this type of protection and the only way users are going to get it is with a case.
Samsung's Galaxy S5 is thinner and lighter than the Galaxy Note 2's frame. The Galaxy Note 2 is also wider and taller than the Galaxy S5. The size difference is noticeable and those with smaller hands are going to want to try the Galaxy Note 2 out in person before buying it. Here is how they match up:
Galaxy S5 Dimensions – 142 x 72.5 x 8.1 mm
Galaxy Note 2 Dimensions – 151 x 80.5 x 9.4 mm
Both the Galaxy Note 2 and Galaxy S5 come with a microSD card slot for expanded storage. Both are able to handle SanDisk's 128GB microSD card which means that users can expand beyond the 16GB of internal storage found on both the Galaxy S5 and Galaxy Note 2. The two devices also feature removable backs which means that the battery is easily accessible.
The Samsung Galaxy Note 2's design comes with a built-in holster than houses the device's S Pen stylus. The S Pen is the most unique aspect of the Galaxy Note series and its a feature that does not come with the Galaxy S5. We'll touch more on the S Pen in a bit.
One other key difference between the two is the home button. Samsung now includes a fingerprint reader with the Galaxy S5′s home button which allows users to secure the phone with a fingerprint and lock files behind a fingerprint password. The Galaxy Note 2's physical home button is your standard navigational tool.
Display
The Samsung Galaxy S5 and Galaxy Note 2 come with two very different displays. The Galaxy Note 2's 5.5-inch display is a little bit larger than the Galaxy S5's which means that there will be a little bit more real estate for gaming, movie watching and web browsing. It's not much though and both displays are excellent for these activities.
The real difference between the two is in the quality. The Galaxy Note 2 is stuck in the past and offers users a display that offers 720p resolution. The Galaxy S5 on the other hand comes with a 1080p quality display that DisplayMate says tops the Retina Display on the iPhone 5s and the iPhone 5. Its incredibly accurate colors and new brightness levels provide a fantastic experience to users.
Here are three of the Galaxy S5 displays key features, features that standout because they aren't currently found on the Samsung Galaxy Note 2:
Ultra Power Saver – Turn the screen black and white and limit running apps to make the battery last longer.
Super Bright Mode – The screen can enhance contrast and deliver a very bright display to make reading the phone outdoors easier.
Super Dim Mode – A mode that turns brightness down dramatically for a display that is easier on your eyes at night.
Camera
The Samsung Galaxy S5's camera is a big upgrade over the camera found inside the Galaxy Note 2.
Galaxy S5 comes with a 16MP camera sensor while the Galaxy Note 2 comes with an outdated 8MP camera sensor. There are benefits to sensor sizes and megapixel counts but the Galaxy S5′s major advantage comes from other enhancements that Samsung has tacked on.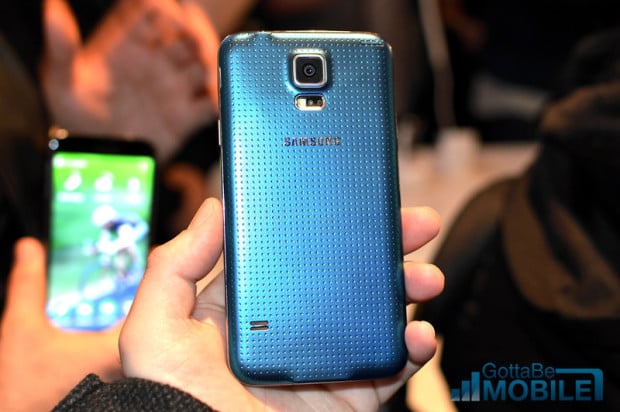 One of the cameras most appealing features is its faster auto-focus system. Samsung switched to a hybrid focus system that it says can focus as fast as 0.3 seconds. The Galaxy Note 2's camera can't focus that fast, not even close. Not even the Galaxy S4's camera sensor is able to keep up with the Galaxy S5.
Other features include the ability to pick a point of focus after taking the shot. This allows uses to blur a background or foreground right on the phone. The Samsung Galaxy S5 can also show HDR previews live on the phone, the Galaxy Note 2 cannot. And the Galaxy S5 can also record 4K video while the Galaxy Note 2 is stuck with 1080p.
The Galaxy Note 2 can shoot solid photos and video and it takes advantage of a good Samsung camera application but it simply cannot keep up with the Galaxy S5, its ISOCELL technology, and the improvements that Samsung has made to the camera application. While the Galaxy Note 2 could get an upgraded camera app down the road, nothing is guaranteed.
Software & Features
Out of the box, the Samsung Galaxy S5 will run Android 4.4.2 KitKat. Sometime later this year, the Galaxy Note 2 will be upgraded to Android 4.4.2 KitKat. And while that's the case, their software is vastly different.
The Samsung Galaxy S5 and Galaxy Note 2 both run TouchWiz but thanks to the Galaxy Note 2's S Pen and its age, its software is much different than the Galaxy S5's.
The S Pen is more than just a standard stylus. While it does let users write and draw on the screen, the S Pen can also take advantage of numerous applications including S Note for quick note taking and Air View which allows user to hover the S Pen over content and get a preview. Users can also use the pen to easily share content like photos.
Samsung's Galaxy S5 does not come with the S Pen but it comes with a much newer version of TouchWiz. The software includes new S Health 3.0 functionality which, when combined with the pulse reader on the back of the Galaxy S5, allows users to record their heart rate and track it in the app. Galaxy Note 2 users can make this happen with apps and accessories but the overall experience isn't going to be as fulfilling.
In addition to the new features, it also includes a flatter design and a number of small tweaks to the overall look of the operating system. Those looking for more details can find them in the video below which highlights many of the changes that Samsung made to its TouchWiz user interface.
Samsung does like to bring new features to older devices but it's not clear if the Galaxy Note 2 will get any. It's going to be getting Android 4.4.2 KitKat soon and there is a good chance it won't have any Galaxy S5 features on board. It's not clear if it will get any updates after that given that it's approaching its second birthday.
Samsung usually kills software support around the two year mark which means that while the Galaxy Note 2's software support waters are murky, the Galaxy S5 should get updates for 24 months to come.