Samsung Galaxy S5 vs Galaxy Note 3: What Users Need to Know
The Samsung Galaxy S5 and Galaxy Note 3 are the newest smartphones from Samsung, and while they share similar features, there are a number of important differences that buyers need to know about.
We spent time with both of these devices last month and while the Galaxy S5 release is still a few weeks away there is a lot we can share about how the Galaxy Note 3 and Galaxy S5 compare.
At just 5 months old the Galaxy Note 3 is getting an update to Android 4.4.2 on most U.S. carriers, matching the Galaxy S5 Android version. Just because it is running the same version of Android doesn't mean it will offer all the same software features as the newer device. Though there is a better chance that the Note 3 will catch up later this year.
There are several features that only exist on one of these devices, so buyers will need to make an informed decision about what they want, based on the features they need most in a smartphone. The Galaxy Note 4 release is still months away, and while some users are willing to wait for the new Note, many are looking at last year's model.
Release Date, Price & Carriers
The Samsung Galaxy S5 release date is April 11th, while the Galaxy Note 3 is already on store shelves. If you think you are at all interested in the Galaxy S5, it is a good idea to wait for the phone to show up on store shelves so that you can try both out before buying. Most carriers only allow one swap and a 14 day return window, so don't rush into this decision.
Read: Galaxy S5 Release – 10 Big Questions
There is no specific Galaxy S5 price announced just yet. That said, we are pretty confident that carriers will charge $199 for the 16GB model on a two-year contract and about $620 to $650 for the phone off contract. This is based on prices listed in contests used to drum up interest in the Galaxy S5. The Galaxy Note 3 is $299 on most carriers and $725 off contract. There are deals that can drop the price down to $149 on Amazon, which is a much more attractive price.
The good news for consumers is that the Galaxy S5 and Galaxy Note 3 are both available on all major U.S. carriers including T-Mobile, AT&T, Verizon, Sprint and U.S. Cellular.
Design & Durability
The Samsung Galaxy S5 and Galaxy Note 3 share some of the new design traits at Samsung, with small bezels, a silver band running along the edge of the device and a focus on the look and feel of the back of the phone, but there are distinct differences.
Samsung designed the Galaxy S5 to be water-resistant and dust-resistant, allowing users to carry the phone without worrying that a sink, bathtub, shower or puddle will break the phone. This includes a seal to prevent water getting in the USB port and a seal on the back to keep water out. The Samsung Galaxy Note 3 is not water-resistant, which means users will need a case to achieve this level of protection from water.
Both of these smartphones feature a soft touch back, which feels better than the plastic on earlier Samsung phones, but is not up to par with the aluminum on the HTC One or the iPhone 5s in many user's eyes. The Galaxy S5 features a soft touch dimpled back, similar to the original Nexus 7 while the Galaxy Note 3 uses a soft touch leather style back with fake stitching.
The Samsung Galaxy Note 3 is larger and heavier thanks to a bigger screen and the included S Pen. This size difference means users may not be able to use the Note 3 with one hand very well, but the smaller Galaxy S5 may work out with a single hand grip. Users will need to try this out in person to make sure, but a 5.1-inch phone is still somewhat usable with one hand.
Galaxy S5 Dimensions – 142 x 72.5 x 8.1 mm
Galaxy Note 3 Dimensions – 151.2 x 79.2 x 8.3 mm
As the measurements show, the Galaxy Note 3 is significantly taller, and slightly wider. The Galaxy Note 3 is also 23 grams heavier. This is not a major weight difference that we think will impact the usability of either phone for most users.
Samsung now includes a fingerprint reader in the Galaxy S5 home button to allow users to secure the phone with a fingerprint and to lock files behind a fingerprint password. This could mean that more users turn on security features, which is always a good thing. There is no fingerprint reader on the Galaxy Note 3.
Display
The Samsung Galaxy S5 display is slightly larger than the Galaxy S4, but it is not yet as big as the Galaxy Note 3. Samsung appears to be narrowing in on the perfect screen sizes for its users, settling on a 5.1-inch 1080P display for the Galaxy S5. The Galaxy Note 3 offers a large 5.7-inch 1080P display that is significantly larger when compared side-by-side.
The Galaxy Note 3 display includes technology that allows users to interact with the S Pen to take notes on the screen and perform other actions using the small stylus. Many apps for the S Pen allow the user to turn off regular touches on the screen so that it is possible to rest a palm on the display while taking a note. Doing this with a third-party stylus on the Galaxy S5 will result in scribbles and users may accidentally press a button.
Both of these displays offer a nice viewing experience and can adapt to the environment to deliver a better looking on-screen visual, but the Galaxy S5 comes with three features not available on the Note 3 at this time.
Ultra Power Saver – Turn the screen black and white and limit running apps to make the battery last longer.
Super Bright Mode – The screen can enhance contrast and deliver a very bright display to make reading the phone outdoors easier.
Super Dim Mode – A mode that turns brightness down dramatically for a display that is easier on your eyes at night.
Samsung could possibly bring some of these features to the Note 3 with an update, but it is not a sure bet.
Camera
The Samsung Galaxy S5 features a 16MP sensor while the Galaxy Note 3 only uses a 13MP sensor. While there are benefits to sensor sizes and megapixel counts, the Galaxy S5's major advantage comes from other enhancements.
The biggest enhancement to the Galaxy S5 camera, and why we are excited about it is a faster auto focus system. Samsung switched to a hybrid focus system that it claims can focus as fast as 0.3 seconds. It appeared to focus fast during our hands on time, though we didn't break out a stop watch. The other feature that stands out is the ability to pick a point of focus after taking the shot. This allows uses to blur a background or foreground right on the phone. The Galaxy S5 can also show HDR previews live on the phone.
On the Galaxy Note 3 users get access to a wide variety of camera modes, but don't get live HDR or the selective focus options at this time. It's possible that these will remain a Galaxy S5 feature even if Samsung delivers updates to the Note 3. Both of these phones can record 4K video.
Software & Features
The Samsung Galaxy S5 is focused on health, fitness and security while the Galaxy Note 3 features are on productivity from the larger screen and the S Pen.
Samsung includes S Health 3.0 with the Galaxy S5 and includes a pulse reader on the back that allows users to record their heart rate and track it in the app. This is a nice feature, but Galaxy Note 3 owners can purchase a Gear Fit fitness band to track their pulse and more.
On the Galaxy Note 3 users get an S Pen that allows them to take notes, control apps and even create a small multitasking window. There are a lot of Galaxy Note 3 S Pen functions, but the one we use it for most is taking notes and drawing on apps that support it.
From a software standpoint both run Android 4.4.2, or at least will as soon as the rest of the Galaxy Note 3 Android 4.4.2 updates roll out. That doesn't mean users get the same experience. The Galaxy S5 arrives with a new version of TouchWiz that includes a flatter design and a number of small tweaks to the look of the operating system. It wouldn't be a surprise to see this look arrive on the Note 3 at some point in the future, but don't expect it anytime soon.
Both of these devices support multitasking to run multiple apps on the screen at once. This is a nice feature that lets users browse the web and chat at the same time, similar to using two windows on a laptop. While the Galaxy Note 3 will allow for a bigger area for each app, this is a very usable feature on the smaller display.
Samsung remains committed to removable backs, allowing users to open the Galaxy Note 3 up and add a Micro SD card and swap out the battery on each of these devices.
11 Reasons iPhone Owners Should Switch to the Galaxy S5
Samsung Galaxy S5 Release Date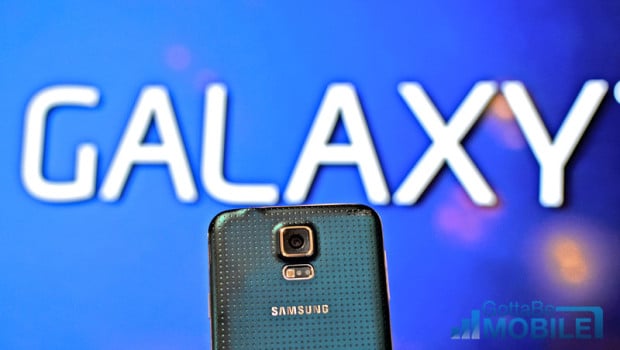 The Samsung Galaxy S5 release date is set for April 11th in over 150 countries. Verizon, AT&T, T-Mobile, Sprint and US Cellular have yet to confirm a specific release date, but they are planning to start selling the Galaxy S5 in April.
We expect to see a 16GB and 32GB Galaxy S5 on sale in the U.S., but the 16GB model may be the only one available in stores on the release date. We don't expect to see sell outs or long lines like an Apple launch, but we do anticipate carriers will make a big deal out of the day.
Galaxy S5 buyers can expect to see two color options, black and white, and many accessories available on the release day.

As an Amazon Associate I earn from qualifying purchases.