Samsung Galaxy S5 vs. Galaxy S3: What Buyers Need to Know
Consumers who bought the Samsung Galaxy S3 when it first came out are going to be coming off contract soon which means that they have a big decision to make: Stay with the Galaxy S3 or pick up something new. Those weighing their options probably have their eye on the Samsung Galaxy S5 as a possible replacement and here, we take a look at key differences, and similarities, that Galaxy S3 users need to know about.
In late February, Samsung did the expected and announced the new Galaxy S5, a brand new smartphone that replaces the Galaxy S4 as the company's most visible device. As expected, the Galaxy S5 brings a ton of new features to the table including a brand new design, new software, improved camera, and more. It's a device that many Galaxy S4 owners have their eyes on and it's a device that Galaxy S3 users should have their eyes on as well.
The Samsung S3 is nearing its second birthday which means that many Galaxy S3 users are going to be coming off contract at their respective carriers. What this means is that many Galaxy S3 users are taking a look at the current crop of smartphones, wondering if an upgrade might be worth it.
We've spent a great deal of time with the Samsung Galaxy S3 as it has been out for almost two years now. We've also been able to spend some time with the new Galaxy S5. While Galaxy S5 release is still a few weeks away in the United States, there is a lot we can share about how the Galaxy S3 and Galaxy S5 compare.
There are many features that only exist on one of these devices, so buyers will need to make an informed decision about what they want, based on the features they need most in a smartphone. That said, let's take a look at what upgraders, and prospective Galaxy S3 owners, need to know about these two Galaxy S smartphones.
Release Date, Price & Carriers
The Samsung Galaxy S5 release date is confirmed for April 11th. This is a global release date and one that applies to the United States as well. The Galaxy S3 is still on shelves and could stay there after the Galaxy S5′s arrival. The Galaxy S3 isn't a top option but it remains a budget option thanks to its hardware and its updated software. It will get Android 4.4 KitKat in the weeks ahead.
Those who are at all interested in the Galaxy S5 would be smart to wait for the Galaxy S5 to show up on store shelves in order to try out both devices before buying.Most carriers only allow one swap and a 14 day return window, so there is no need to be hasty about a decision.
At the moment, there are about 100 Best Buy stores in the U.S. that have the Galaxy S5 out on display. Those that can't wait for April 11th can check this list to see if the local Best Buy has it available. The list is at the bottom of the page.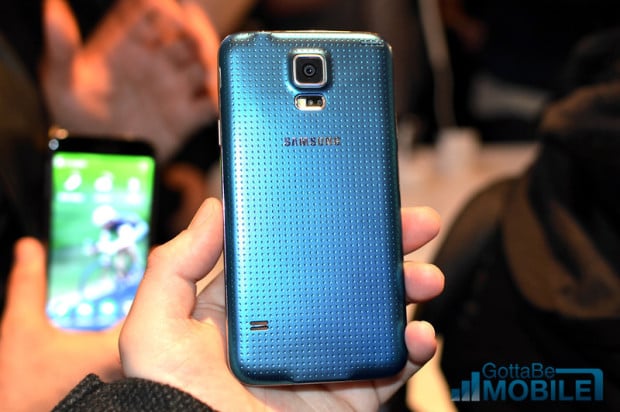 The Samsung Galaxy S5 release date is confirmed for April 11th in the United States, at least for some carriers. AT&T, Sprint, T-Mobile, and U.S. Cellular are all taking pre-orders ahead of that date and several carriers say that they'll start shipping orders a few days before the release date arrives. It means that some will get the Galaxy S5 before its street date.
Several carriers have yet to announce specific Galaxy S5 release details. The Verizon Galaxy S5 release date remains unknown as do the release dates for MetroPCS, Ting, Boost Mobile, and Virgin Mobile. We've heard that the Verizon Galaxy S5 will arrive in April and we've seen Best Buy put the MetroPCS Galaxy S5 up for pre-order ahead of its release. MetroPCS said that it would arrive in April but has not specified a date.
Carriers are charging $199.99 for the 16GB model and $650 and $660 for the Galaxy S5 off-contract. We still haven't seen carriers confirm a 32GB Galaxy S5 but if one does arrive, it will likely be priced at $250. Both models will be more expensive than the Galaxy S3 which is being given away for free.
Those who aren't upgrading but are thinking about buying the Galaxy S3 can find it for as little as a penny. Amazon is selling the AT&T, Sprint and Verizon variants for a penny on-contract.
The Galaxy S5 is coming to AT&T, Sprint, U.S. Cellular, T-Mobile, Verizon, Ting, Boost Mobile, Virgin Mobile, and MetroPCS. Other carriers might announce availability in the future but that remains unconfirmed.
The Galaxy S4 is available on all of those carriers. It's also available on StraightTalk, C Spire Wireless and Cricket Wireless which means that, for the moment, there are more Galaxy S3 carrier options available.
Design & Durability
The Samsung Galaxy S5 and Samsung Galaxy S3 are both made out of plastic, offer microSD card slots for expanded storage, removable backs for easy access to the battery, and physical home buttons for navigation.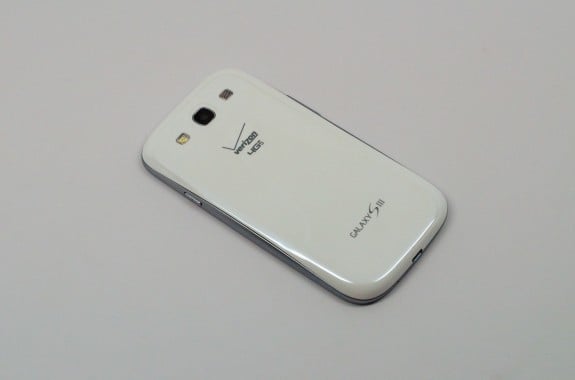 They also come with Corning Gorilla Glass in the front to protect the display from harm though the Galaxy S5 uses Gorilla Glass 3, the latest version that is more resistant.
While they do share some things in common, there are also some very distinct differences that one might expect from two devices that are two years apart.
The Samsung Galaxy S5 is designed to be water-resistant and dust-resistant. Its IP 67 certification allows users to carry the phone around without worrying that bathtub, shower or puddle will break the phone. The design also includes a seal to prevent water getting in the USB port and a seal on the back to keep water out. The Galaxy S3 does not feature this type of protection and the only way users are going to get it is with a case.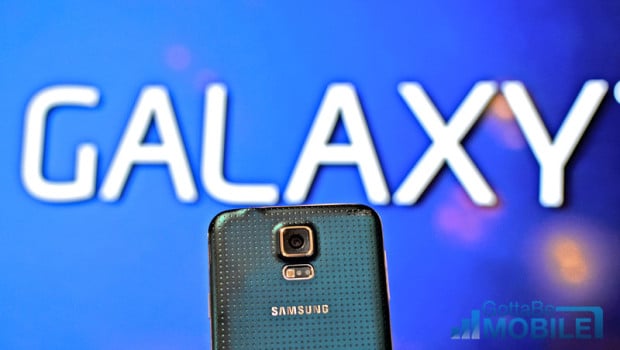 Samsung's new Galaxy S5 design comes with a soft touch, perforated plastic back that not only feels more premium that the Galaxy S3′s glossy plastic back but looks a whole lot nicer as well. Neither design is on par with the metal designs found on the iPhone 5s and the new HTC One but the Galaxy S5′s design is much improved from the Galaxy S3's in terms of quality.
The Samsung Galaxy S3 is lighter than the Galaxy S5 but it is thicker than the Galaxy S5's design. Over the years, Samsung has continued to increase the size of the Galaxy S' display. And while the company has worked to keep the increase in overall size to a minimum, the Galaxy S5 is still a larger device than the Galaxy S3.
Galaxy S5 Dimensions – 142 x 72.5 x 8.1 mm
Galaxy S3 Dimensions – 136.6 x 70.6 x 8.6 mm
The Galaxy S5 is wider and taller than the Galaxy S3 though we didn't find it to be any less pocketable. Both of these devices are comfortable to hold as well.
Samsung also now includes a fingerprint reader in the Galaxy S5′s home button and that allows users to secure the phone with a fingerprint and also lock files behind a fingerprint password. The Samsung Galaxy S3′s home button is your standard tool for navigation and doesn't feature any special properties.
Display
The Samsung Galaxy S5 is larger than the Galaxy S3′s display. While the Galaxy S3 offers a 4.8-inch display, the Galaxy S5 display measures 5.1-inches in size. The size difference is noticeable and offers Galaxy S5 users an advantage. The extra real estate offers more space for multitasking, playing games or watching a movie while on the go.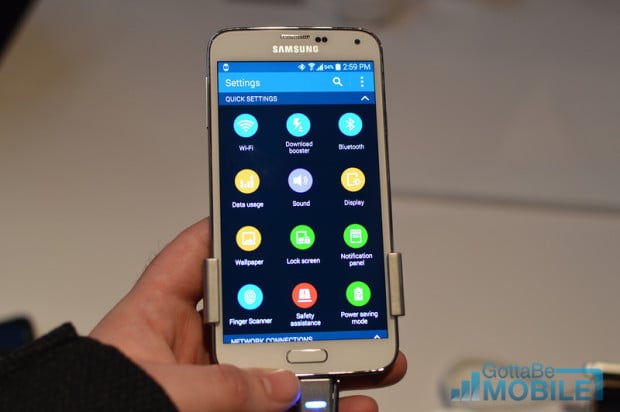 Samsung did not install a QHD display on the Galaxy S5 and instead, it uses the same 1080p resolution found on the Galaxy S4. The Galaxy S3? Well, it uses a 720p display which means that it can't run content in full HD. Everything, including photos, video, the web, games, and more look better on the Samsung Galaxy S5's screen.
The Galaxy S5 also comes with three features not available on the Galaxy S3, at least for the moment:
Ultra Power Saver – Turn the screen black and white and limit running apps to make the battery last longer.
Super Bright Mode – The screen can enhance contrast and deliver a very bright display to make reading the phone outdoors easier.
Super Dim Mode – A mode that turns brightness down dramatically for a display that is easier on your eyes at night.
Given that the Galaxy S3 is on its last legs in terms of future software updates, it's hard to imagine any new Galaxy S5 features coming to the Galaxy S3. This is something that we'll touch on further a little later.
Camera
Galaxy S3 upgraders looking for a better camera experience are going to find one on the Galaxy S5. Samsung's new Galaxy S5 comes with a 16MP camera sensor while the Samsung Galaxy S3 comes with an 8MP camera sensor. There are benefits to sensor sizes and megapixel counts but the Galaxy S5′s major advantage comes from other enhancements that Samsung has tacked onto its new flagship.
Arguably the biggest enhancement that Samsung included on the Galaxy S5 is a faster auto-focus system. Samsung switched to a hybrid focus system that it says can focus as fast as 0.3 seconds. The Samsung Galaxy S3 camera cannot focus nearly this fast.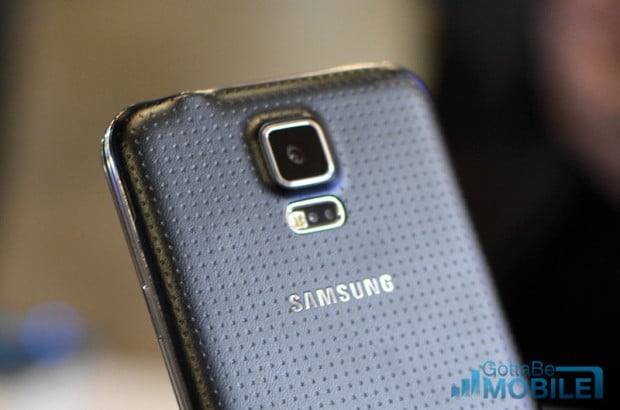 Another other feature that stands out is the Galaxy S5's ability to pick a point of focus after taking the shot. This allows uses to blur a background or foreground right on the phone.
The Samsung Galaxy S5 can also show HDR previews live on the phone, something that the Galaxy S3 cannot do. And it can also record 4K video while the Galaxy S3 cannot. Most people don't have 4K resolution screens but those that do are going to appreciate this feature.
Samsung's Galaxy S3 takes advantage of a camera application, one that was improved by the Android 4.3 update that delivered Galaxy S4 camera features, but live HDR and selective focus are not on board and there is no guarantee that they will ever arrive for Samsung's former flagship. In fact, we doubt that they will.
Software & Features
Out of the box, the Samsung Galaxy S5 will run Android 4.4.2 KitKat. The Galaxy S3 will get the Android 4.4.2 KitKat update in the future though it looks like it may not come to everyone. Android on Samsung devices is dominated by the company's TouchWiz UI though and that's where the Galaxy S5 leaves the Galaxy S3 in the dust.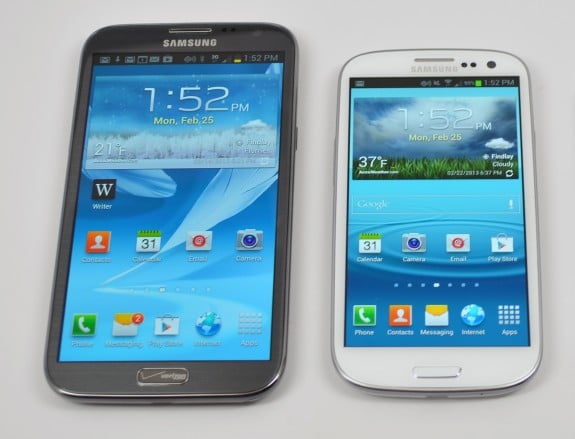 The Samsung Galaxy S5′s new software is focused on some key areas including health, fitness, security, and battery life. The software includes the new S Health 3.0 functionality which, when combined with the pulse reader on the back of the Galaxy S5, allows users to record their heart rate and track it in the app. It's a nice feature but as we've pointed out, Samsung Galaxy S3 owners can purchase a Gear Fit fitness band to track their pulse and more.
Those looking for more details can find them in the video below which highlights many of the changes that Samsung has made to its TouchWiz user interface.
We should point out that, in addition to the new features, it also includes a flatter design and a number of small tweaks to the overall look of the operating system.
With the Galaxy S3 going on two years old, there is a very good chance that none of these features will emerge for Samsung's aging flagship. Samsung typically leaves devices behind after two years of software support. While we could see Samsung offer some features down the road, it won't be the full feature set. Typically, Samsung offers only a few bits and pieces of an update in an effort to keep the flagship unique.