Samsung Galaxy S5 vs. Samsung Galaxy S4: What We Know So Far
Samsung Galaxy S5 rumors continue to firm up ahead of the device's expected launch later this year. And while nothing is official just yet, we want to take a look at how the rumored Galaxy S5 currently stacks up with Samsung's current flagship, the Samsung Galaxy S4, the device that the new Galaxy S is expected to replace.
At the tail end of the last year, Samsung Galaxy S5 rumors started to emerge, teasing and tempting prospective buyers with glimpses of the future. At the time, rumors were inconclusive and scarce leaving the heavy lifting for the rumors to come. And Galaxy S5 rumors have certainly arrived in full force over the last few weeks, painting a very vivid picture of what's to come.
The Samsung Galaxy S5 still exists in rumor only as Samsung has not taken to the stage to announce it. However, thanks to an onslaught of leaks, rumors, and even information provided to us by Samsung itself, the Galaxy S5 is starting to come together ahead of launch. Yes, there are still some mysteries to be unraveled but many of the Galaxy S5's secrets have been exposed ahead of time.
When the Galaxy S5 arrives, it will be taking on some serious competition including the iPhone 5s, the rumored but expected HTC M8, the Galaxy Note 3, and the Samsung Galaxy S4. Yes, last year's Galaxy S is going to be a Galaxy S5 competitor.
Here, we want to take a look at how the rumored Galaxy S5 currently stacks up compared to the Galaxy S4 and its features. It's still early and the Galaxy S5 is not confirmed but we feel like there is enough, right now, to start drawing up some comparisons to current devices.
Release Date
Those on the fence about the Samsung Galaxy S4 or the Galaxy S5 still have some time to come to a decision. The Galaxy S4 should remain the flagship for a few more weeks as the Galaxy S5 launch is thought to be at least a month out.
Galaxy S5 rumors suggest that the launch could come right before the start of Mobile World Congress. The information comes from insider Eldur Murtazin who claims that Samsung recently made the decision and that the device will arrive the day before the start of MWC 2014 in Barcelona. If true, it would be a launch style similar to the Galaxy Note's which takes places ahead of IFA in Berlin every year. Rumors have also suggested that the device could skip MWC and February altogether and arrive in March.
What's clear is that there is a window that Samsung is looking at, one that stretches from the end of February into March. Consumers should feel comfortable circling that time frame on the calendar.
As for the Samsung Galaxy S5, sources have aligned and suggest that the release date will be coming in April, perhaps late April just like the Galaxy S4 release.
Ultimately, this means that the Galaxy S4 has a few weeks left as the company's go-to device but it's pretty clear that it will be getting replaced pretty soon. We have advised consumers to wait for the Galaxy S5 if only for the Galaxy S4 price drops that will come after Samsung's new flagship touches down.
Design
The Samsung Galaxy S4's design was an upgrade over the Galaxy S3 design thanks to a slimmer form factor and improved plastic. However, as Samsung's Lee Young Hee told Bloomberg, the "Galaxy S4 may have fallen short of consumer expectations because its design was too similar to its S3 predecessor." Lee claims that the Galaxy S5 will probably be different though she did not go into any details.
Thanks to rumors, we know that a design change is likely. A credible rumor out of SamMobile suggests that the Galaxy S5 will come in both metal and plastic, similar to the iPhone 5s and iPhone 5c. The iPhone 5s is made out of aluminum while the iPhone 5c is constructed out of plastic materials. While this appears to have been nailed down, the exact design of the Galaxy S5 hasn't.
Those on the fence about the Galaxy S5 and Galaxy S4 should expect this to be the last domino to fall. Samsung typically keeps its designs under lock and key and we haven't seen any potential design leaks emerge in 2014. It could be that the final design doesn't appear until the company shows it off on stage.
The big takeaway though is that the Galaxy S5 will likely look different and it should finally deliver the metal form factor that Galaxy S4, Galaxy S3 and other Galaxy users have been campaigning for for quite some time.
Display
The Galaxy S4 features one of the best displays in the business, a 5-inch with 1080 x 1920 resolution and a solid 441 pixels-per-inch. It's a beautiful display that offers good viewing angles and solid looking content. Rumors suggest that Samsung isn't content.
Lee also told Bloomberg that "for the S5, we will go back to the basics. Mostly, it's about the display and the feel of the cover." This seems to suggest display changes and that's exactly what rumors have suggested. Numerous reports have pointed to a display around 5.25-inches in size that boasts QHD resolution.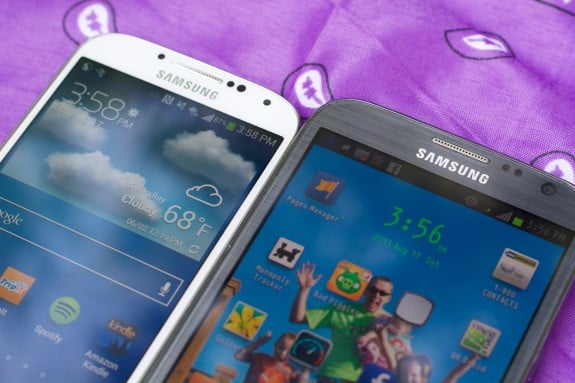 QHD resolution will provide 1440 x 2560 resolution with a whopping 500+ pixel-per-inch count. While it might seem like overkill, it would help to make content on the Galaxy S5 look even sharper than content on the Galaxy S4. This is important to mobile gamers and those who watch a lot of video content.
There is also a rumor that suggests that at least one variant of the Galaxy S5 could arrive with a 1080p display. If true, it's likely to be the plastic model. So right now, at the very least, it looks like the Galaxy S5 display will at least be on par with the Galaxy S4's, if not better.
Camera, Processor, Battery
Just about every single sweeping Samsung Galaxy S5 rumor has suggested that the device will come with a 16MP camera sensor. So at this point, it's safe to assume that this will be true. What it will mean for the Galaxy S5 exactly is unclear though we imagine that it will offer improved quality over the 13MP camera sensor found on the Galaxy S4. Rumors do suggest an ISOCELL sensor which would improve color accuracy and reduce crosstalk.
Year-after-year, Samsung upgrades the processor on its flagship devices. So, it's no surprise to hear that the company is planning the same for the Galaxy S5. Rumor has it, the Galaxy S5 will feature a Snapdragon 805 chip from Qualcomm and or a Exynos 6 CPU from Samsung itself. The Galaxy S4 features a Snapdragon 600 or a Exynos 5 Octa, depending on the region.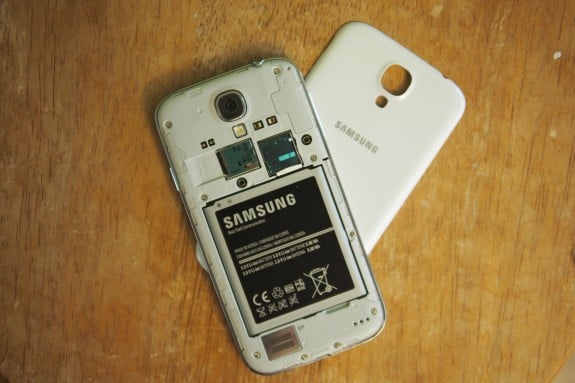 At this point, it's safe to assume that the Galaxy S5 will feature a new chip and that the new chip will deliver better performance than last year's chips. That means better graphics, faster speeds and multitasking and perhaps, optimized battery life.
Speaking of battery life, the Galaxy S5 is rumored to have a 2,900 mAh battery that can hold 20% more charge than similar sized batteries. It also could come with faster charging capabilities. The Galaxy S4 sports a 2,700 mAh battery. We can't put too much stock into this rumor just yet but we'd be shocked if Samsung kept the battery inside the Galaxy S5 the same.
Software
The Samsung Galaxy S4 currently runs Android 4.3 Jelly Bean and utilizes many of Samsung's most recent additions to its TouchWiz user interface. Soon, it will be upgraded to Android 4.4 KitKat, an update that should, according to a couple of recent leaks, introduce some incremental features to Galaxy S4 owners. Point is, it doesn't look like TouchWiz UI changes rumored to be coming with the Galaxy S5 will be on board.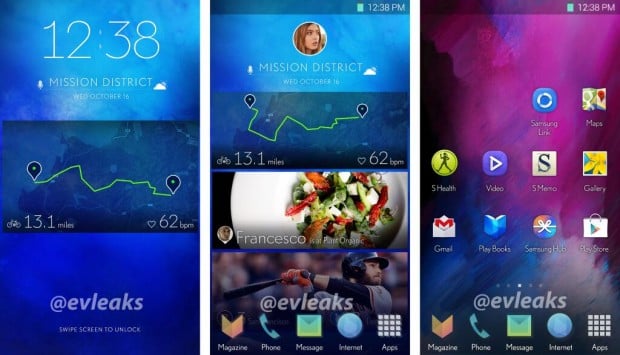 The well known leakster evleaks has produced two possible looks at the Galaxy S5's software changes. From the looks of things, the device should come with a UI that looks a lot like the Magazine UI that Samsung introduced on its new tablet lineup at CES.
It boasts a new look with more pastel colors and a updated user interface and it seems to rely on cards that remind us of Google Now and the HTC BlinkFeed software.
The image below stitches together some of these cards to show what some of the update style notifications could look like on the Samsung Galaxy S5. This is not one continuous screenshot, so it likely won't look exactly like this.
If the Galaxy S4 gets the new look and new features, it won't be for several months at least and even then, it likely won't get everything that the Galaxy S5 has to offer. Samsung tends to strip down its updates for older devices.
Furthermore, rumors suggest that Samsung will be including enhanced security on the Galaxy S5. Early rumors pointed to Iris-scanning technology though they now insist on Samsung including fingerprint reader technology underneath the display. This would allow users to conveniently unlock their phone and present a rival to the iPhone 5s' Touch ID fingerprint reading feature.
Carriers
The only rumored Galaxy S5 carrier is AT&T. The rumor is a little bit flimsy given that it comes from a potential Galaxy S5 model number but it does make a lot of sense. The Galaxy S5 will need to compete with the iPhone 5s which means that Samsung has likely reached carrier agreements with the five major carriers in the United States: AT&T, Sprint, T-Mobile, U.S. Cellular, and Verizon. Consumers don't need rumors to confirm any of this. It's a given.
Samsung's Galaxy S4 is found on all five of those carriers in addition to several smaller ones including pre-paid and regional carriers. While there are no rumors at the moment, we'd be shocked if the Galaxy S5 didn't follow suit.
Price
A report from SamMobile suggests that the Galaxy S5 will come in at two different price points, mirroring Apple's iPhone 5s and iPhone 5c launch. The publication claims that the metal Galaxy S5 will cost about 800 Euros and the plastic model will check in around 650 Euros. Those are extremely exorbitant prices in U.S. currency and there is no way that Samsung and its carriers will be charging $1000 for the metal Galaxy S5, on or off-contract.
Exactly how much Samsung and its partners will charge remains a mystery though we'd be surprised to see the company stray too far from Apple's price points. The iPhone 5s starts at $199.99 on-contract and $650 off-contract while the iPhone 5c can be bought for a mere $99 on-contract and $549 off-contract.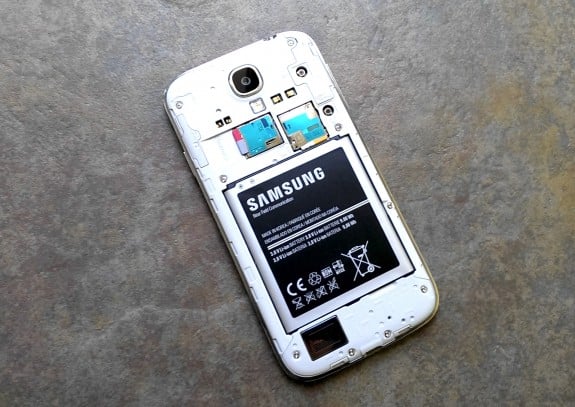 Samsung's Galaxy S4 starts at $199.99 through most carriers though we expect that price to drop down once the Galaxy S5 launch gets closer. Already, we're seeing retailers drop the prices of the Galaxy S4 in anticipation of its launch as Amazon has dropped the price of several variants down to free on contract.
It's no secret that last year's tech is going to be cheaper.

This article may contain affiliate links. Click here for more details.