Samsung Galaxy S5 vs HTC One M8: 15 Things Buyers Need to Know
The Samsung Galaxy S5 and the new HTC One M8 are the top smartphones on shopping lists this spring. When we ask anyone looking for the best smartphone in 2014, these two devices are always on the list.
These top smartphones share several features and upgrades from last year's models, but there are distinct features that allow the Galaxy S5 and HTC One M8 to stand out. Buyers looking to get the best smartphone this year will need to make a personal decision about which features are most important to them.
For many users the plastic Samsung Galaxy S5 with a 16MP camera and TouchWiz software is the best smartphone in 2014, but for many other users the metal HTC One M8 with two rear-facing cameras, a 5MP front-facing camera for selfies and BlinkFeed is a better fit.
Instead of telling buyers which is the best Android phone so far in 2014, this comparison will outline what buyers need to know about each of these smartphones to make the buying decision easier. For many users this will come down to doing an in-store hands on at a carrier or a retailer like Best Buy that offers both of these smartphones.
The HTC One M8 is available in store at Verizon right now and the Samsung Galaxy S5 is not on sale until April 11th, but many Best Buy locations in the U.S. have the Galaxy S5 in stores so that users can go hands on with the new smartphone.
Picking a smartphone by going hands on is even more important with phones like the Galaxy S5 and HTC One M8, which are slightly larger than last year's models and come with a new plastic and new metal finish that is something you need to touch to fully grasp the pros and cons of.
Galaxy S5 and HTC One M8 Prices
The Samsung Galaxy S5 and HTC One M8 prices are the same, but for the $199 on contract price HTC One M8 buyers get more storage for that price.
On a contract the Samsung Galaxy S5 is $199 on multiple carriers, and it is also available $0 down on T-Mobile and AT&T with monthly payments starting at around $25 a month. The Sprint Galaxy S5 is also available on contract at $199 or for $27 a month with $0 down and a free Galaxy Tab 3 Android tablet. There is no confirmed Verizon Galaxy S5 price, but expect a similar story.
The HTC One M8 is $199 on Verizon with a two year contract, and there is a buy one get one deal that lets users get one a free HTC One M8 on a second family line. Users that want to buy the phone on a payment plan pay $25 a month on Verizon Edge. The HTC One M8 is $199 on contract at AT&T and Sprint, both of which offer payment plans around $25 and $27 a month. T-Mobile will sell the new HTC One M8 for $0 down with a similar monthly payment plan.
Verizon Galaxy S5 Release and Pre-Order
While there is a lot of information about the Galaxy S5 release in the U.S., we are waiting for Verizon to share all the details. Verizon is focused on the new HTC One M8 right now, which means we won't likely hear any new Verizon Galaxy S5 release details until after April 8th.
Verizon was late to the Galaxy S4 release in 2013, so even without the HTC One M8 in the mix, there is a chance that Verizon would bring the Galaxy S5 to users a month after AT&T.
Hopefully the Verizon Galaxy S5 pre-orders will start in mid-April, but there are no specifics yet.
Plastic Galaxy S5 vs. Metal HTC One M8
The Samsung Galaxy S5 is a plastic smartphone, like the Galaxy S4 and S3 before it. The HTC One M8 refines the metal design from the 2013 HTC One.
While the Samsung Galaxy S5 is made of plastic it is not the same plastic that Galaxy S3 or Galaxy S4 owners are used to. Samsung chose a soft touch plastic with dimples to deliver a better overall feel and easier grip. Users can remove the plastic back of the Galaxy S5 to access a removable battery and a MicroSD card slot.
The new HTC One is made of 90% metal, an increase from the 2013 model. This new design wraps metal around the edge up to a glass screen. Instead of an aluminum finish that looks like the MacBook Pro, HTC now offers a mirrored finish in multiple colors, including gunmetal and silver in the U.S. and Gold in other countries.
A plastic phone like the Galaxy S5 allows users to replace the back with a case or with a wireless charging back. The HTC One M8's metal back does not let users remove it, but they still get access to a Micro SD card slot. Ultimately plastic or metal is a personal preference.
Galaxy S5 Camera vs HTC One M8 Cameras
A smartphone will not replace a DSLR or a great point and shoot, but it is the camera most people carry everywhere so quality matters.
The HTC One features two cameras on the back that allow it to take photos at multiple points of focus. Users can then blur the background to create a more interesting photo. The HTC features a 4MP camera like on the original HTC One. This uses larger pixels, which can deliver better low light photos, but the results on the 2013 model did not always live up to this claim.
The HTC One camera software includes Zoe, which takes a burst of photos and a short video with one press of the shutter that makes it easier to catch a perfect smile or look from a child or pet. There is also a collection of editing modes that allow users to remove unwanted objects, show motion and more. The HTC One features a 5MP front facing camera and a Selfie mode that combine to deliver great looking photos from the front facing camera. This is an important feature.
Everything is in focus in the original photo (above) of this fountain in San Francisco. The tourists in the background and the storefront are distracting.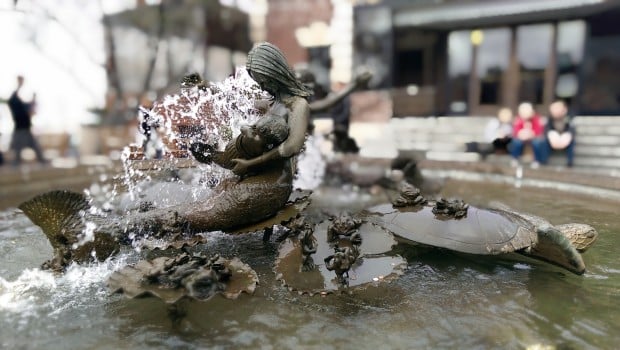 The Samsung Galaxy S5 features a single rear-facing camera that is 16MP and it boasts several important features that the HTC One doesn't. First off the Galaxy S5 camera can focus in 0.3-seconds. That is very fast for a smartphone and it means you can start taking photos in focus faster. The Galaxy S5 also allows users to see live HDR images and videos so that there is no need to guess what the end result will look like.
Samsung includes a collection of camera modes, similar to what we saw on the Galaxy S4. These include Beauty Face, a drama shot mode to show action and selective focus that offers a similar focus option to the HTC One M8, just with a single camera.  The Galaxy S5 features a 2MP front facing camera. Here are a collection of Galaxy S5 photo samples.
We need to extensively test both of these cameras before we can crown a winner, but faster auto focus and modes that are typically found on a point and shoot are important features on the Galaxy S5.
Galaxy S5 is Health Centric
The Samsung Galaxy S5 is focused on health with hardware, software and accessories. The Galaxy S5 includes a pulse reader and S Health 3.0 software to track heart rate and movement on the phone. Users can get a full look at their health by tracking it with the S Health 3.0 app.
For users that want more, the Gear Fit is a wearable accessory that acts as a smartwatch and a fitness band with a curved OLED display. This Galaxy S5 accessory is $199 and will not work with the HTC ONE M8.
There are third-party apps and fitness bands that will work with the HTC One and the FitBit will work directly with the HTC One for enhanced tracking, but Samsung's solution is more encompassing.
Galaxy S5 and HTC One Displays are Similar
The Samsung Galaxy S5 features a 5.1-inch 1080P display and the HTC One M8 brings a 5-inch 1080P display to the market.
Both of these are small upgrades from the previous models and deliver high pixel counts that translate into nice looking on screen experiences. Ultimately a difference of .1-inch is not going to be a deciding factor.
The Galaxy S5 display can go super-bright and super-dim based on the environment and there is a low power mode that turns the display black and white to extend battery life. There is a power saving mode coming to the HTC One M8 later this summer.
Some users may prefer the OLED display on the Galaxy S5, while others will like the HTC One M8's IPS LCD display technology. The best thing to do is look at them in person and then make a decision.
BoomSound is a Major Feature
Users that love to listen to music on their smartphone need to listen to the HTC One M8 BoomSound speakers before picking a phone. The new HTC One features 25% louder front-facing speakers that send the sound right at the user. They sound wonderful and are a feature that other phone companies need to add.
The Galaxy S5 features a rear-facing speaker that is not able to compete with the HTC One M8 for volume or direct sound to the user without cupping a hand behind the phone.
Both Can Control Your HDTV
The Samsung Galaxy S5 and HTC One M8 both feature software and hardware built-in to control your HDTV, cable box and home theater.
The software looks different and offers a variety of features, but overall the result is the same. Easy access to a universal touch screen remote that works on multiple rooms in your house.
Galaxy S5 Multi-Tasking Rocks
Like the rest of the Samsung Galaxy smartphones the Galaxy S5 features a multi-tasking mode or multi-window mode that lets users run two apps on the screen at once. This is great for productivity and for fun. With this users can work on a document and look something up online or chat while watching YouTube.
The video above shows how it will work. The new HTC One M8 does not offer a similar feature to users.
HTC One M8 Offers Smart Gestures
Both of these smartphones can detect movement and let users perform some actions with motion, but the HTC One M8 makes the best use of motion gestures.
When picking up the HTC One M8 users can perform the following actions.
Double tap to go to the lock screen.
Swipe in from right to Widgets
Swipe in from left for Blinkfeed
Swipe up from bottom for Home
Swipe down to access voice dialing
The Galaxy S5 does not offer these options.
HTC One M8 vs Galaxy S5 Battery Tech
The HTC One features a 2,600 mAh battery and the Galaxy S5 a slightly larger 2,800 mAh battery. In our HTC One M8 review time so far the battery is capable of lasting a day, even with new device usage and video watching. During our first full day with the HTC One M8 the battery lasted over 12 hours with 13% to spare.
We have not been able to test the Galaxy S5 battery life yet, but some users will prefer this phone even without a test. Why? Because Samsung lets users swap out the battery on the go, for more power without finding a charger. The removable back will also allow for a wireless charging option.
Water-Resistant Designs
The Samsung Galaxy S5 features a water-resistant and dust-resistant design that meets IP67 standards. This means the phone can survive in water of up to 1Meter for up to 30 minutes. Don't plan on swimming or snorkeling with it, but it will survive the day to day drama of the average and even the reckless user.
The HTC One M8 is not marketed as waterproof or water-resistant, but a user already shows that it is possible to submerge the new HTC One M8 in water and it will work. Since this is not advertised we don't recommend trying it at home.
Galaxy S5 Fingerprint Sensor & Security
The New HTC One does not get a fingerprint scanner like the HTC One Max, which means users need to use a passcode or pattern to lock and unlock the device.
Samsung includes a fingerprint scanner in the Galaxy S5 home button that is able to unlock the phone. This is also the key to a Private mode that allows users to store photos and documents locked behind a fingerprint.
Smaller Carriers
For users that want to get one of the best smartphones of 2014 on a smaller carrier right away, the Galaxy S5 is the phone to pick.
The HTC One is available on Verizon, T-Mobile, AT&T and Sprint, but for now that is it unless you plan to by it unlocked and use on a pre-paid carrier.
On the other side, the Galaxy S5 is available on U.S. Cellular at launch and on Virgin Mobile, Boost Mobile in Q2.
TouchWiz vs Sense 6
The HTC One M8 and the Samsung Galaxy S5 both run Android 4.4.2 with all the features and performance enhancements that it brings to the table, but the look and special features vary from device to device.
The Galaxy S5 runs TouchWiz, which is now more toned down that on the Galaxy S4, with a flatter design similar to the change from iOS 6 to iOS 7. TouchWiz is on top of Android and change the look and feel of the system. The video above shows the Galaxy S5 software.
The HTC One M8 runs HTC Sense 6 which looks a little like Windows Phone, and many users consider it a cleaner interface than TouchWiz. Users get BlinkFeed to see Twitter, Facebook, Google+ and other news services in one spot, customizable shortcuts in the notification drawer and themes to change the look of the device.
[poll id="50″]