Samsung Galaxy S5 vs. HTC One (M8): 5 Key Differences
Now that the all new HTC One (M8) is official, it should start to gain considerable interest from consumers in the hunt for a new smartphone. And those who are in the hunt will likely compare the HTC One (M8) to other big name devices including the Samsung Galaxy S5, Samsung's Galaxy S that will be touching down in a few weeks.
In late February, Samsung struck first. The company took the stage on the first day of Mobile World Congress and announced the brand new Samsung Galaxy S5, its 2014 flagship and a device that is bringing a ton of firepower to shelves in April. The Galaxy S5, while powerful, is going to have its work cut out for it thanks to the fierce competition that will be greeting it when it arrives on April 11th.
Devices like the iPhone 5s, Nexus 5, and Samsung Galaxy Note 3 will be three of the devices that prospective Galaxy S5 buyers will likely consider in the build up to its release. And today, we've seen a brand new competitor emerge in the form of the all new HTC One (M8), a device that replaces last year's HTC One, and immediately becomes a device that Galaxy S5 buyers must consider.
With the new HTC One (M8) going on sale today, consumers are likely scrambling for information in an attempt to absorb as much information as possible. While we haven't spent enough time with the new HTC One to make a full on comparison to the Galaxy S5, we can point out five key differences between the two. These are differences that prospective buyers will want to keep in mind as we inch closer to the Galaxy S5's April 11th release in the United States.
Design
We'll start off with one of the more obvious differences between the new HTC One and the Samsung Galaxy S5: Design.
The HTC One comes with a beautiful gunmetal aluminum design that gives the device a premium look and feel. The design feels like it's on par with last year's HTC One, a device that possesses one of the best smartphone designs on the market. As many of you know, the Samsung Galaxy S5 is made out of plastic and utilizes a perforated plastic back shell that is an improvement over the Galaxy S4's smooth back but is still plastic.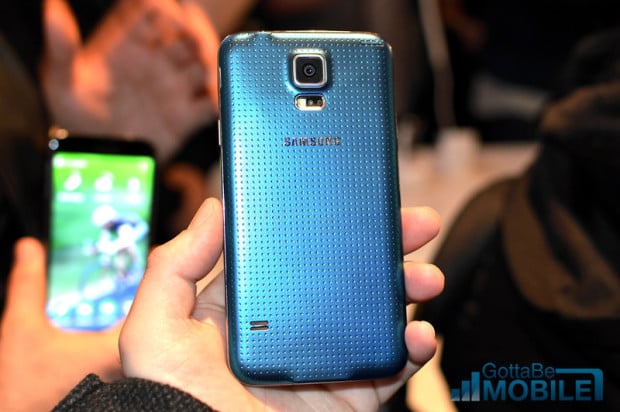 It used to be that Samsung's plastic design would give it an advantage over the HTC One in the storage department. While the Galaxy S4 had a microSD card slot for expanded storage space, last year's HTC One did not. The new HTC One changes things around. Just like the Galaxy S5, the new HTC One comes in 16GB and 32GB form and comes with a microSD card slot that is compatible with 128GB microSD cards.
HTC's new smartphone comes with a design that measures 9.3mm thick and weighs 160 grams. That's thicker and heavier than the Galaxy S5 design which checks in at 8.1mm thin and 145 grams heavy.
One other key difference that we need to point out is the dust and water resistance that comes with the Galaxy S5. The design is IP67 certified which means that it can ward off dust and water. It's similar to what last year's Galaxy S4 Active could do. The new HTC One is not IP67 certified and will depend on its metal design when it comes to durability.
Software
While the new HTC One and Samsung Galaxy S5 both utilize Android 4.4 KitKat, Google's current version of Android, they won't come with the same software.
Samsung's Galaxy S5 comes with the company's TouchWiz overlay that gives its Galaxy devices a much different look and feel than stock Android. The software can be seen running on board the Galaxy S5 in the video below.
The new HTC One will not use TouchWiz. Instead, it will utilize HTC's own UI called Sense. The new HTC One will come with a brand new version of Sense in the form of Sense 6.
Sense 6 is a retooled version of last year's HTC Sense 5. It builds on some of the core features of Sense 5, adds some new features of its own, and tweaks the overall look for a more polished look.
HTC has introduced some new features to Zoe, its powerful camera software including a new cloud based service that makes it easier to share content with friends and family. It has also changed the look of BlinkFeed, the customizable home screen that presents users with a flow of pertinent information.
It also comes with a slew of other features (fitness related, motion sensor related, battery related – features that the Galaxy S5 also has on board) though BlinkFeed, Zoe and the look of the new Sense 6 that are the key differences consumers need to be aware of.
Camera
The Samsung Galaxy S5 camera and the new HTC One camera are both going to shoot high quality photos and video, there is no doubt about that. There are, however, some key differences between the two cameras.
Samsung's Galaxy S5 sports a 16MP camera sensor that will take advantage of the company's ISOCELL technology, something that will help it to shoot better photos and video in low light environments. It also comes with an extremely fast auto-focus that puts things into focus in record speeds. The difference between the Galaxy S4 focus and the Galaxy S5 focus is very noticeable. It's that fast.
The Galaxy S5 also comes with advanced HDR which allows users to actually see the final image on screen before the shutter is hit. The Galaxy S5 also comes with a fully loaded camera application that we consider to be the best in the business.
The all new HTC One comes with a different camera setup. It includes a Duo Camera which takes advantage of HTC's Ultrapixel sensor that was found on last year's HTC One model. The HTC One's camera, for the record, is fantastic.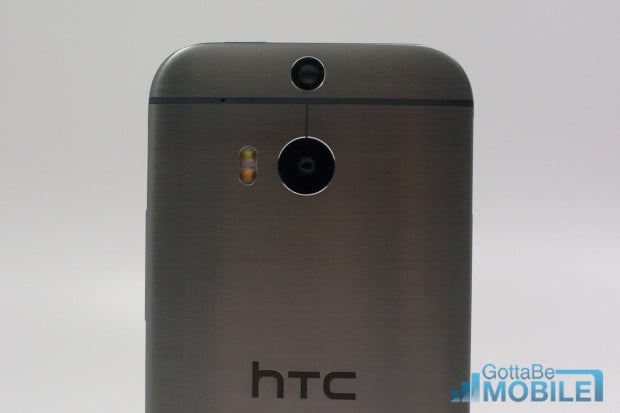 This new Duo Camera system is complemented by an extremely fast auto focus that HTC says is on par with the Galaxy S5's and a dual LED flash that will intelligently work to provide high quality photos. Both devices include dual LED flash. HTC's camera will work in conjunction with HTC Zoe and some new software features for the camera application including the ability to shoot in slow motion.
One other difference that we should point out is that the Samsung Galaxy S5 camera can shoot 4K video. The new HTC One camera can shoot in 1080p full HD.
Speakers
HTC's new HTC One comes with upgraded BoomSound technology that is going to provide extremely clear audio that HTC says is 25% louder than the experience on last year's model. Last year's HTC One possessed some of the best speakers in the business so these improvements only make a great experience even better.
The new HTC One also comes with dual front facing stereo speakers that not only come with a new amplifier but redesigned speaker chambers for enhanced sound. Samsung's Galaxy S5 does not come with front-facing speakers nor does it possesses HTC's BoomSound technology, something that we already see as a disadvantage.
Carriers
The all new HTC One and the Samsung Galaxy S5 are both going to be available on major carriers in the United States. The HTC One and the Galaxy S5 will share four carriers in common from the start with AT&T, Sprint, T-Mobile, and Verizon providing both. However, there are some differences that buyers need to keep in mind.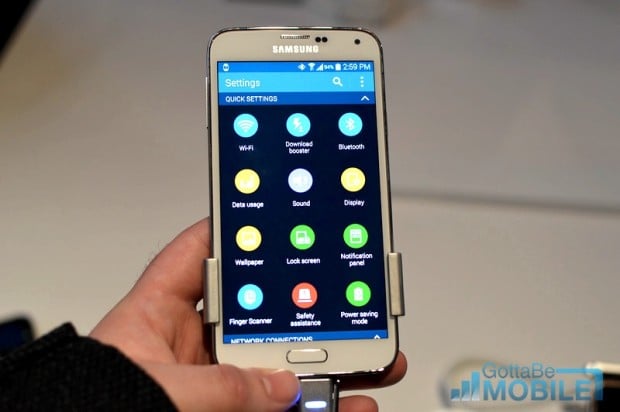 The new HTC One will land on Bluegrass Cellular, Pioneer Wireless, Cincinnati Bell, and Net10 Wireless in the United States. The Galaxy S5 has not been announced for those carriers but it has been announced for several others.
MetroPCS, Ting, Boost Mobile, and Virgin Mobile will all be carrying the Galaxy S5 down the road. In addition to these smaller carriers, the Galaxy S5 will land for U.S. Cellular, the nation's fifth largest service provider and a carrier that the Galaxy S5 will not share with the HTC One, at least for the time being.

This article may contain affiliate links. Click here for more details.