Samsung Galaxy S5 vs. HTC One: What We Know So Far
The HTC One, like the Samsung Galaxy S4, remains a solid option on shelves almost a year after it was first released. However, it will soon have to contend with the flagships of 2014 including the rumored Samsung Galaxy S5, the device that is expected to replace the Galaxy S4 and rival not only the HTC One but any other flagship that the company puts out.
Last year, HTC and Samsung went head to head at the start of the year with the HTC One and Samsung Galaxy S4 launches. The HTC One arrived first in New York City, just a few weeks ahead of the Galaxy S5. Due to delays, the HTC One release date landed around the same time as the Samsung Galaxy S4's. Both devices first hit the United States in April of last year.
Since then, the two have remained top options for those looking for a new smartphone. And not just on Android either. These are two of the best smartphones around. Period.
Like all smartphones though, their time as flagship devices are coming to a close. The HTC One is rumored to be getting replaced by the HTC M8 and the Galaxy S4 by the Galaxy S5. The new devices are both rumored to be touching down in just a few weeks.
With that in mind and credible rumors in hand, we feel that it's appropriate to start taking a look at how the Samsung Galaxy S5 stacks up against some of the current competition. The reason we're doing so is because there are those that, despite the arrival of new flagships, might be looking at older devices due to their price tags. There are also current owners that might be thinking about replacing their current device with the Galaxy S5 and we want to keep them as informed as possible.
That said, here, we want to take a look at how the rumored Samsung Galaxy S5 is stacking up against the HTC One.
Release Date
HTC One owners who are looking for a new smartphone and those that simply wish to weigh the HTC One against of 2014's best probably don't have too long to go. The Samsung Galaxy S5 launch date is currently thought to inside of one of two windows, either the month of February or in the month of March.
At the moment, both are looking like candidates for a Samsung Galaxy S5 launch date. While rumors have pointed to MWC 2014 in late February, one of the sources that claimed a February 23rd launch issued a statement saying that Samsung is actually still undecided while the other source wasn't credible enough to believe. That is, until today, when Samsung issued invites to a Samsung Unpacked 5 event set for February 24th and MWC 2014.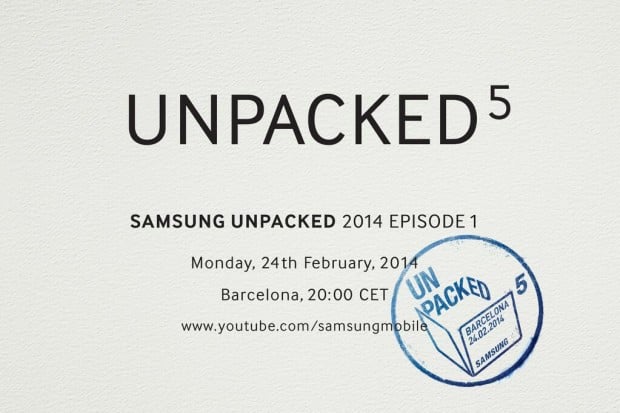 The invite is vague and doesn't confirm anything but it does open the door for a possible arrival at MWC. Samsung normally does not announce its Galaxy S at trade shows so it's possible that this could be for something else.
Credible sources have also put their weight behind the month of March. Flavio, an Italian journalist who leaked out last year's HTC One launch date, reports that the Galaxy S5 launch will take place in London in the middle of March. This lines up with a SamMobile report that definitively states that the Galaxy S5 will launch in March. So at the moment, rumors are in flux but it's looking more and more like we'll get some definitive answers soon.
All current Galaxy S5 rumors point to a release inside of the month of April and Gotta Be Mobile itself has learned that late April is a distinct possibility. We have been unable to secure a specific release date though rumors currently point to the later portion of the month. Last year's Samsung Galaxy S4 was released in late April.
The big takeaway here is that those in the hunt to replace their HTC One should have another option in the near future. Same goes for those weighing the HTC One or the Galaxy S5.
Design
Unlike the Samsung Galaxy S4, the HTC One comes with a sleek metal design. Simply put, the device features a design that plastic designs cannot match. As we've noted, the HTC One is made from a single piece of aluminum and that means users get a very solid feeling smartphone. The device is not as thin as a device like the iPhone 5s but its curved back makes it comfortable to hold in one hand.
Exactly how the HTC One design will stack up with the Samsung Galaxy S5 design is unclear at the moment. Samsung does a fantastic job of keeping its designs hidden from public view, keeping the media and prospective buyers at bay. Of course, several possible hints have emerged as rumors try and dissect Samsung's secret.
In early January, a Samsung executive told Bloomberg:
When we moved to S4 from S3, it's partly true that consumers couldn't really feel much difference between the two products from the physical perspective, so the market reaction wasn't as big.

For the S5, we will go back to the basics. Mostly, it's about the display and the feel of the cover.
This doesn't confirm a new design but it sure does hint at one. Every year, Samsung tweaks its designs so it's no surprise that it will probably be different from the Galaxy S4. How much different though is another story.
Rumors suggest that Samsung will be releasing two models, one premium and one budget. SamMobile believes that the premium model will come in metal while the budget model will come in plastic. Respected KGI Securities Ming-Chi Kuo thinks that while there will be two models, they will both come in plastic. South Korean brokerage firm KDB Daewoo Securities believes that the Galaxy S5, at the very least, will come in metal.
None of the rumors get specific which means that build materials and dimensions remain out of reach. So at the moment, while there is a possibility that at least one Samsung Galaxy S5 design will rival the HTC One's, it's not a guarantee.
Display
The HTC One features one of the better smartphone displays, offering a 4.7-inch 1080p display to consumers. In our review, we found that the HTC One's display delivers deep blacks and bright whites while delivering a good mobile viewing experience. It also helps that the HTC One features front-facing speakers, something that enhances the viewing experience.
Currently, Samsung Galaxy S5 rumors point to a display that measures around 5.2-inches in size. Kuo, like SamMobile, believes that the screen will measure 5.2-inches, and KDB agrees on that. There is also speculation that in addition to being bigger than the HTC One's display, at least one version of the Galaxy S5 could offer a display that offers better looking content.
While Samsung told Bloomberg that the screen size would be "different," it would not elaborate. Rumors have, in fact, elaborated on the subject and they state that the premium version of the Galaxy S5 could have a QHD display, or, 2560 x 1440 resolution. If true, it would mean extremely sharp looking images and video, better than the quality found on the HTC One's display.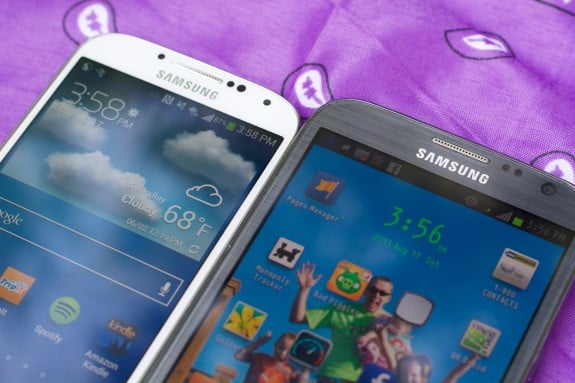 Kuo believes that the budget Galaxy S5 model will offer a 1080p display which would put it on par with the quality found on HTC's current flagship smartphone.
Battery, Camera, Processor
While there are many specifications that make up any smartphone, we want to focus on three: the battery, the camera and the processor.
The HTC One features a 2,300 mAh battery that provides decent battery life but does not put the HTC One into the upper echelons of smartphone battery life. It's good but it's not the best.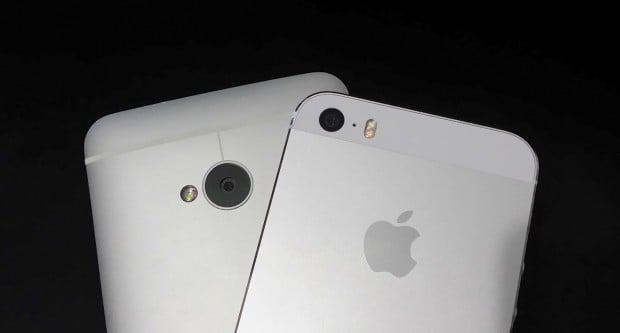 HTC's Ultrapixel camera might be a 4MP camera but it does provide fantastic quality photos and video. We didn't find the camera to be as good as the iPhone 5's 8MP camera but it's close.
Finally, the HTC One is powered by a Qualcomm Snapdragon 600 quad-core processor that is able easily handle gaming, multitasking and more, delivering sound performance to HTC One owners. These specifications are getting older but they still provide excellent performance almost a year after release. This is what makes the HTC One so special.
Samsung Galaxy S5 rumors point to a special smartphone as well. PhoneArena believes the device will have a fast-charging 2,900 lithium ion battery that is capable of holding 20% more charge than other batteries its size. Kuo thinks the battery will be 2,850 mAh though he does not suggest anything further than that. Exactly how the battery will match up to the HTC One's remains to be seen. Size doesn't always matter when it comes to batteries. The iPhone 5s features an extremely small battery but some of the best battery life available.
Rumors across the board hint at a 16MP camera on board the Galaxy S5. Kuo believes the 16MP sensor will extend to the budget version of the smartphone as well. This likely means a better camera than the one found in the Galaxy S4, though by how much, we can't say. The Galaxy S4 camera was simply not as good as the one on the HTC One in our tests so it will be interesting to see if the successor can beat last year's technology.
Finally, the Galaxy S5 is expected to feature a powerful processor. Kuo thinks it will have a 32-bit processor of the Exynos 5 or Snapdragon 800 variety which, we should point out, are both better than the Snapdragon 600 in terms of performance. SamMobile and KDB think that the device will rock a Snapdragon 805 or a Exynos 6 64-bit processor. Those would offer better performance than the HTC One, particularly when it comes to gaming.
One last tidbit. The HTC One comes in 32GB everywhere but AT&T where it comes in 32GB and 64GB. KDB believes that Samsung will offer 32GB, 64GB and 128GB Galaxy S5 models. That remains far from confirmed but we felt it appropriate to point out ahead of launch.
Software
As we've noted, the HTC One offers the basic Android 4.4 KitKat features that are available on competing devices but with an HTC skin that is on top of the software.
HTC calls the skin Sense 5. Sense 5 includes a number of unique features including HTC BlinkFeed, a social newsfeed that dominates the home screen and HTC Zoe, a powerful camera feature that can take 20 photos and a 3 second video with one push of the shutter, amongst other things.
Samsung does the same thing with its Galaxy products. However, instead of Sense, the company provides its own TouchWiz UI. TouchWiz not only looks a lot different than HTC's Sense but it comes with different functionality as well. And from the looks of things, the Galaxy S5 might expand on both of those features.
Two recent leaks from the well-known @evleaks hint at major design changes. The leaks point to a changed appearance that could be based on the Magazine UI that debuted on Samsung's new tablet line at CES 2014. Magazine UI can be seen running on the Samsung Galaxy NotePRO 12.2 in the video below.
Thanks to a report from Recode, we now know that Google pressured Samsung into dropping some of its applications and moving closer to stock Android. The report specifically states that Google was, and is, unhappy with the Magazine UI so it's possible that the company will make changes before the Galaxy S5 is released.
An earlier report from etnews suggests that Samsung locked in Synaptics as the supplier of the touch portion of the Galaxy S5 screen which will bring improved Air View, Air Gesture and S Pen support. Rumors also point to new applications and a new interface with touchpoints in the corners that the allow users to activate shortcuts to apps and settings.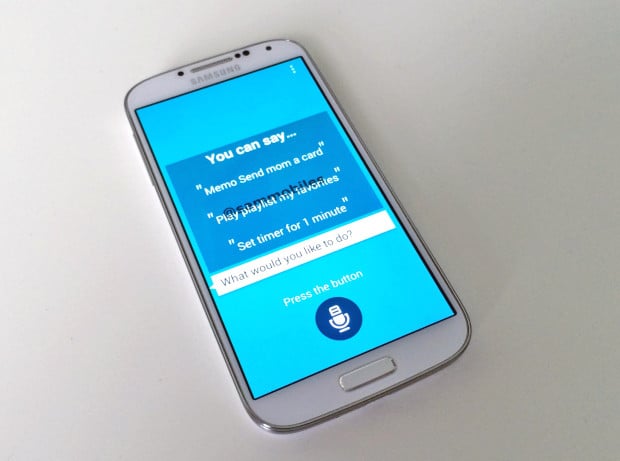 Needless to say, the Galaxy S5 should offer a different look but different features that HTC's Sense software and it will be up to consumers to decide on which one feels most comfortable.
Carriers
The HTC One is found on AT&T, Sprint, T-Mobile, and Verizon. It's also found some smaller carriers like Cincinnati Bell. The device did not, however, arrive on the 4G LTE network of U.S. Cellular, the United States' fifth larger carrier.
Samsung Galaxy S5 rumors now suggest that the Galaxy S5 will, at the very least, land on the five largest carriers in the United States. Samsung also has made it a point to release its Galaxy S on a wide swath of regional and smaller carriers so there is no reason to expect different from the Galaxy S5. If true, it would have wider availability than the HTC One.
Price
The HTC One, as old as it is, can be found for discounted prices through third-party retailers like Amazon. We've even seen the retailer put it on sale for free. We expect the price to continue to deteriorate through retailers and carriers as we move closer to the Galaxy S5 and HTC M8 launch as well.
Samsung's Galaxy S5 will almost assuredly be more expensive than the HTC One, it's just not clear by how much. The only Galaxy S5 pricing rumor that we've seen comes from SamMobile and it suggests that the Galaxy S5 will arrive with two different price points.
The publication asserts that the premium Galaxy S5 will cost about 800 Euros while the budget model will cost around 650 Euros. When converted to U.S. dollars, the premium model would be over $1000. That's simply not happening which means that the Galaxy S5 price remains a mystery for U.S. buyers.

This article may contain affiliate links. Click here for more details.