Samsung Galaxy S5 vs. Nexus 4: Early Look at What to Expect
Sometime next year, Samsung will replace the Galaxy S4 with a brand new Samsung Galaxy S smartphone. All signs point to that smartphone being the Samsung Galaxy S5 and rumors suggest that it could arrive as early as March or April. This has put current smartphone owners on notice including those who bought into last year's Nexus smartphone, the Nexus 4.
Last year, Google replaced the Samsung Galaxy Nexus with a brand new Nexus smartphone that it called the Nexus 4. The Nexus 4, unlike the Samsung Galaxy Nexus, did not come attached to Verizon or Sprint but instead arrived on AT&T and T-Mobile. While it was, and still is sold at T-Mobile, most consumers bought the device unlocked through the Google Play Store thanks to its cheap unlocked price tag.
In September, Google discontinued the Nexus 4 after a long, successful run, ushering in a new era with the Nexus 5. That doesn't mean that the Nexus 4 has disappeared though. And because many users didn't sign on for contracts, many of 2014's best devices will be extremely appealing to those looking to ditch the aging flagship.
One of those devices is likely going to be the Samsung Galaxy S5, the flagship that is currently rumored to be coming to replace the Samsung Galaxy S4. Each year, Samsung puts out a flagship Galaxy S and Galaxy Note model, and each year, they are among the best smartphone options available. So, it's not surprising that we've heard questions about the Galaxy S5 from owners of the Nexus 4.
While we don't have all of the Galaxy S5 answers, and neither do rumors at this point, we can make some predictions for those trying to decide between the Nexus 4 and Galaxy S5 and for those who currently own the Nexus 4 thinking about making a switch.
Here, we take an early look at how we expect the Nexus 4 to stack up next to the rumored Samsung Galaxy S5
Release Date
Google no longer carries the Nexus 4. It was surprisingly discontinued the device in September, well before the Nexus 5 launch in October. That doesn't mean that the Nexus 4 is unavailable. T-Mobile still carries the Nexus 4 in its stores and the device is readily available through a number of other third-party avenues. It will remain an option into 2014.
That's important because it means that the device will be in play when the Samsung Galaxy S5 arrives. Rumors suggest that the Samsung Galaxy S5 launch could take place as early as late February while release date rumors point to a release in March or April. None of those rumors have been confirmed by Samsung which means that both launch and release dates are up in the air.
As we've asserted several times, we expect the Samsung Galaxy S5 to arrive in the first half of the year. January is too early given that Samsung will need to ramp up production in order to satisfy millions of consumers. Production of some pieces of the Galaxy S5 has reportedly started but the process of putting everything together doesn't appear to have started just yet.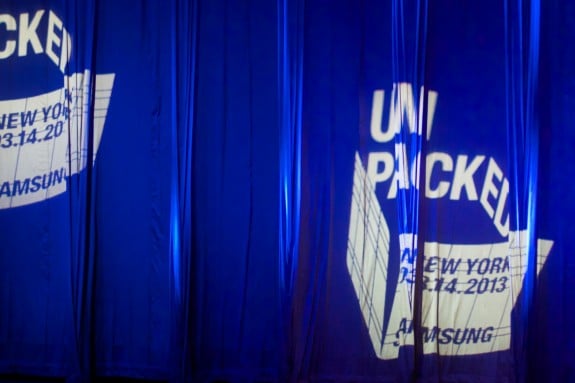 A launch after May would put the Galaxy S5 dangerously close to an iOS 8 announcement and really, the iPhone 6. Rumors suggest that it will feature a larger display to compete against the likes of the Galaxy S5. With all of that in mind, we expect the Galaxy S5 to join the Nexus 4 on shelves before the month of May is over.
That means that those picking between the two and those looking to potentially replace their Nexus 4 have a few weeks of waiting ahead of them, at the very least.
Design
The Samsung Galaxy Nexus, and Nexus smartphones before it, featured all plastic designs. The Nexus 4 introduced a new "premium" build with its plastic front panel and its glass back panel, something that we first saw with Apple's iPhone 4s back in 2011. While the Nexus 4 is and was susceptible to cracks, it does feature a much more elegant design than the previous versions of the Nexus and quite frankly, many of the Android phones out there.
Google's LG-made Nexus 4 is not the thinnest or lightest smartphone in existence, it checks in with a form factor that measures 9.1mm thin and weighs 139 grams, but those are both extremely manageable. It's easy to grip with one hand and the Nexus 4 fits snugly into any jean pocket despite its large display.
Exactly how it will stack up next to the Samsung Galaxy S5 design is unclear. Samsung almost always keeps its flagship designs under lock and key and despite rumors, the Galaxy S5 has been no different. Without any leaks, it's extremely difficult to predict. And this year's rumors aren't making things any easier.
Here's what we think we know. Samsung isn't going to backtrack on quality. That means that we're not going to see a Galaxy S5 that bulks up. It will be thin and lightweight. We doubt that it's any worse than the Galaxy S4 which checks in at 7.9mm and weighs 130 grams. Thus, we don't expect it to be any worse than the Nexus 4.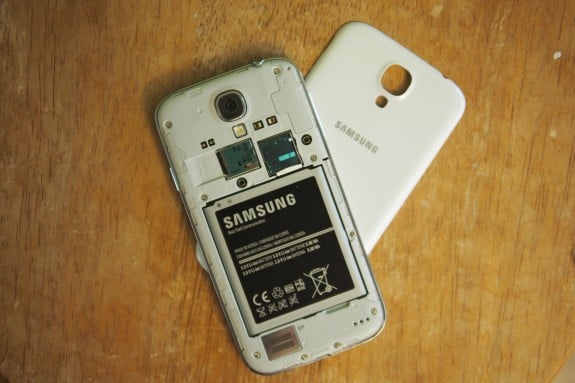 As for build materials, rumors point to plastic or metal or both. Either, in our opinion, will be better than glass. We would be shocked if Samsung again went with a plastic Galaxy S, given all of the complaints over the years, but if it does, expect it to be the highest quality plastic available.
Display
The Nexus 4 arrived at the end of 2012 and thus, it used the best 2012 had to offer. In the case of the display, that means a 4.7-inch 720p display with 318 pixels-per-inch and 1280 x 768 resolution. The display, while nice, was quickly surpassed by the flagships of 2013 which all offered 1080p resolution and extremely crisp content thanks to high pixel-per-inch counts. The Galaxy S4 was one such device.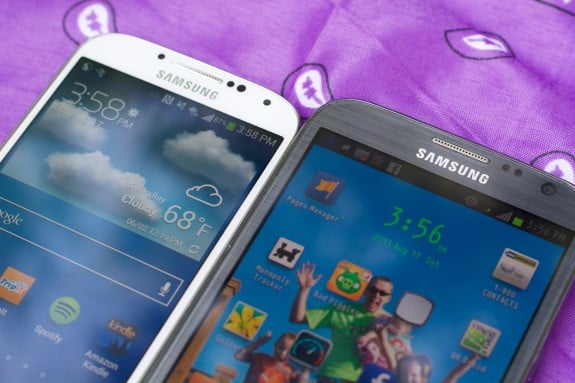 Rumors point to a 5.25-inch Samsung Galaxy S5 display, a little bigger than the Galaxy S4. Even if this proves untrue, we doubt that there will be much of a size difference. Samsung won't want to go any lower than the 5-inch mark and it won't want to go too high because the Galaxy S will then encroach on the Galaxy Note's display size. So we expect a larger display than the one found on the Nexus 4.
Galaxy S5 rumors also point to a display featuring QHD resolution. Samsung reportedly is planning a display that features 2560 x 1440 resolution and 520 pixels-per-inch and there is speculation that the display could land on the Galaxy S5. In fact, production has reportedly already begun. Nothing is set in stone but if true, this type of quality would lead to even better looking photos, video, and more.
At the very least, the Galaxy S5 will offer 1080p resolution. In fact, one supposed variant of the Galaxy S5 was caught with 1080p resolution on board. Even if that's the case, it will offer better looking content than the Nexus 4.
Specs
In addition to the display, the Nexus 4 also came with a number of powerful specifications that were at one point, top-of-the-line. Those include a Snapdragon S4 Pro quad-core processor, 2GB of RAM, an 8MP camera with a number of bells and whistles, a 2100 mAh battery, and two size options in 8GB and 16GB. The device does not come with a microSD card slot which means that users are limited to the on board storage.
Mobile technology as a whole moves very quickly so it should come as no surprise that the Nexus 4's hardware specifications, while still decent, are looking extremely old, particularly as we move into 2014.
Galaxy S5 rumors suggest a high-end processor that could come with 64-bit support for better performance. At least 3GB of RAM though there is talk of up to 4GB. Rumors have zeroed in on a 16MP camera with Auto Focus that could be one of the focal points of Samsung's announcement. And there is talk of a massive 4,000 mAh battery.
The point here is this. Samsung's Galaxy S5, from a hardware standpoint, is going to blow the Nexus 4 out of the water. And this means we expect better performance when it comes to battery life, when it comes to gaming, and when it comes to multitasking, all key components to any smartphone experience.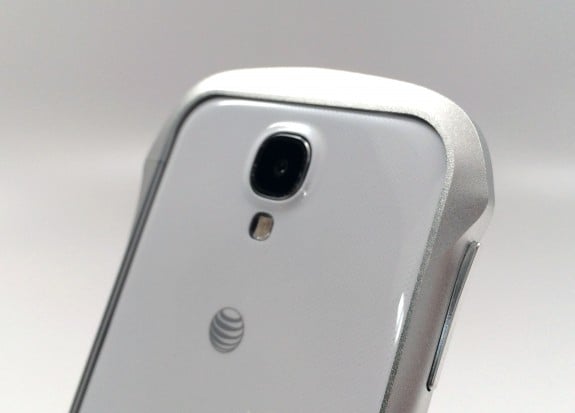 These may seem like no-brainer predictions but not everyone is aware of how fast mobile technology moves or how much better the smartphones from 2014 will be. The Galaxy S5 hardware should trump the Nexus 4 hardware in just about every area.
Software
The Nexus 4 is a Google device which means that it not only features a vanilla version of Android, untouched by its manufacturer (LG), but it also receives its updates directly from Google. These are key in the world of Android where manufacturer user interfaces dominate and carriers take control of and effect update timing.
Currently, the Nexus 4 runs Android 4.4 KitKat, Google's brand new version of Android. The Samsung Galaxy S5 will almost certainly run Android 4.4 KitKat as well though it's version of Android 4.4 KitKat will look vastly different than the one found on Google's Nexus smartphone.
Samsung utilizes an interface that it calls TouchWiz. TouchWiz is placed on top of Android and offers users unique features that aren't available on devices that fall outside of Samsung's umbrella. Each year, Samsung upgrades its TouchWiz software, first with the Galaxy S release then with the Galaxy Note release. So, we expect the Galaxy S5 to bring some changes to the table when it arrives.
We fully expect Samsung to try and challenge Apple's TouchID fingerprint reader and rumors point to a possible security measure utilizing the Iris of the users eye. While this may or may not pan out, it's an example of just how much different Samsung's software will be from the software found on Google's Nexus 4.
Furthermore, because the Galaxy S5 is a new device, it will get up to two years of software support. The Nexus 4 is now a year old which means it has about six months left. Google sticks to an 18 month software support rule. Samsung usually offers around two years of support with its flagships.
Carriers
The Nexus 4 only arrived for handful of major carriers. AT&T and T-Mobile allow the Nexus 4 on their network but carriers like Sprint and Verizon do not. The Nexus 4 also does not come with 4G LTE data speeds, something that is commonplace on smartphones of 2013. What this means is that the fastest speeds the Nexus 4 can pull down are the HSPA+ 42 speeds on T-Mobile. These are generally slower than 4G LTE.
The Samsung Galaxy S5 will not only feature 4G LTE, it should also offer an extensive collection of carrier choices. AT&T, Sprint, T-Mobile, U.S. Cellular, and Verizon have carried the past two Galaxy S devices and we don't expect a change in 2014. We also expect there to be a number of smaller carriers on board as well.
Price
When the Nexus 4 was available on the Google Play Store, it was priced at $250 and $300 off-contract. Now that it's no longer available, prices vary. T-Mobile currently offers the device for $0 down and charges $408 full price. Retailers like Amazon charge $350.
We expect the Galaxy S5 to cost much more off-contract, a price above $500 is likely, and its on-contract price should at least be in the vicinity of the Nexus 4's off-contract price.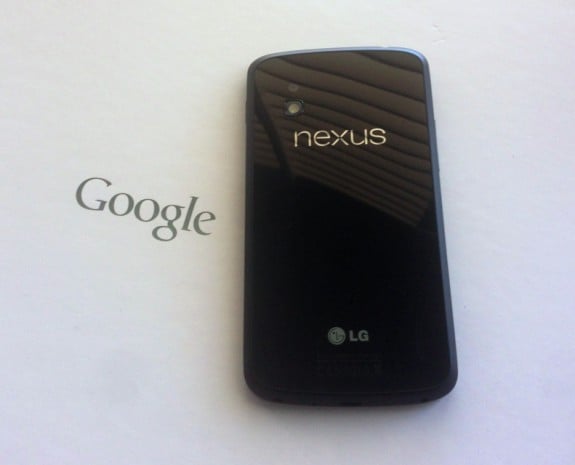 In the past, Samsung and its carriers have charged $199.99 on-c0ntract. That could change given the boost in technology but we simply don't expect it to go beyond $250 on-contract. Not with the iPhone 5s 16GB priced at $199.99.
Point is, the Galaxy S5 should be more expensive, all-around, when it arrives to compete with devices like the Nexus 4 next year.

As an Amazon Associate I earn from qualifying purchases.