Samsung Galaxy S5 vs. Nexus 5: 7 Reasons to Buy the Galaxy S5
As we inch closer to the Samsung Galaxy S5 release in April, consumers are starting to weigh the Galaxy S5 against the opposition which includes the Nexus 5, Google's current Nexus smartphone. With those consumers in mind, we take a look at some reasons why one might want to consider buying the Galaxy S5 over the Nexus 5.
At the tail end of last year, Google canned the Nexus 4 and announced a brand new Nexus smartphone in the form of the Nexus 5. The LG-made Nexus 5 made its debut on Halloween alongside Android 4.4 KitKat and it was released into the world just a short time later. The Nexus 5 is widely considered to be one of the best Android smartphones on the market and in our opinion, it's one of the best smartphones period.
The Nexus 5 is relatively new and given Google's penchant for releasing one Nexus smartphone per year, we expect it to be on shelves deep into the new year. This means that consumers are going to be weighing against this year's crop of smartphones including the Samsung Galaxy S5, Samsung's brand new Galaxy S.
In fact, we've started to hear a similar question from friends, family and readers: "Should I buy the Nexus 5 or should I buy the Samsung Galaxy S5?" Obviously, this is going to be a very personal decision. We always tell consumers to go hands on themselves before they buy to ensure that the new phone is going to be a good fit. That said, what we can do is help to point people in the right direction.
We've already offered some reasons why consumers might want to opt for the Nexus 5 over the new Samsung Galaxy S5 and today, we're going to switch gears and take a look at some reasons why the Galaxy S5 might be the better fit.
Resistant Design
The Nexus 5's design is a durable piece of black, white or red matte plastic. It's a high quality design but it does not offer the same perks that the Samsung Galaxy S5 design affords its users.
Samsung's Galaxy S5 design is an improvement over the glossy polycarbonate design found on the Galaxy S4. The Galaxy S5's perforated plastic back is much more stylish and it feels more like a premium smartphone build. It doesn't feel cheap. Like the Nexus 5, the Galaxy S5 is also thin and relatively lightweight. However, the Galaxy S5's trump card is the kind of durability that it offers.
The Samsung Galaxy S5 is IP67 certified which means that it offers resistance to water and dust, something that the Nexus 5 design simply does not offer. This inclusion of IP67 is a big deal because it means that consumers can bring their device into rugged environments and feel comfortable. It also means that there is less risk for disaster.
We've heard from plenty of people that incurred water damage in the middle of a contract and had to shell out extra money to replace their damaged smartphone.
Camera
We've been using the Nexus 5 since November and we can say, with confidence, that its camera is one of its weakest links. Yes, it has Optical Image Stabilization (OIS) and some nifty software features but what's the point of those if the camera isn't that great? The 8MP camera is good, it's not great and the stock camera application leaves something to be desired. The Galaxy S5 camera experience as a whole will trump the Nexus 5's experience and here's why.
The Galaxy S5 may not come with OIS but it does come with a 16MP camera sensor with Samsung's ISOCELL technology that is focused on delivering high quality photos and video in low light environments. The higher resolution is notable but it's certainly not the reason why the Galaxy S5 camera experience is better.
Samsung's Galaxy S5 comes with an extremely fast auto-focus, advanced HDR that allows users to actually see the final image on screen before the shutter is hit, and a fully loaded camera application that puts the stock camera application to shame. The Galaxy S5's camera can also shoot 4K video while the Nexus 5's camera cannot.
It's the camera experience, as a whole, that we like better than the Nexus 5's. And this is a big reason why consumers should consider Samsung's device over Google's.
More Storage
Google does not like to put microSD card slots on its Nexus devices and thus, the Nexus 5 comes without expandable storage. This leaves users with either 16GB or 32GB of internal storage space to go along with the cloud. Those who need more storage than that are going to want to heavily consider the Galaxy S5.
Not only will it come in 16GB and 32GB form, but it also possesses a microSD card slot for expanded storage, up to 128GB. That means that a Galaxy S5 user with the 32GB model can utilize up to 160GB of storage space. That's huge for gamers and those who love to shoot a ton of photos and video with their smartphone.
Longevity
The Nexus 5 has been out since November which means that it's already going on five months old. That may not sound like much but when it comes to software updates, it's a big deal.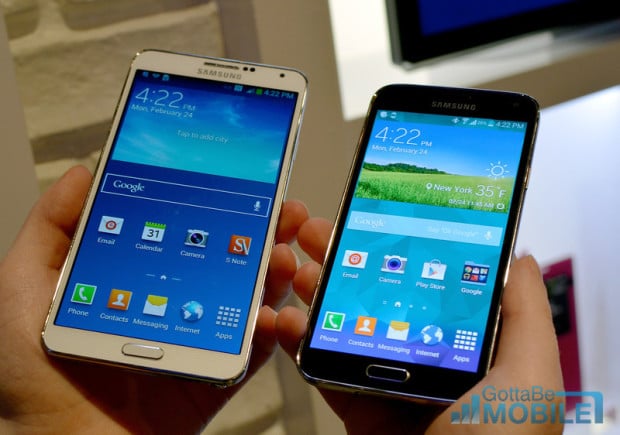 Google's software update policy dictates that devices get support for 18 months. That means that the Nexus 5 will be supported until early-to-mid 2015. Given Google's software update pattern, it means that this year's batch of Android updates could be the device's last. An update next summer certainly isn't guaranteed.
Samsung's devices typically get two years of support which means that the Samsung Galaxy S5 will almost certainly be updated with new Android software until 2016. The Nexus 5 will almost certainly be cut off in 2015, forcing users to go the unofficial route and deal with ROMs.
Health
Samsung introduced a ton of health related features with the Samsung Galaxy S5 included a new S Health application and a new heart rate sensor that is tucked in next to the camera. The sensor, along with the software, will work together to keep Samsung Galaxy S5 users informed about their health.
Samsung also introduced a powerful new accessory in the Gear Fit that, for the moment, is not compatible with the Nexus 5. Not only is the Gear Fit a fitness tracker, it also doubles as a way to keep track of text messages, emails and notifications from third party applications. It's a device that should pair up nicely with the Galaxy S5.
Nexus 5 users can use the camera to take a pulse and other fitness bands will work, but the experience will not compare to a full health ecosystem that's offered by the Galaxy S5.
Display
The Samsung Galaxy S5 comes with a 5.1-inch display that offers 1080p resolution. The Nexus 5 comes with a 5-inch display that offers 1080p resolution. However, there are some things that Samsung has done to the Galaxy S5 display and the software that help to separate it from the Nexus 5's.
The Galaxy S5's display uses an algorithm and sensors to change the display in response to bright light. Samsung calls this local contrast enhancement, which essentially means that the phone can automatically deliver a display that is much easier to read when outdoors.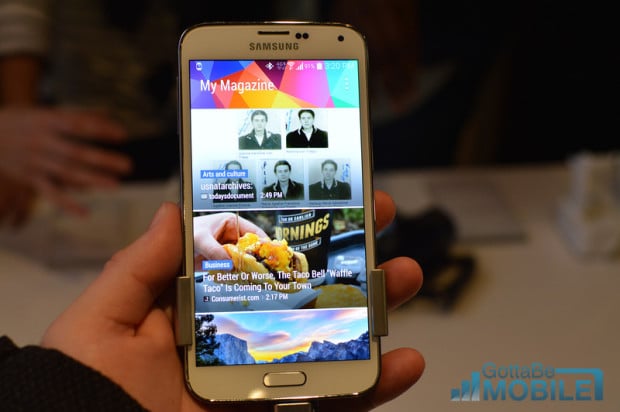 It also includes a Super Dimming mode that drops the brightness down to 2cd/m2, which as one might guess, is extremely dim. This mode is designed to make it easier on the user's eyes in the dark and to avoid bothering others. It should also help to conserve battery life as displays typically eat up a ton of juice.
Security
The Nexus 5 doesn't use a physical home button and instead, relies on on-screen buttons for navigation. The Galaxy S5 does feature a home button though it's more than just your typical button.
Samsung has embedded a fingerprint reader inside of the Galaxy S5's home button that adds an extra layer of security and provides more convenience to those that are constantly in and out of their device. Users can store up to three different fingerprints for easy access to content.
What's more is that the Galaxy S5′s fingerprint sensor will be opened up to developers which means that we should see applications take advantage of it in the future.

This article may contain affiliate links. Click here for more details.