Samsung Galaxy S6 Specs: 15 Things to Expect
As the Samsung Galaxy S6 launch date inches closer, consumers in the United States and around the world are starting to get excited about Samsung's Next Big Thing. And with a U.S. Galaxy S6 release now confirmed, average consumers are starting to pay closer attention. With a release in sight, we want to take a look what we expect the Samsung Galaxy S6 specs and features.
In early February, Samsung sent out invites for an Unpacked event at Mobile World Congress 2015 in Barcelona, Spain. In the weeks since, we've been buried under an avalanche of Galaxy S6 rumors that's included details about the Galaxy S6 specs, Galaxy S6 design and Galaxy S6 release date details for the U.S. and other regions.
The Samsung Galaxy S6, on paper, looks like it will be a worthy successor to the Galaxy S5. New hardware, an improved design and software tweaks are rumored to be on tap for March 1st. As we've crept closer to March 1st, we've started to see many of these Galaxy S6 rumors start to firm up, something that's lead to increased interest in Samsung's new flagship device.
Over the past two months, we've seen Galaxy S6 specs rumored countless times. Those specs have helped to paint an early picture for consumers thinking about making the jump to Samsung's 2015 version of the Galaxy S. While the Samsung Galaxy S6 itself remains unconfirmed, many of its features have firmed up ahead of launch.
In the buildup to the Samsung Galaxy S6 launch date, we've been taking a look at its most important details and making some predictions of our own. Recently, we offered up our expectations compared to a few different phones including the iPhone 6 and Galaxy S5. Today, we want to take a look at what we expect from the Galaxy S6 specs and features that Samsung will use to try and lure you in.
Quad HD Display
If you've been following along, you'd know that every single Galaxy S6 display rumor has pointed to the arrival of a Quad HD display. Quad HD, for those that don't know, is 2,560 x 1,440 resolution. That's a step up from the full HD resolution found on the Galaxy S5 and similar to the Quad HD resolution found on the Galaxy Note 4 and Galaxy Note Edge.
At this point, with every Galaxy S6 rumor and leak pointing in that direction and with the technology already on board the Galaxy Note 4, there's no reason to think that Samsung will surprise us all with a lesser full HD display or a Ultra HD display. If Samsung does opt to put a UHD display on a smartphone this year, we're fairly certain that it's going to be the Samsung Galaxy Note 5.
5.1-inch Display
Initially, Samsung Galaxy S6 rumors wavered between a larger 5.5-inch display and a 5.1-inch display. We imagine that that's because the company was throwing around several different prototypes in the days, weeks, and months before the Galaxy S6 launch.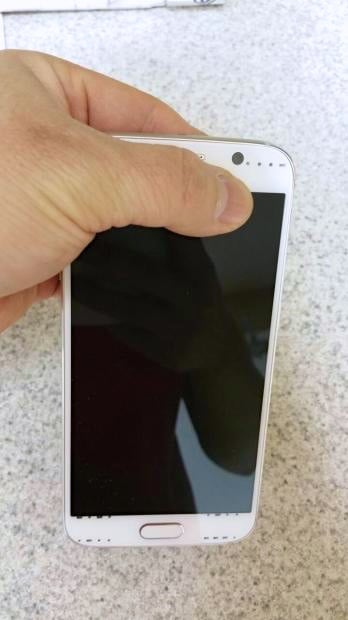 As the Galaxy S6 rumor mill's started to mature, so have Galaxy S6 display rumors and they've settled on the arrival of a 5.1-inch Quad HD display. And that's what we expect at this point.
Alleged Galaxy S6 photos don't show a massive smartphone. Instead, they depict a more reasonably form factor that the average consumer will be able to relate to. We never bought into the rumors of a larger display. That's what the Samsung Galaxy Note 4 is for.
Curved Display
The arrival of the Samsung Galaxy Note Edge foreshadowed the company's plans for 2015 and beyond. The Galaxy Note Edge, for those that don't know, employs a "bent" display with part of the display wrapping around the right edge of the phone. This edge provides users with some unique viewing angles and a useful toolbar that works separately from the main screen.
Galaxy S6 rumors have hinted at the arrival of a Galaxy S6 Edge. AT&T's website currently hints at a Galaxy S6 Edge. And new Galaxy S6 photos appear to show the Galaxy S6 Edge in the flesh. There's a ton of smoke here and you know what that means. We expect Samsung to deliver a Galaxy S6 Edge though we don't expect it function like the Galaxy Note Edge.
Slim Design
The purported Galaxy S6 photos showcase a slim form factor. The exact dimensions of the device in question are not known but Galaxy S6 rumors have hinted at a form factor that measures 143.30 x 70.81 x 6.91 mm. For scale, the Galaxy S5 measures 142 x 72.5 x 8.1 mm and the iPhone 6 measures 138.1 x 67 x 6.9 mm thin. While those dimensions may not be exact, we expect Samsung's sleek new redesign to feature a slim build. For better or worse.
Improved Fingerprint Sensor
The Samsung Galaxy S5's swipe-based fingerprint sensor was widely panned for being difficult and inaccurate. And while the Galaxy Note 4's fingerprint reader is an improvement, it still isn't as good as Apple's touch-based Touch ID fingerprint sensor.
Galaxy S6 rumors have hinted at a change this year with Samsung rumored to be swapping out the swipe-based sensor for a touch-based sensor. Recent reports outlined the change in detail and Galaxy S6 photos show changes to the Galaxy S6's home button. This was an area that needed improvement and we expect Samsung to deliver those improvements with a new accurate sensor.
Lots of Internal Storage
These Galaxy S6 photos appear to rule out the presence of a microSD card slot. MicroSD card slots are hallmarks of Galaxy S6 designs and the lack of a microSD card slot is driving some potential buyers crazy. It's still not clear if these photos show the final builds of the Galaxy S6 and Galaxy S6 Edge so we aren't putting our pitchforks into the sky just yet but with a switch to a metal unibody design, we think the door is open for a big change here.
In our eyes, this might explain why Samsung could be making a switch to a 32GB base model for the Galaxy S6. Galaxy S6 rumors have, time and time again, hinted at the arrival of a 32GB, 64GB and 128GB Galaxy S6 and Galaxy S6 Edge. We've even seen price points for all six Galaxy S6 models emerge as well.
If Samsung ditches the microSD card slot, and it might in favor of the new design, we'd expect all three of these variants to go on sale in many regions. In the past, carriers in the United States have limited the Galaxy S to one or two storage models because of the expandable storage. If that's taken away, we expect an iPhone-style lineup where buyers can pick and choose based on their needs and budget.
Non-Removable Battery
Samsung's plastic designs have always featured a removable battery. This has allowed users to easily replace a dead or bloated battery or replace the stock battery with an extended one. At this point, given the current climate, we're not expecting the Galaxy S6 to offer a non-removable battery.
Design leaks have hinted at a non-removable battery that's in and around 2,600 mAh in size. Unsurprisingly, these rumors have angered some loyal Samsung enthusiasts. And while we're still hopeful that the final product features a removable battery and a massive battery, there are simply too many signs pointing in the opposite direction.
We expect the design changes to include a non-removable battery and we aren't expecting a massive battery inside this device given how slim it appears in the photos. When you make design changes like Samsung's done, it's going to come with some trade-offs. Those trade-offs could be stalwarts like the microSD card slot and removable battery.
Exynos 7 Octo-Core Processor
Samsung Galaxy S6 teasers have hinted at a new, faster processor and we're almost certain that the new processor is going to be Samsung's new Exynos 7 Octa chip that it unveiled earlier this month.
Here's how Samsung describes its next-gen chip:
As the most advanced technology available today, 14nm FinFET process is able to achieve the highest levels of efficiency, performance and productivity. When compared to Samsung's 20nm process technology, this newest process enables up to 20 percent faster speed, 35 percent less power consumption and 30 percent productivity gain.
At this point, Qualcomm's Snapdragon 810 has essentially been ruled out which leaves the door open for Samsung and its in-house chip. Exynos chips have been present in many of Samsung's flagship Galaxy S and Galaxy Note models though U.S. Galaxy S variants have always relied on Qualcomm's Snapdragon chips for support.
We expect the Exynos 7 Octa to deliver powerful performance, particularly in battery life. If Samsung's Galaxy S6 is really that small, the company must feel pretty confident about its software and new processor. They'll need to help carry the load.
Tons of RAM
The Samsung Galaxy S6, the regular model, should have at least 3GB RAM on board. The Galaxy S6 Edge, the curved variant, could have 4GB RAM though we would not put too much stock into those rumors yet.
Samsung's producing 4GB DDR4 chips for mobile devices but we still haven't seen it emerge in a flagship smartphone. We'd expect at least 3GB in both and we'd be pleasantly surprised if Samsung put 4GB RAM into a phone that is already going to be extremely expensive.
16MP Camera
There's been a ton of back and forth about the Galaxy S6 rear-camera with rumors pointing to a 16MP sensor or a 20MP sensor. The most recent rumors point to a Sony 16MP camera with Optical Image Stabilization that's similar to the one that's found in the Galaxy Note 4. If that's the case, and it appears that it is, we'd expect some tweaks.
Samsung's been busy promoting its Galaxy S camera like never before with blog posts and teasers and with all of that hype, we can't see it plopping the same exact module inside the Galaxy S6. There have to be some changes, some tweaks, that offer some improvements over previous Galaxy S and Galaxy Note smartphone models.
5MP Front-Facing Camera
Galaxy S6 rumors all point to the arrival of a new and improved 5MP front-facing camera which should come with support for wider angles. That's something that will benefit selfie lovers. Given the amount of leaks, we're expecting the front-facing camera to be one of the Galaxy S6's significant upgrades.
Android 5.0 Lollipop
No doubt about it, the Samsung Galaxy S6 will feature Android 5.0 Lollipop. Samsung's not going to backtrack and put Android 4.4 KitKat on its new 2015 flagship. So now, it's a matter of what version.
Android 5.1 is a possibility though it's not even out on Nexus devices yet so we doubt that this will happen. Instead, we're expecting Android 5.0.2 Lollipop or Android 5.0.1 Lollipop.
New TouchWiz UI
Samsung Galaxy S6 specs are rumored to include TouchWiz, Samsung's well-known user interface, but they also hint at some major changes. A number of rumors have pointed to a stripped down version of the software that's expected to improve performance.
https://www.youtube.com/watch?v=bw1l149Rb1k
A recent report suggests that there will only be two pre-loaded Samsung apps on board, a sign that Samsung's cut down on the bloatware that's weighed down many of its past devices. The source is credible and the information aligns with all of the Galaxy S6 software rumors we've seen ahead of launch.
From what we're hearing, it looks like the device could include more themes, changes to the default keyboard and more. There's chatter about Samsung trying to take the Galaxy S6 down to a Nexus level but we wouldn't expect it to be pure vanilla. TouchWiz will be there but we're expecting a much different version of Samsung's software.
Bloatware
Expect carriers to put their own bloat on this phone though. They won't be able to resist the urge. This is a flagship phone and flagship phones always get carrier-bloat.
"Samsung Pay"
We expect the Galaxy S6 to come with NFC and support for Google Wallet. However, we also expect the Galaxy S6 to offer a brand new option that lets it work at more retailers.
Samsung is acquiring LoopPay and rumors suggest that the technology will be baked into the Galaxy S6. For those unfamiliar, Loop Pay lets users make a mobile payment by sending magnetic stripe data wirelessly to the same area of a cash register that a credit card is normally swiped through. As we've pointed out many times, this option should work in more retailers, since it will work on older, point-of-sale systems that don't have NFC technology built-in.
This purchase was clearly made with Apple Pay in mind and we expect mobile payments to play a big part in the Samsung Galaxy S6 specs.

As an Amazon Associate I earn from qualifying purchases.