Samsung Galaxy S III Review: Editors' Choice
The Galaxy S III is Samsung's best Android smartphone to date and the company's successor to the Galaxy S II device that was launched last year as the Galaxy S II on AT&T and T-Mobile and the Epic 4G Touch on Sprint. The touchscreen-only smartphone will compete against the HTC One X series as well as the Apple iPhone 4S and iPhone 5 when that device launches this fall. Though the Galaxy S III is similar in design to the Galaxy Nexus, Samsung has injected a lot of its own DNA through custom software and apps, and a rich user interface layer known as TouchWiz on the Galaxy S III.
The launch of the Galaxy S III shows Samsung's maturity in the smartphone space. The company has already demonstrated with the launches of the Galaxy S I and Galaxy S II that it can launch powerful, cutting-edge hardware, and there's no doubt that Samsung can push the technological envelope in a competitive market.However, with the Galaxy S III, Samsung is really flexing its muscles to show that it isn't just another hardware company, but that it in fact is a software company that can lead through innovative, integrated apps and software to provide a leading class user experience.
The Galaxy S III is a result of that marriage between software and hardware, but most of all, it's a hope that Samsung is putting out to seamlessly meld together technology and humanity, to breathe life into silicone and make it a natural part of our existence in what the company aptly names as 'S Life.' The Galaxy S III design draws you in and invites you to touch, feel, and interact while the software that Samsung has created really helps us do what humans do best: to create, communicate, and share.The Samsung Galaxy S III is not without its flaws, but we give the Galaxy S III a GottaBeMobile.com Editor's Choice award for delivering on the promise of a more intuitive smartphone.
Samsung Galaxy S III | AT&T, Sprint, T-Mobile, Verizon

Galaxy S III Review Guide

Related Review Articles
Summary
Pros: 
Available on all major carriers so you don't have to switch carriers if you don't want to
Large, vibrant display
Connects to the fastest network technology available for fast Internet (LTE, HSPA+)
Camera takes good pictures and videos, allows for simultaneous photo/video capture
Sharing features makes life simpler through NFC, WiFi Direct, WiFi, Bluetooth 4.0, DLNA
Clear voice quality
Highly customizable
Home button and multi-function capacitive touch Android navigation keys
'Smart Features'
TouchWiz is now slimmer, cleaner
Cons: 
NFC-enabled, though Google Wallet is not supported except on Sprint
Battery life could be stronger
Brushed metal look without real brush metal components
Camera is positioned too high to the top; your fingers will block the camera lens and/or flash when holding it in landscape mode if not careful
Sharing features requires other users to also buy into the Samsung ecosystem with either a Galaxy S III or Galaxy Tab 2 model. If you're the only one in your circle with a Galaxy S III, you won't benefit from the sharing features.
Polycarbonate rear battery cover doesn't always stay secure at all connecting points
Glossy finish attracts fingerprints, oils and is slipper to hold
Requires a new, re-designed MHL adapter so you can't reuse your old one if you already have one
S Voice could be improved for better accuracy and improved performance
Hardware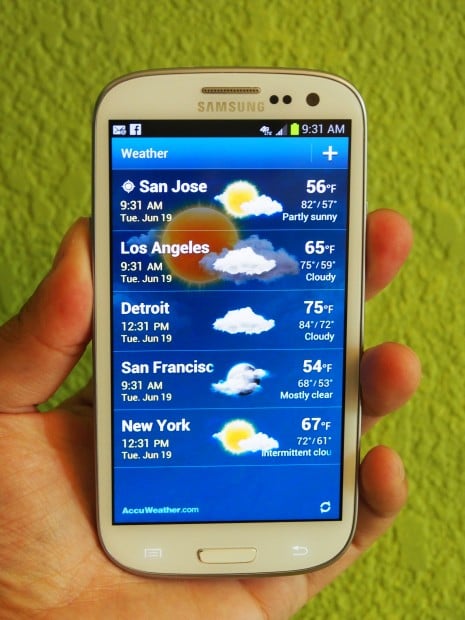 Design and Aesethetics. For the first time, the U.S. flagship remains unchanged from its international sibling from an aesthetic point of view. Branded under the same Galaxy S III moniker no matter what carrier you choose, Samsung shows that it is big enough to control the marketing for its handset. Despite similarity in appearance with the international GSM version, there are notable differences under the hood.
The smartphone is available in 16 and 32 GB capacities–international buyers have a third option with a 64 GB variant–and 2 GB of RAM. The Galaxy S III smartphone will be available in either Marble White or Pebble Blue in the U.S. on national carriers AT&T, Sprint, T-Mobile, Verizon and regional carriers U.S. Cellular and C Spire. Additionally, AT&T will get a third color option with red rounding out the lineup. The Marble White is a glossy finish while the Pebble Blue is glossy and has a brush metal finish to it. That said, no matter which version you choose, both are made from polycarbonate plastic.
The phone will launch initially in June on AT&T, Sprint, and T-Mobile, with Verizon and launches from regional carriers to come in July and later in the year. The phone will be powered by the latest 4G technologies, whether it's LTE or HSPA+.
In designing the Galaxy S III, Samsung has been successful at bringing organic life to an inorganic subject such as phones. The natural curvatures of the design, the light and airy weight of the phone, and the fluid and smooth UI combined with the rich and vibrant screen help to draw the user in. 
On the front of the device, users will be greeted with a massive 4.8-inch display, which sits just in the middle of the 4.65-inch screen on the Samsung Galaxy Nexus and the 5.3-inch screen on the Galaxy Note on AT&T in the U.S. In the hands, the phone is noticeably smaller than the Note and feels just slightly larger than the Nexus. And despite the .5-inch jump in display real estate from the 4.3-inch Galaxy S II sold internationally, the increase in screen size isn't too uncomfortable. Compared to the 4.3-inch display on Verizon's Droid RAZR Maxx by Motorola, both devices occupy roughly comparable footprints so the Galaxy S III isn't unwieldy despite its larger screen.
Below the screen, we now have Android navigation keys that are consistent with the international release. In the past, Samsung used four capacitive touch Android navigation buttons for its U.S. smartphone release, but it looks like the Galaxy S III is unifying the aesthetics for the flagship device in all regions, creating consistency for the brand. In the middle is a singular home button, similar to the iPhone, though its rectangular and narrow, making it slightly hard to press. Also, the button sits too close to the bottom edge of the phone, making it slightly top-heavy if you're reaching for the button when using the phone with just one-hand.
Flanking the center home button are two capacitive touch buttons. To the left, the Menu button and to the right of home the Android Back button.
The sides of the phone is framed by a nice brush metal-looking plastic strip that curves along the edges giving the phone a sleek and organic appearance.
On the rear, is the camera at the top center flanked by a speaker on the right hand side and a single LED flash on the left. The camera can capture stills at 8 megapixels and record 1080p HD videos.
Carrier branding is kept to a minimum. The only place on the hardware that you'll notice carrier branding is on the rear of the phone, with the carrier logo towards the top center and on the bottom you'll have the Galaxy S III moniker.
A 3.5 mm headphone jack sits at the top and the left hand side houses the volume rocker while the power button sits on the right edge. The buttons bulge out a little from the chrome-looking strip, making them easier to press.
Under the battery door, you'll find room for a micro SDHC card slot as well as a micro SIM card. Both card holders are spring-loaded, meaning you push the respective cards into their positions to insert them, and then you push in to eject the cards–don't pull the cards out to remove, else you risk damage to the cards and/or the phone.
For users who like visual notification indicators, there is an LED notification light as well on the Galaxy S III. In the review video, I incorrectly mentioned that the Galaxy Nexus didn't have an LED light, but that information is incorrect as the Nexus does have an LED light at the bottom.
Display
Samsung says that despite having the same HD Super AMOLED moniker as the Galaxy Note and the Galaxy Nexus, the screen technology on the Galaxy S III has been refined and tweaked to give it overall a better performance. In testing the phone, I'd say that Samsung's claims are accurate. The 720 X 1280-pixel resolution screen looks gorgeous and you won't find as heavy of hyper-saturated colors as you do on older Super AMOLED displays. The colors are a bit more accurate now, and the screen is more vivid and bright.
You can check our video below where we compare the phone's display with that of the Galaxy Nexus, the Galaxy Note, HTC EVO 4G LTE (One X), the iPhone 4S, and the Droid RAZR Maxx under indoors and outdoors conditions. I still think the Super LCD 2.0 HD display on the HTC EVO 4G LTE looks the best, but the Galaxy S III's display is no slouch and it is a beautiful screen.
The design team is so successful in creating this organic experience so that you no longer feel like you're a separate part from the phone when looking at it. The vivid colors of the HD Super AMOLED display makes you feel like you're looking into someone's window, aching to reach in and touch that world with the tip of your fingers. 
As the display is based on Super AMOLED technology, it employs a PenTile-based subpixel arrangement. That means that text and graphics rendered on the screen isn't quite as sharp or crisp as on an LCD screen, like the EVO 4G LTE or the iPhone. However, unless you're really looking for pixellation, you'll be happy with the display here and things look sharp and bright.
Build Quality. When the battery cover is placed on the phone, the device does have a solid, although light feel. It doesn't feel as premium as phones such as the iPhone with its stainless steel and glass enclosures or metal designs like the HTC EVO 4G LTE. That said, the phone does feel comfortable to hold and is very ergonomic. With the battery cover removed, however, you can really see Samsung's design heritage with plastics. Though the case is made of polycarbonate, the plastic cover really does bend and feel flimsy. That really shouldn't matter much, though, as it feels like a solid piece when the cover is placed on the phone.
And despite a plastic build quality, I can attest that the phone is well constructed. When trying to photograph the device for use in this review, I did manage my Pebble Blue T-Mobile Samsung Galaxy S III review unit from about four feet high onto my condo's hardwood floors, and the phone survived. The drop was face down with the screen making the inital impact, and the device escaped without a ding or scratch. And while we can bemoan the choice of plastic, the polycarbonate selection makes sense here. Rather than cold glass and sterile metals like on products from its rivals, the polycarbonate immediately is warm to the touch, and is rather inviting to be held.
Users who choose the Pebble Blue color should be aware that the glossy paint job will attract a lot of oils and fingerprints, and you'll constantly struggle to wipe down your device to keep it clean.
Android Software & TouchWiz UI
The Samsung Galaxy S III runs on Google's latest Android 4.0 operating system, also known commonly as the Ice Cream Sandwich build. However, unlike the Galaxy Nexus, Samsung had chosen to overlay its own TouchWiz user interface on top of the device to give it a Samsung feel. Though TouchWiz may not have been our favorite UI of choice in the past, it's definitely a lot cleaner and more refined now. Like HTC, Samsung is choosing to focus on the areas of the UI where it could improve the user experience, rather than over-dominate with and compete with the Android OS.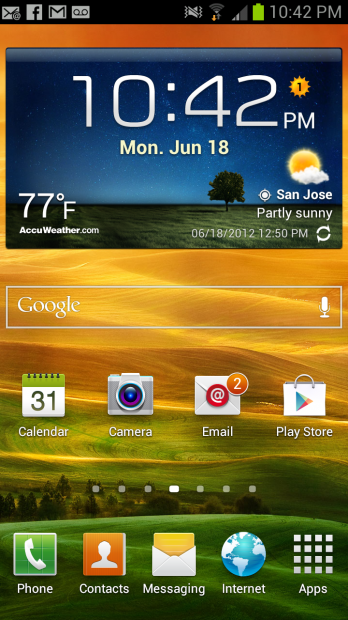 In order to unlock the device, users will have to swipe their fingers over a pool of water where the calm sounds of ripples will take over, helping to make technology feel peaceful.
Rather than sliding a pane of glass to the side to unlock the phone, users will swipe their fingers over a pool of water, creating a ripple effect with the sound of rippling water. It's a different experience here that's may seem trivial, but the tranquil ripples do permeate through the experience. Samsung's really playing on the subconscious here. Whereas many non-geeks will find technology to be cold, and uniniviting with a duality that exists between the humanity and technology, from the minute you unlock the Galaxy S III, you're overtaken with a sense of tranquility that a gentle touch of nature brings.
With the new TouchWiz, you're not going to get Samsung's proprietary social networking clients for Facebook or Twitter like in the past, nor are you going to be bombarded with too much bloatware on the Galaxy S III as Samsung has decided to keep things to a minimum. There is a nicely executed clock and weather widget, a Flipboard app that pulls in news and social network feeds in a visual manner, Samsung Media Hub to purchase and download movies, and Samsung's suite of PIM applications for calendar, contacts, email, and messaging.
The downside with simplicity is that Samsung cut out some useful tricks from some its apps. For instance, on the Sprint Galaxy S II Epic 4G Touch, a nice feature with the email, messaging and music apps is that you can turn your phone into landscape mode and have tablet-like user experiences with those apps. That means you get a two column view–a list view on a smaller column on the left and a preview on the larger column on the right. For emails, that means you can triage emails without having to jump in and out of messages as you can get a list of all your emails on the left and the message on the right, similar to working on Outlook on the desktop. That feature is no longer present, which is really too bad considering that the 4.8-inch display on the Galaxy S III would have made for a reasonable tablet UI in landscape mode.
On the T-Mobile and AT&T editions of the Galaxy S III, there are a number of carrier pre-installed apps. Unfortunately, you cannot uninstall those apps, but TouchWiz does allow you to hide them in the applications drawer if you don't want to look at them.
TouchWiz is getting to be highly customized and the personalization level is very high. It seems that Samsung is implementing some similar things to what we've seen on HTC's Sense UI, including shortcuts on the lockscreen that will quickly launch apps without requiring the user to unlock their devices first.
Users can also add a stock and news ticker to the lockscreen to get updated on news, stocks, and weather information without having to unlock their devices as well.
Additionally, Samsung is allowing users to even customize their own vibration pulse if ringtone customization is not enough to suite your needs.
There are also quick settings toggles within the Android notification bar in TouchWiz.
Navigating Android with Buttons. Having three Android navigation buttons on the bottom of the device is a nice touch and the home button is a physical button that requires a physical press. I like having a menu button as one of my navigation keys, which is missing from the standard Google build on the Galaxy Nexus as Google wants to move the menu button into individual apps itself and eventually kill off the menu button to have a more visual UI.
The home button actually is able to perform three different tasks. As its name implies, and as similar to the iPhone, the home button can take you back to the home screen no matter where you're at on your device if you push it once. As Samsung didn't implement a multitasking button from ICS that's found on the Galaxy Nexus, the home button can also serve as a multasking button as well. Push and home the home button and you get a multitasking menu that's similar to that found on the Galaxy Nexus. And last, Samsung allows users to double press the home button to pull up its voice control feature. The company recently implemented a voice assistant that's designed to compete with Apple's Siri in the form of S Voice, and you can double click the home button to call up S Voice.
The back button just does a single task, and that's to take you back to the previous screen.
The menu button is also a multi-purpose button that serves two functions. If you tap on the capacitive touch menu button, it brings up menu functionality, which is context-sensitive depending on the app. As ICS is attempting to move the menu button into a soft button inside the app and inside the display, I found that sometimes the menu button is a bit schizophrenic. Sometimes, you can use the menu button to evoke additional commands while at other times, you have to use the on-screen soft button. Pressing and holding on the menu button will call up Google's universal search feature, which is nice as there is now no longer a separate search button that's traditionally found on Android releases in the U.S.
Working Smarter
Samsung is really demonstrating its software chops with a growing suite of apps and utilities that help to make its devices functional and technology less intimidating. Rather than go for a utilitarian effect by highlighting technology, the sensors that Samsung implemented help to draw users into the device rather than shy away from it. S Voice talks to you, and motion detection technology begs the user to touch, feel, and interact with the device.
S Voice. S Voice is Samsung's answer to Siri and the performance of S Voice is a mixed bag, just like its Apple-made competitor. At launch, however, S Voice has more capabilities built-in than Siri, though Apple will be matching most of those features when iOS 6 hits. You can tell S Voice to set alarms, search the web, look up local businesses, navigate to places, update Twitter and Facebook, launch apps, get the weather, create an appointment or task, write a memo, compose a message, search contacts, dial a contact, play music, and even snooze or turn off your alarm in the morning without having to touch your phone.
I found that using S Voice, Samsung understood me about a third of the time. The other third of the time, my Galaxy S III isn't even recording or listening to my voice when I am talking. And S Voice misses what I am trying to say the other third of the time. And all this was performed in a contained quiet room, not a noisy environment. Performance and accuracy then seems to fall short of Siri, and Siri is no benchmark for voice accuracy.
As S Voice is completely software based, hopefully Samsung can improve its performance and make it a better experience over time.
Smart Sensors. Samsung is truly leveraging many of the hardware features on the Galaxy S III with software to make the phone smarter. The idea with many of these 'smart sensors' is to get the phone to perform simple tasks–like move to the top of a list–without having to really flick the screen constantly or tap on the screen too many times. These aren't revolutionary features, per se, but they're thoughtfully evoked features that should help to simplify our mobile lives.
For instance, with the front-facing camera, Samsung created a feature called Smart Stay. When the feature is enabled, you'll see an icon of an eye on the Android notification bar. Smart Stay allows you to keep the screen on without dimming it or having the display time out and turn off when you're looking at the screen. This is great if you're reading a book or browsing the web and aren't constantly clicking on the screen to let it know you're still present and actively using the device, and it's a great idea since the front-facing camera is barely used at all for video chats, or at all for that matter in my case.
However, like S Voice, Smart Stay right now is cool in concept, but in practice, it can detect my face and eyes less than 10 percent of the time. I wish it would work better as that's the one feature I actually love when I heard about the Galaxy S III's announcement.
Other features are based on motion, or using the accelerometer. In select apps, like the contact list or email, you can double tap the top of the device to return back to the top of the list. Unfortunately, this feature is confined to a small number of apps, and its usefulness could have been greatly expanded had Samsung made the feature available more universally.
There's also a feature in the Gallery app that allows users to zoom in on images and pan around. Once you're zoomed in on a photo, you can place a finger on the touchscreen, and pan the phone around to see around your zoomed in photo without having to flick around. It's sort of a novelty that impresses friends, but I doubt users will use this feature all too often.
Two nice features that are useful include the ability to take screen shots by swiping the edge of your palm from right to left across the device's touchscreen. You can see this demonstrated on our review video for the smart sensor technology, and also the ability to cup your palm over the phone's display to turn off or pause music playback without having to fumble through opening an app and launching music controls.
Sharing Features
Android has always had the ability to share captured content–like photos and videos–quickly to social networks like Facebook and Twitter. With the Galaxy S III, Samsung is expanding the concept further and enabling easy ways to share and collaborate between devices, though many of the sharing features require users to be on the same wireless network for WiFi Direct to work. Not only is Samsung making use of the various wireless radios to enable sharing between devices (NFC, WiFi, WiFi Direct, DLNA, Bluetooth 4.0), the company is also making it easy for businesses and enterprises to choose the Galaxy S III as their phone of choice. This helps Samsung to create an ecosystem to lock in enterprises looking to deploy a fleet of smartphones.
Humans have always longed to share what we know and understand of the world. This has led to the development of language and communications. The Galaxy S III helps to bring this primitive desire to share forward by coupling it to the latest technologies that we have at our disposal today, allowing users to share ideas, finished documents and PDFs, photos, videos, and files. But Samsung's not just tapping into our desire to share knowledge to inspire others, the company is creating a network effect with the Galaxy S III. As All Share mostly only works with Samsung products, Samsung is hoping that you'll evangelize the device to family, friends, and coworkers once you get your own phone to fully leverage the sharing features, such as Share Shot, All Share Play, and Group Cast.
Android Beam and S Beam. Like the Galaxy Nexus, the Galaxy S III also has Android Beam, which allows two NFC-equipped Android smartphones to share content with each other by tapping the devices together back-to-back. Samsung also added WiFi Direct to the share, which will allow you to speedily transfer larger files with the simplicity of NFC. This will open new avenues of sharing where users can now easily and quickly share even large 1080p HD videos, not just images, with one another.
All Share and Group Cast. The catch with sharing and collaborating is that you'll need to have multiple Galaxy S III phones or Samsung's newer Galaxy Tab 2 tablets to have the cooler features work. The drawback is that if people around you haven't bought into Samsung's ecosystem, you won't get any value for the sharing features and All Share, Group Cast, and the social camera features would be useless. For instance, with All Share Play and Share Cast, if your family or workgroup has bought into the Samsung ecosystem, the power of sharing really comes to life. Share Cast, which is part of the All Share app, allows you to host a PowerPoint presentation, for example, on your Galaxy S III and simultaneously show it across up to 32 different devices at the same time.
The nice part about Group Cast, which works on PDFs, PowerPoints, and photos, is that all users can annotate and interact with the content, not just the host. Users can annotate, highlight, and mark up images and slides, and users can even advance to the next slide as well. All these changes will happen in real-time and will be reflected on all devices.
You do need to be on the same WiFi network for Group Cast to work, so you can't use this feature as a remote webcast app unfortunately. That said, there are some basic security enabled into the app so that only authorized users to the cast will be able to access the cast, and not just any user on the network. The host will set up a PIN and users will need the PIN to login.
Share Shot. For consumers, the most useful sharing feature will be Share Shot on the camera. Share Shot allows users to share pictures with each other automatically, which is great at events, weddings, and parties, so that you can leave the event with everyone else's shots with you without having to worry about emailing or uploading the photos later. Share Shot does require a WiFi connection and works through WiFi Direct. Essentially, once all the devices are paired together, any photo that you take in Share Shot mode will be automatically shared in everyone else's Gallery under the appropriate Share Shot folder. And everyone else's shots will appear on your phone as well.
Buddy Share. Another consumer-centric feature is Buddy Share, which will allow you to share and tag photos of friends taken with your Galaxy S III camera. Once a friend is tagged, the camera will automatically identify future photos with that face in it and ask you if you want to email or MMS the photo to that person.
Camera & Multimedia
Camera and UI. The camera on the Galaxy S III isn't as much of an evolution as HTC's on the One X with Image Sense and new optics. That said, the camera is very capable and performs really well under low light. On paper, the camera may not sound as impressive as rival offerings, but the Galaxy S III definitely delivers where it matters. The 8-megapixel auto-focus camera can record video at 1080p HD resolution. I think it performs better in low light conditions than many other smartphone cameras on the market today.
The camera interface has also been re-designed to provide with at-your-fingertips control on the touchscreen. In addition to numerous scene modes and settings adjustments, you can also re-arrange the camera's top-level menu items on the left side of the camera UI (see photo below) to fit your needs.
The camera allows for burst shot with zero-shutter lag delay, best shot mode which allows you to take the best shot and save it out of a burst of images, as well as the ability to capture full resolution stills while recording video at the same time.
My only gripe with the camera is that the camera module is placed too far up to the top edge. When you're taking pictures and holding the phone in landscape, there is a good chance that your fingers will obstruct the lens or flash if you're not paying attention. The camera is placed closer to the top edge of the phone on the Samsung Galaxy S III as when compared to the HTC EVO 4G LTE. Also, with the camera module protruding out slightly on the HTC model, you at least have some tactile feedback if your fingers are close to or obstructing the lens whereas the camera is almost flush with the body of the device on the Samsung phone.
Video Playback and Multimedia. In terms of multimedia, the cool feature is that you do get video previews as well and not video thumbnails. If you're in the video app, you can see a small picture of your videos available on your device. The picture isn't a static picture and will give you a video preview of what the video is about, and this is also true for chapter information as well.
The video player itself also pops out. This is nice in that it allows you to have a tablet-like user experience and users can move the pop out box wherever they'd like on the screen to multitask.
Depending on your carrier, Samsung also has a Media Hub for you purchase and rent movies as well as a Music Hub for purchasing music as well on your device.
Sample Images.
Performance & Benchmarks
The U.S. version of the Galaxy S III launches with a dual-core Qualcomm Snapdragon S4 CPU rather than a Samsung Exynos quad-core applications processor. The dual-core CPU works well and I didn't notice any slow downs or lags on my devices. In benchmark testing on NenaMark 2 as well as Quadrant, it appears that the S4 trails the NVIDIA Tegra 3 quad-core offering, though beats out rival dual-core offerings.
That said, many users shouldn't have to worry about performance as Android was smooth and fluid and performance was never an issue on the Galaxy S III.
Phone Call Quality/Network Speeds
In the U.S., the Galaxy S III will connect to its carrier's fastest network. That means 4G LTE networks on Verizon, AT&T, and Sprint where available, and defaulting to HSPA+/GSM for AT&T, and CDMA/EVDO for the Verizon and Sprint variants where LTE is not yet available. On T-Mobile, the phone will operate on GSM/HSPA+, which T-Mobile considers 4G.
I tested the T-Mobile and AT&T version at my home. I did not get a chance to play with the Sprint version yet, though all three models will be avialable starting June 21st at retail. On AT&T, I averaged between 10-20 Mbps on the download side with between 4-9 Mbps on the upload side in San Jose, California.
At my home where T-Mobile 4G isn't the strongest, I was still able to pull in between 3-10 Mbps on HSPA+ on the download side and upload speeds were between 1-3 Mbps. T-Mobile's HSPA+ is nothing to scoff at and with download speeds averaging over 5 Mbps, users should won't feel much of a difference compared to LTE. Additionally, the latency is also pretty low on HSPA+, though not quite as low as on LTE. The benefit with going HSPA+ only on T-Mobile? You'll get a bit more battery life.
Your speeds may vary based on your geographic location and network conditions at time of usage.
Call quality sounds great on the Galaxy S III, and audiophiles may be happy to know that within the phone settings, they can adjust the equalizer to match their needs and desires. I tried various equalizer settings for phone calls, but didn't really notice too much of a difference between the different options.
With the initial launch of the Galaxy S III on AT&T, Sprint, and T-Mobile, I would say that AT&T's network gets a slight advantage at this point. With 4G LTE being faster than T-Mobile's 4G HSPA+ protocol, and Sprint not having an LTE network deployed right now–it's coming soon though–AT&T's device gets an edge in far as Internet speeds, all else being equal.
Battery Life
The phone does sport a large 2100 mAh battery, which is slightly less than the 2500 mAh on the 5.3-inch Galaxy Note but more than the 1850 mAh found on the Galaxy Nexus with its 4.65-inch display. In reality, with LTE on, the phone lasted about the same amount of time as an LTE-Galaxy Nexus would and isn't quite as strong a performer as the Droid RAZR Maxx with its 3300 mAh battery. You can still squeeze between 6-13 hours of usage on a single charge with the Galaxy S III's battery on AT&T's 4G LTE network, but I would still recommend carrying a spare or a charger if you need your phone after work hours. The low end of the battery range is for extremely heavy use. Turning down the screen brightness helps, and T-Mobile's edition lasts slightly longer as it isn't burdened with a more power hungry LTE radio than the AT&T version.
Accessories
TecTiles. Though the Galaxy S III comes equipped with an NFC chip, the AT&T and T-Mobile versions I tested does not work with Google Wallet; only the Sprint version will be compatible with Google's digital mobile wallet. That said, Samsung does have programmable NFC stickers called TecTiles, which we had reviewed before, that will allow users to tag their phones to to perform quick tasks, such as set alarms, change settings, check-in, trade business cards.
Flip Cover, MHL Adapter. Other accessories that are coming to the Galaxy S III include a flip cover as well as a new MHL adapter which will allow users to use an HDMI cable to mirror their phone's display to an HDTV. Unfortunately, older MHL dongles will not work with the Galaxy S III and users will have to purchase the new dongle with this smartphone.
Pricing & Network Availability
The Samsung Galaxy S III will retail for $199 for the 16 GB model and $249 for a 32 GB model at most carriers on a two-year contract with some exceptions. T-Mobile USA will be pricing its device a little bit higher at $229 on a Value Data plan and $279 on a Classic Data plan for the 16 GB model. You can check with your local retailer for specific pricing for this smartphone.
Conclusion
The Samsung Galaxy S III is a device that shows a lot of potential for what Samsung is capable of in the future. Samsung has already built the hardware based on the most advanced specs–HD display, quad-core CPU internationally and dual-core S4 in the U.S., fast 4G networks, capacious amounts of RAM, and a TouchWiz that complements rather than dominates on Android. Despite some minor quibbles, there's a lot to like about this phone from a hardware perspective–the device is fast, powerful, and available on all major U.S. carriers so you don't have to switch networks.
Samsung is showing a glimpse of its vision on the software side too with the Galaxy S III. With smart sensing technologies, sharing and collaboration features, and a camera that can make your life easy not because it packs the most megapixels but because it can intelligently share photos, the Galaxy S III is a turning point device for Samsung. No longer in the shadows of better known rivals, the Samsung Galaxy S III heralds a new era for Samsung where it could prove its leadership in making hardware and software work effortlessly well together.

As an Amazon Associate I earn from qualifying purchases.