Samsung Galaxy Tab 10.1 Actually Thicker Than iPad 2?
This week at CTIA 2011 in Florida, Samsung announced two new tablet devices of the Galaxy Tab variety dubbed the Samsung Galaxy Tab 10.1 and the Samsung Galaxy Tab 8.9. The numbers of course refer to the size of the screen.
Speaking of size, Fritz Nelson of InformationWeek posted a round-up of the event and in it, there was some pretty interesting information regarding Samsung's Galaxy Tab 10.1.
Samsung, in February at the Mobile World Congress, announced the Galaxy Tab 10.1.You may recall, that a couple of weeks later, Apple launched a little product called the iPad 2, a device that boasted a design that was a mere 8.8mm thick, thinner than Samsung's device.
Samsung went back to the drawing board and announced the thinner version of the Galaxy Tab 10.1 at CTIA which the company says measures in at 8.6mm in thickness, thinner than Apple's iPad 2. Because of this turn of events, the demo units that Samsung had on the floor for CTIA were not the new Galaxy Tab 10.1 but the original, bulkier version, now called the Samsung Galaxy 10.1V. The newer units were in glass cases, out of the reach of mere mortals.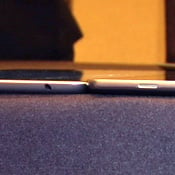 Well, Fritz Nelson is apparently not a mortal as he was able to score some time with the elusive Galaxy Tab 10.1 and in doing so, snapped a couple of telling photos. Whatever it was in that glass case, whether it was the real deal or just a prototype, was actually thicker than the iPad 2.
The Samsung rep was apparently at a loss for words when presented with the evidence.
His response?
It's 8.6mm.
Perhaps device manufacturers, known for measuring battery life in the most beneficial matter, have come up with a new measuring system for thickness as well.

As an Amazon Associate I earn from qualifying purchases.