Samsung Galaxy Tab 2 10.1 Now Available to Pre-Order
As expected, the Samsung Galaxy Tab 2 10.1 has gone up for pre-order today with a full-fledged release slated for May 13th. $399 will net a 16GB version of the device, a price that may be attractive to those looking for an inexpensive Android tablet with a large screen.
CNET dug up the pre-order which is taking place at Office Depot amongst other retailers and it reveals both the release date and pricing as stated as well as the specifications of the device. The Galaxy Tab 2 10.1 was once rumored to have been delayed because of a processor change, dual-core to quad-core, but it appears that Samsung wasn't lying when it told us that it would be coming with the announced dual-core processor.
The Galaxy Tab 2 10.1's price shows that the company is now committed to bringing tablets to non-premium users and Samsung hopes that the $399 price tag will help it to compete with the likes of Amazon which offers the 7-inch Kindle Fire for $199 and Apple which offers the iPad 2 for $399 as well.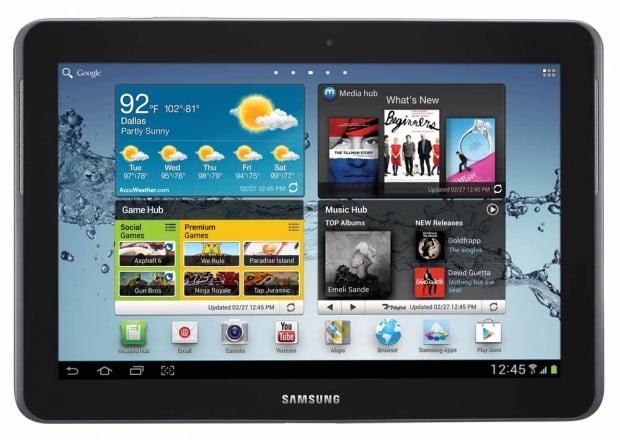 Samsung's latest tablet packs some enticing features on board which look especially appetizing with its low price.
It features a 1280 x 800 HD display, a 1GHz dual-core processor, 16GB of internal storage, a microSD card slot, and it's also going to be running Google's Android 4.0 Ice Cream Sandwich right out of the box.
Samsung's other Tab-branded tablets have yet to see Android 4.0.
The Galaxy Tab 2 10.1 also features front-facing speakers, 50GB of free Dropbox cloud space, HDMI via the proprietary port – it requires an accessory, and two cameras, one in the front and one in the rear.
It also has GPS and Bluetooth 3.0.
Samsung also announced a $249 Galaxy Tab 2 7.0 alongside the Galaxy Tab 2 10.1, a device that we reviewed just a short time ago.

As an Amazon Associate I earn from qualifying purchases.