Samsung Galaxy Tab 2 Review: Using The Tablet With Your TV
According to research cited by Samsung, over 80% of tablet owners use the device while sitting in front of the TV. Because of this, Samsung included an IR blaster on the Galaxy Tab 2 along with the Peel Smart Remote app. The idea is to make the Tab 2 the center of your home media setup, thus making it the center of your world.
According to research cited by Samsung, over 80% of tablet owners use the device while sitting in front of the TV. Tablets do make good couch companions, especially when you're trying to figure out what else that actress from that show has been in (I'm addicted to the IMDB app, yes).
Because of this behavior, Samsung started including IR blasters in the Galaxy Tab design last year alongside the Peel Smart Remote app. With the Galaxy Tab 2 they've added compatibility with Smart View for Samsung Smart TVs. The idea is to make the Tab 2 the center of your home media setup, thus making it the center of your world.
The Smart View app isn't much use if you don't have a Samsung TV, but the Smart Remote works with a wide range of TVs, cable boxes and home media devices. I was surprised to find that it even works with basic cable setups without a cable box.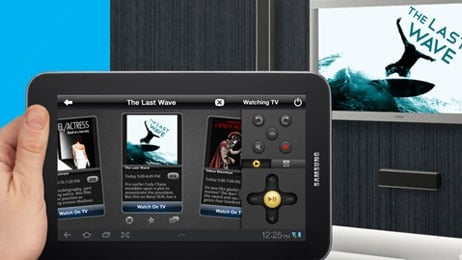 Peel Smart Remote
Setup is easy as Peel walks you through each step. You pick your television brand (the app can communicate with almost 100 brands) and the app then turns the TV on. No having to enter or go through a bunch of codes to see which one is right. Same with your cable box or DVR, if you have one. The remote can also switch between inputs on your TV if you have multiple devices connected.
Several years ago I cut the cable cord but still use Time Warner for Internet and phone, so we do technically have basic cable piped in through the TV's tuner. The remote works with this setup just as easily as it works with cable boxes. Plus, it controlled my older, non-HD Toshiba TV with no problems.
Once you have your TV, cable box, DVR, DVD, Blu-ray and other media center devices all connected to the Smart Remote you can get down to what's important: watching TV. Peel is also a super charged TV Guide that only shows the channels you have access to based on your location, cable provider, and cable type. The attractively arranged thumbnails represent what's on, including a short description, and with one tap you can go right to what you want to watch. It's much easier and faster than browsing through the channel guide.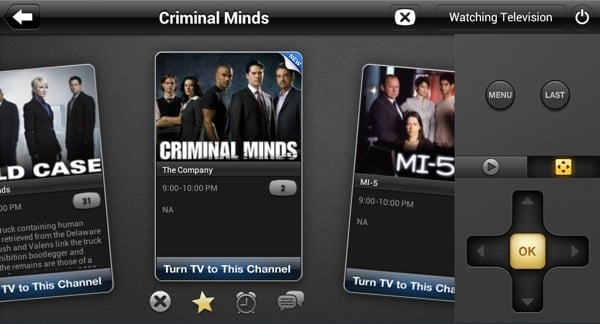 When setting up the Smart Remote users choose which category/type of shows they like and the app only shows stuff from those categories. Thus, if you hate sports or reality shows, you can erase them from the listings forever. As you use the app, you can mark a show as a Favorite and eventually the listings presented on the default screen will only be the shows you'd be most interested in.
Channel changing is possible because of the Galaxy Tab 2's IR blaster, but pulling down information about what's on television requires a Wi-Fi connection. Even without Wi-Fi you can still change channels and other normal remote control functions.
The blaster will work within 8 feet of the device it controls. In my testing I was able to back up a little further than that, but only about a foot. The Tab 2 and Peel app easily controlled multiple components of our media set up without problems.
Samsung Smart View
Users with one of Samsung's Smart TVs manufactured in 2011 or beyond can get in on some extra action with the Smart View app. This includes a ton of remote control functions as well, but the most impressive feature is Dual View.
With this you can stream what's on your TV (audio and video) to your Galaxy Tab 2 as long as the tablet and TV are on the same wireless network. The quality is impressive and matches the quality of Netflix streaming.
Dual View only works while you're in the same location of the Smart TV since you need to be on the same wireless network. Thus there are no licensing issues to worry about with cable providers. That limits the usefulness of the feature when compared to something like the Sling player, but I can foresee some common scenarios.
If you don't have a TV in the kitchen, you can just bring your Tab 2 in and switch between the TV and a recipe app. Same with any other room in the house as long as the Wi-Fi reaches it.
And while I know many of you won't admit that you take your tablets in the bathroom, people totally do this. This way you don't ave to wait for a commercial to take your bathroom break, just bring the Tab 2 with you.
The Bottom Line
The Galaxy Tab 2 makes a good couch companion when watching TV and the Smart Remote capabilities are pretty addictive, thus ensuring that you'll keep the tablet by your side even when you don't think you'll need it.
Read our full review of the Galaxy Tab 2 7.0