Samsung Galaxy Tab 3 7.0, 10.1 and Mysterious Tablet Rumored for MWC Debut
In addition to a rumored updated Nexus 10 for Google, Samsung is speculated to deliver its third generation of Galaxy Tab tablets at Mobile World Congress in an effort to compete more effectively against Apple's iPad tablet. The Galaxy Tab 3 series will encompass two models, the Galaxy Tab 3 7.0 and the Galaxy Tab 3 10.1. Additionally, a third high-end tablet is also rumored to debut, though details on the third tablet is more scarce.
According to SamMobile, the Galaxy Tab 3 series are codenamed Santos and they will debut with 7-inch and 10.1-inch displays, though the resolution and display types are still unknown at this time. It's also unclear what processor and clock speed the CPU inside these tablets will use. Rumors speculate that there will be a 3G and WiFi variant of both tablets, and that the device will have a 5-megapixel rear-facing camera for picture-taking. Both tablets are expected to be available to consumers in the first half of this year. The Galaxy Tab 2 series was introduced about a year ago at 2012's Mobile World Congress.
In addition to the Galaxy Tab 3 series, another high-end tablet is also mentioned in the leak with a codename of Roma, which has the model number GT-P8200. It's unclear what the tablet's specs will be except that the device will have a 5-megapixel camera and options for either 16 or 32 GB of storage.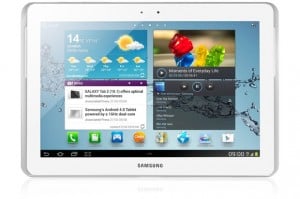 If this third tablet does arrive, it will mean that Samsung may have up to three separate tablet ranges–the Galaxy Tab series, the pen-enabled Galaxy Note series, and then this third series. Perhaps Roma may be the updated Nexus 10, or perhaps Samsung will offer its own branded version of the Nexus 10 similar to how LG's Optimus G is pretty much a mirror of the Nexus 4 smartphone for Google.
And in addition to these slates, Samsung had confirmed that it would deliver yet another tablet to MWC–a Galaxy Note 8.0, which would at least indicate an 8-inch display and an active stylus. The form factor would help Samsung attack Apple's recently introduced iPad mini while adding more functionality to the form factor.

As an Amazon Associate I earn from qualifying purchases.