Samsung Galaxy Tab 7.0 Plus Review: A Perfect Living Room Companion (Video) [Updated]
The Samsung Galaxy Tab 7.0 Plus retains its seven-inch display from the first generation Galaxy Tab. Now, upgraded with a dual-core Exynos processor, Android 3.2 Honeycomb operating system, and a number of enhancements thanks to the TouchWiz user interface and some preloaded apps, the Galaxy Tab 7.0 Plus refines on the experience that the Galaxy Tab 7 had promised. But is that enough to compete in the sea of Honeycomb tablets, each competing on their own right based on price, feature set, functional accessories, or build quality? Surely the thin and light Galaxy Tab 7.0 has a uniquely Samsung design that sets it apart from rivals, but what else does it have going for it? Find out in this review of the Galaxy Tab 7.0 Plus.
Summary:
Pros. Brilliant display, compact form factor, zippy dual-core processor, expandable storage, decent camera for quick impromptu photos, TouchWiz makes things easier, Quick Launch apps are smart, Peel Smart Remote, beautiful lightweight design, extensive amount of digital content available through various stores.
Cons. Can be laggy at times, display not as high resolution as the T-Mobile Springboard tablet by Huawei, battery life is rather short, mediocre camera.
Update: According to Yahoo!, the T-Mobile Galaxy Tab 7.0 Plus model with 4G HSPA+ support will also come with voice calling support: "What's more, the Samsung tablet offers voice and video call support without requiring the use of a headset."
Hardware:
Design. The Galaxy Tab 7.0 Plus boasts a slim and thin design, continuing Samsung's design language that originated with the Galaxy Tab 10.1 and Galaxy Tab 8.9 model. The Galaxy Tab 7.0 Plus is the smallest of the trio with a 7-inch display and its weight is light compared to competitors in the same display class, such as the T-Mobile Springboard tablet by Huawei and the HTC Flyer (and the HTC EVO View 4G variant via Sprint). That said, because of its more compact chassis–measuring only 7-inch compared to its larger 10.1-inch and 8.9-inch siblings–the Tab 7 Plus has a dense feel to it, which makes it feel more solid and exude more of a quality feel when held in the hands.
Like Samsung's larger tablet models, the edges of the Galaxy Tab 7.0 Plus are rounded and curved to the flatten backside, making the tablet comfortable to hold and allowing it to sit flat on a tabletop surface. The rounded side edges appear to be a metal frame that holds the display and connects with a non-user-removable plastic piece on the rear of the tablet.
Though the tablet has a good build quality to it–attempting to twist the tablet from opposite corners didn't yield any flex to the slate–the Tab 7 Plus itself feels a little haphazardly designed, as if Samsung wasn't wasn't sure which orientation users would mostly use the tablet in. Unlike the larger models where the proprietary 20-pin dock connector plug is on the bottom of the slate in landscape orientation, the dock connector on this small Tab 7 Plus is on the bottom in portrait orientation, along with Samsung's logo.
That said, when the tablet is used as a universal home entertainment center touchscreen remote control–we'll go into details with this in just a bit–the tablet itself is meant to be used in landscape orientation. Given the living room remote control design, I think that a landscape-oriented dock would have been more elegantly suited if you had this docked next to your sofa, especially since you have to hold the tablet in landscape mode to use the remote control feature due to the placement of the IR port.
Whatever the case may be, the front of the tablet is dominated by the touchscreen itself, a 7-inch TFT LCD panel with a resolution of 1024 X 600 pixels, which is on par with yesteryear's Galaxy Tab 7 and the same as the PlayBook and the HTC Flyer. Compared to the more budget conscious T-Mobile Springboard, the display is slightly lower here on the Tab 7 Plus as the Huawei-made tablet has a resolution of 1280 X 800 pixels, giving it an HD moniker on a svelte 7-inch frame. Also on the front, if held in portrait orientation, is something that appears to be similar to an earpiece speaker, like on the company's Galaxy smartphones, though this tablet lacks the ability to place or receive calls. To the right of the earpiece speaker, you have a front-facing camera.
Let's continue with the portrait orientation through the rest of the hardware description as it will make it easier to follow along. On the right edge of the tablet is the power button, followed by the volume up and down rocker, and then on the center right edge is a consumer-grade infra-red port, which can turn the tablet into a home entertainment center touchscreen remote control, and an elegant one at that.
Moving down to the bottom edge, as we had mentioned, is the dock connector, which is flanked by two loud speakers. The speakers are loud, but nowhere as loud as that found on the larger Galaxy Tab 10.1. Users looking to fill a room with tunes should connect some external speakers to pipe out music.
On the left hand edge of the tablet , there are no buttons defining this side, but there's also a micro SDHC card slot. The tablet itself comes with either 16 GB or 32 GB of on-board storage. Users can augment this storage through a micro SDHC card slot with up to a 32 GB storage card.
Only a 3.5 mm headphone jack adorn the top edge of the slate.
Around back, you have a nice textured plastic back cover, which itself is not user-removable, that gives the slate a greying brushed steel look. It adds a nice textured touch, and the overall finish isn't slippery to hold. On the top left hand corner, again in portrait orientation, you'll find a 3-megapixel camera with LED flash that can record video in 720p HD resolution. Along with a Samsung logo and some CE certification markings, the back side is clean.
Display. The display of the Samsung Galaxy Tab 7.0 Plus is gorgeous, vivid, and bright. It may be because the lock screen wallpaper consists of radiant bright colors, but one could almost be fooled that the display itself is an AMOLED panel as colors are rich and blacks are deep. That said, it's just a regular TFT LCD with a 1024 X 600-pixel resolution, which is on par with high-end tablets of this class though slightly less detailed than the 7-inch 1280 X 800-pixel display of the competing T-Mobile Springboard.
The display looks great, both indoors and outdoors. It's a multitouch display panel, which supports kinetic scrolling as well as pinch-to-zoom.
One gripe that I have with the display is that sometimes my touch didn't register, like in the pre-bundled e-book reader app. I'm not sure if it's because of faults of the display itself, the app, or if the hardware was having a difficult time keeping up with the software, though that seems unlikely as the Tab 7 Plus has a dual-core Exynos CPU.
Under the Hood. Blazing underneath the hood of the Tab 7 Plus is a dual-core 1.2 GHz processor that's made by Samsung and is part of the company's own ARM-based Exynos line. Samsung did away with the dual-core 1.0 GHz Tegra 2 chipset found on the Galaxy Tab 10.1 line, and the return to its own internally-supplied component is full circle as the original Galaxy Tab 7 launched with the company's own single-core 1 GHz Hummingbird processor.
Performance of the processor is both fast on paper and in real world performance. Its speed and agility is noted on various benchmark tests, though sometimes I noticed that animations stuttered, in particular when transitioning between different homescreens with some TouchWiz-enabled widgets preloaded on them. This is a stark contrast to the same TouchWiz-enabled Honeycomb experience of the Galaxy Tab 10.1 with a Tegra 2 processor, which is a bit surprising since the Exynos processor does out-perform the Tegra 2 CPU in tests.
Video: Samsung Galaxy Tab 10.1
Whatever the case may be–it may be due to the bloated nature of TouchWiz widgets–launching applications, multitasking, streaming videos, and loading webpages are gracefully handled by Exynos with no lag.
Fit, Finish, and Feel. Samsung is known for using plastic, and the plastics used on the Galaxy Tab 7.0 Plus is of a high quality material. Gone are the days of cheap plastic on the original Galaxy S 1 smartphone–in particular T-Mobile's Vibrant variant–and the overall device is light enough to hold comfortably for long periods of time, hefty enough to exude quality, and slim enough to tote around.
When the original Galaxy Tab 7 debuted a year ago, Samsung opted to compete against Apple's iPad tablet with a 7-inch form factor rather than utilize a 10-inch form factor noting that the 7-inch screen is more versatile. At 7 inches, the tablet can render more information and display more content than a 3- to 5-inch smartphone, but is still small enough to carry around with you. Sasmung's key executives last year toted the feature of being able to carry a 7-inch slate in your coat pocket or purse as a major selling point. Fast forward a year and you have the same 7-inch form factor that's light and portable, but you also shave down some of the heft and thickness of the original to have this new model, which continues the thin is in design language that's being pioneered by the Galaxy Tab 10.1.
Multimedia:
Peel Smart Remote. One of the most intriguing app that completely enhances the Tab 7 Plus and makes it feel right at home in your living room is the Peel Smart Remote app. The app uses the infra-red port on the Tab 7 Plus, so unlike Samsung's previous Smart Remote app, this one will be more useful and can integrate with a broad array of home entertainment modules in your living room rather than be used just with Samsung's own WiFi-enabled Smart TVs.
I was able to connect the Peel app to a Sony Bravia HDTV and my AT&T U-Verse TV box. The Peel Smart Remote app can intelligently display the program guide–which gets updated and refreshed over an Internet connection–display future program listings, and show content by categories or genres.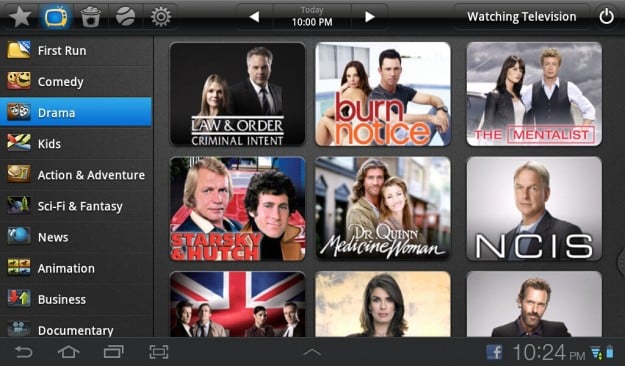 Thanks to a nice graphical user interface, the Peel Smart Remote app makes it easy for users to watch the content that they want. This way, for instance, you don't need to flip to specific channel if you want to watch a show like 'Seinfeld.' All you have to do is if you see a large Seinfeld icon, you can just tap on it and it will change the channel to what's showing Seinfeld.
Users can search for TV shows, Movies, or Sports. Within each of these broad categories, users can also further drill down by categories thanks to a multi-pane GUI. For TV shows and Movies, users can search for drama, action, comedy, or romance, for example.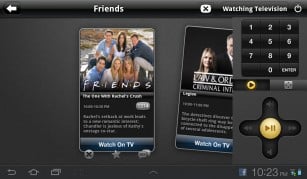 And if you already know what you want to watch, just tap on a little notch on the bottom right hand side and you can pull out a remote control with added functions and the ability to manually change the channel.
My biggest complaint with the app is that you cannot save control settings for multiple rooms. For instance, if you have a home entertainment center in the living room and an HDTV setup in an office, you can't save settings for multiple rooms. In the settings pain, it does show that you can have rooms and profiles, but currently everything is just limited to devices within a single room. Hopefully that will change in a new software update.
Camera. The camera features a number of settings which do not clutter the overall camera UI but are easily accessible. These settings are accessible via an on-screen overlay panel on the left hand side of the camera interface and will give users settings to toggle the flash, switch between scenes, and choose what type of image best suites the situation–such as a smile shot or an action shot for sports photography. All these enhancements, along with touch to focus, help to make the camera easier to operate while bringing some advanced tools to a simple smartphone shooter.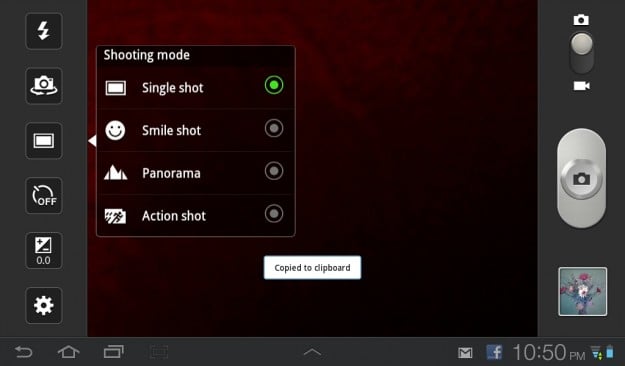 The 3-megapixel camera produces average shots. As a tablet with a 7-inch screen may be portable, Samsung gave you the option of using your tablet to quickly capture images on the go, but I think a smartphone will be the best size for a standalone camera replacement. That said, the camera produces results that are probably more on par with some manufacturers' 5-megapixel camera. Images captured are a little bit on the soft side, and images with extremely low light came out either blurry or with extra noise.
The camera sensor is actually quite good when shooting in dim conditions. The sensor will automatically brighten up your shot without having to resort to the flash, which is a good thing most of the time as the flash can tend to wash out an image. Many of the camera image samples below were taken sans flash on the 3-megapixel shooter of the Samsung Galaxy Tab 7.0 Plus whereas under the same lighting conditions the HTC EVO Design 4G had to activate its flash or the results came out to be a darkened image.
Video camera. The video camera can record in either VGA or 720p HD resolution. Like the camera mode, the video camera also enables for a number of settings adjustments.
Sample Camera Images: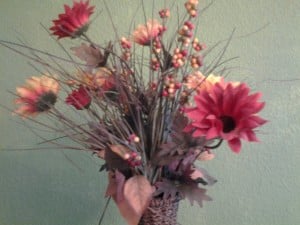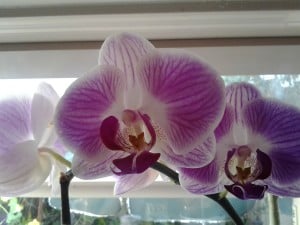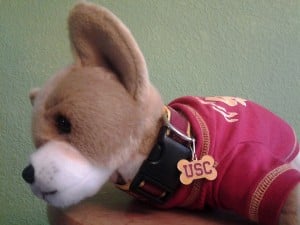 Software:
Android Honeycomb. The major upgrade between last year's Galaxy Tab 7 and today's Galaxy Tab 7.0 Plus is the utilization of Honeycomb, which is tablet optimized to deliver a better workflow while mobile. When Samsung had initially launched the Galaxy Tab 7 last year, Google came out against the company and said that the then Android 2.2 Froyo OS that debuted on the slate was not optimized for tablets and didn't lend to a good user experience.
Now, with Froyo behind it and Honeycomb on board, the Tab 7 Plus can boast a tablet-optimized experience with scrollable widgets, of which a select few are resizable. Additionally, the tablet experience lends itself to a multi-pane user interface. For example, in the settings menu, you'll have a more narrow left hand pane that displays broad settings and the right hand pane will dynamically change with additional options. You'll also find the multi-pane layout useful in other applications, like the Gmail app for tablets, Samsung's own Email app, and the contacts app where the left hand pane will display a list of contacts and selecting on a contact will show all their contact information on the right hand pane.
Additionally, viewing orientation isn't restrictive to any one orientation and you can turn the Tab 7 Plus on any edge and it will display in the correct orientation.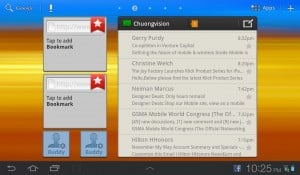 TouchWiz. TouchWiz for Honeycomb isn't as dominating as TouchWiz for Android smartphones. The custom UI layer developed by Samsung for its tablets actually does help to enhance the user experience by adding widgets, apps, and quick start apps to Honeycomb to make the tablet OS more accessible.
You see a number of homescreen widgets on TouchWiz, as you do on Samsung's Galaxy S and Galaxy S II smartphones. The clock, weather, stocks, news, and photo widgets all look familiar. Additionally, many of the widgets are resizable–you can make them larger to highlight the widget's importance on your screen or make them smaller to conserve screen real estate. To resize a widget, just tap and hold, and you'll see a little nodes on the center side edges of the widget where you can drag the nodes in to make them smaller or outwards to make the widget larger.
Samsung's Social Hub–which integrates and aggregates all your social networks–as well as the Samsung Email widgets are both scrollable, meaning you can scroll through lists of content within the widget itself without even having to open the app up. This way, you can thumb through emails, but if you click on a message, the Email app will open to give you additional options.
A nice addition on TouchWiz for tablets is the inclusion of Quick Launch Apps. These apps are hidden in the task bar tray at the bottom and can be activated by tapping on the center arrow of the bottom task bar. When you do that, a dock appears with a number of apps that you can open from anywhere–including within other apps.
For example, if you're in a browser and on a shopping page, you can quickly launch the Quick Launch Calculator app, which will open in a popup that you can drag to anywhere on your screen, and you can go ahead and calculate shipping costs and sales tax right from the browser without having to exit the browser, go to the app drawer, and launch Android's calculator app. This makes things simple and accessible.
Apps. Samsung also included a number of applications that add some utility to the tablet or provide for additional content. Like on the company's other tablets and most of its smartphones, the Samsung Media Hub app allows users to either purchase or rent TV shows and movies. The app also displays movie information and allows users to stream a trailer, which appears in a nice quality when rendered on the Tab 7 Plus' screen. Purchases and rentals can also be played on up to five Samsung devices due to DRM restrictions.
These purchases and rentals are separate from what's available from Google through Android Market, so at least you'll have another venue to find content if Google doesn't have what you want or if you want to own content, which Android Market does not allow for with videos at this time.
Additionally, there's also an Ebook application that will display books nicely with a very nice GUI. The problem there is that the GUI is a bit heavy as touching on the screen sometimes either yielded a delayed response or made the screen un-responsive, requiring several presses. That said, there are animated page curls, text-to-speech (TTS) functionality that will allow the Tab 7 Plus to read your book to you, and the options to add highlighting, memos, and annotations directly to your book's content.
My complaint with the ebook app that's preloaded is that it can become non-responsive sometimes. When selecting and de-selecting the highlighter or annotation functions, sometimes there are long lags and I'd end up tapping those icons at the top a few times only to de-select something that I had meant to select, undoing the action, and re-doing the action. Needless to say, it's an aggravating experience as the Exynos processor is supposed to be quite zippy and responsive.
Another complaint is that if you're in the highlighting function, you actually have to de-select the highlighter to turn a page. If you're in the highlighter and attempt to turn the page by swiping, you'd just end up highlighting some more. This is also true if you're in the pen function. Though the tablet lacks a digitizer or capacitive touch stylus out of the box, you can use your fingers to annotate pages and you'd have to unselect the option if you intend on moving to the next page with your reading, which again, like the highlighter functionality, can yield in some long lag times.
The neat thing about the Ebook reader is that it will accept any EPUB content. Samsung doesn't link you directly to its own proprietary store, but rather gives you the option to add different stores so you can purchase directly from your favorite digital book distributors.
There's also a pre-bundled Next Issue app, which will allow you the option to either subscribe to or purchase individual magazine issues. The selection of periodicals there is very limited.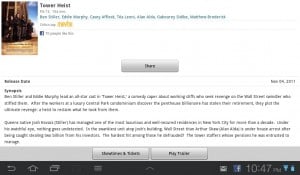 A Moviefone app is also loaded giving you the option to see movies now playing in local cinemas. Users can look up movie listings, show times, and purchase tickets at select theaters online.
There's also a Samsung App application, which will help to make app discovery a bit easier with recommended or suggested apps from Samsung. Tapping on an individual app inside the Samsung App application will take you back to Google's Android Market where you can download additional third-party apps to enhance your tablet experience.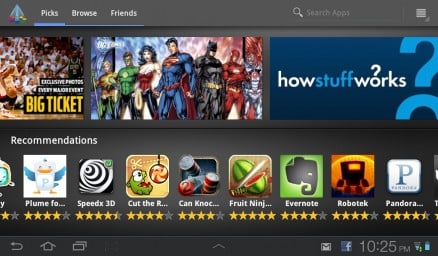 The tablet also comes with GPS capabilities as well as Google Maps and Navigation, the latter of which will only be useful with an Internet connection or mobile hotspot if you have a WiFi-only version of the Tab 7 Plus. That said, you can download third-party on-board GPS navigation solutions, like the excellent Navigon software, and use the Galaxy Tab 7.0 Plus as a car GPS. GPS hardware inclusion will be beneficial as well for some locations-based applications, including Yelp, where you can quickly find local businesses without having to manually enter in your location or zipcode.
Network, Battery Life:
Configurations: The Samsung Galaxy Tab 7.0 Plus is available in either 16 GB or 32 GB configurations. The device comes 7-inch WSVGA LCD display, support for Adobe Flash, HD video decoding and encoding, a 3-megapixel rear camera, front-facing camera, and dual-core Exynos CPU clocked at 1.2 GHz.
T-Mobile USA Version. Additionally, T-Mobile USA will be offering the 16 GB version of the Tab 7 Plus in the States with an embedded mobile broadband radio that can tap into the carrier's 4G HSPA+ network. With a 7-inch display size, the Tab 7 Plus will go head-to-head with T-Mobile's own branded Springboard tablet by Huawei.
Video: T-Mobile Springboard Tablet by Huawei
The nice thing about the Tab 7 Plus that's missing on the larger 10.1-inch Tab is the ability to augment storage memory. The Tab 7 Plus has access to a micro SDHC card slot allowing users to expand to another 32 GB of storage.
Battery Life. So far, I've only had limited time with Tab 7 Plus and cannot give a good account for battery life. Having played with the tablet with WiFi on, I find that battery life is in the 5-8 hours range and will decrease if you frequently use the Peel Smart Remote, browse the web, or play videos.
Performance:
Interestingly, performance of the tablet in real world settings could be better. While the dual-core Exynos chipset blows away most benchmark scores, the tablet seems to have moments of noticeable lags and delays, especially while navigating through TouchWiz's animations. The tablet was able to render, stream, encode, and decode videos fine, however. Another area that the tablet stumbled with was non-optimized Flash videos, such as when streaming The Big Bang Theory from CBS's website; performance in streaming the same video is considerably better on a Texas Instruments dual-core OMAP chip.
That said, running and using most apps was fine. Trailers streamed beautifully from Media Hub and from the Moviefone app.
Conclusion:
Despite a mixed bag where it comes to intensive video rendering, the Galaxy Tab 7.0 Plus tablet is a great addition to the mobile road warrior's arsenal as well as a perfect companion for your living room. Samsung did its research and went beyond what Android Honeycomb promises in terms of creating the best user experience possible on a larger display size. With multi-paned apps, scrollable widgets, and Samsung's own Quick Launch apps, the experience is very much refined.
While little bugs exist, such as lags and stalled performance, the Galaxy Tab 7.0 Plus shines in everyday tasks and does offer smooth performance and can quickly launch apps and multitask thanks to an improved dual-core CPU, up from the company's single-core processor on the original Galaxy Tab 7.
New to the mix this year is the inclusion of an infra-red hardware port as well as the Peel Smart Remote app, both of which transforms the Galaxy Tab 7.0 Plus into a beautiful home entertainment center touchscreen remote control with a spectacular graphical user interface, intelligent program guide that's visually stunning, and a display that begs to be touched.
So while the 7-inch size is portable enough to tote anywhere and everywhere you go, the highlight of this year's 7-inch model makes it equally at home in your purse or pocket as it is at home next to your sofa to control your HDTV.
For those with medium hands, this in-between size will be a compromise on the typing experience. In portrait mode, you can thumb through the keyboard easily, but in landscape mode, the keyboard may be a little too large to thumb type, especially when trying to reach the center keys, but may be a bit too small to comfortably touch type when laying the tablet down on a flat surface.
Samsung also added value to the tablet to expand the available digital content on the device should you not want to watch TV on your big screen. Thanks to Media Hub, Next Issue, Amazon Kindle, Ebooks, and a number of other apps pre-loaded, you can now have access to more digital content as Samsung tries to tackle Apple's iOS ecosystem with iTunes.
A stunning display, breadth of content, and lots of foresight into the planning and design of this tablet helps to make it stand out. As impressively thin as it is powerful, Samsung's Galaxy Tab 7.0 Plus adds brains, brawns, and beauty to a perfect package.
Video: Last year's Galaxy Tab 7 model
Final Rating: 8.2/10