Samsung Galaxy Tab 7.7 LTE Headed to Verizon on March 1st?
At the beginning of January, Verizon confirmed that the Samsung Galaxy Nexus 7.7 would be heading to its 4G LTE network in the future. That's right, it failed to offer up any sort of concrete information on a release date or pricing. Still hasn't. PhoneArena though has managed to snag an internal document that seems to point to a possible release on March 1st for a cool $499.99 on a new two year contract.
So, if you've been waiting for Samsung's smaller Galaxy Tab to arrive, that's the date you're going to want to circle in pencil at this point.
Keep in mind, Big Red hasn't released any official information yet so these plans could change. But at this point, March 1st is the front-runner. As it should be. This is a tablet that will have been announced two months ago on March 8th.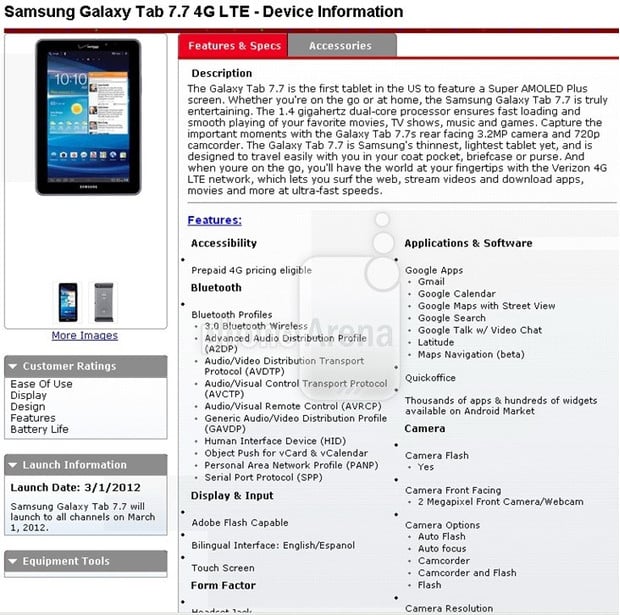 Quite the delay.
Luckily, we know exactly what will be coming along with the Galaxy Tab 7.7 because Verizon was kind enough to relinquish the specifications when it made the official announcement.
It's going to be a Android 3.2 Honeycomb tablet that sports a 7.7-inch display, thus the name, that features high-definition 720p (1280×800) resolution. We should note that Android will be layered with Samsung's TouchWiz user interface which some love and some hate. It'll come down to personal preference.
The design will be just 7.9mm thick which makes it the slimmest 4G LTE tablet to date and it will also have a 1.4GHz dual-core processor powering it.
Other features include:
Mobile Hotspot capability – Share your 4G LTE connection with up to 10 Wi-Fi enabled devices or 3G connection with up to 5 Wi-Fi enabled devices
3-megapixel rear-facing camera with LED flash and full 720p recording and 1080p playback (1080p playback through HDMI dock or adapter)
Front-facing 2-megapixel camera for video chat
16 GB on board storage (actual formatted capacity is less)
Support for up to 32 GB microSD card
Not bad, but that $500 price tag is pretty demanding and may end up pricing a lot of interested parties out.
We should know soon if Verizon intends on doing that.