Samsung Galaxy Tab 8.9 Ice Cream Sandwich Update Rolls Out in U.S.
It looks like the Samsung Galaxy Tab 8.9 Ice Cream Sandwich roll out has arrived for owners of the Android powered tablet in the United States.
We've heard from several owners who say that they have received Android 4.0.4 Ice Cream Sandwich today and with numerous reports claiming that this is the case, we have no reason not to trust the information.
The update is apparently now available for the Wi-Fi only version of the Samsung Galaxy 8.9. Those who are on a carrier will just have to sit tight and wait for the upgrade to Android 4.0.
Read: Samsung Galaxy Tab 8.9 Review.
Those who own the Wi-Fi only version of the device should be able to pull the update from the device's Settings in the About section of the tablet.
Once there, checking for an update should bring up a prompt to install Ice Cream Sandwich, an update that is over 300MB in size.
Galaxy Tab 8.9 owners who wish to install the update will want to block out a few minutes of time as the process could take awhile considering the update's size.
Those who don't want to wait for the update to roll out OTA are able to use the Samsung Kies application to install the software to get the device up and running with Android 4.0.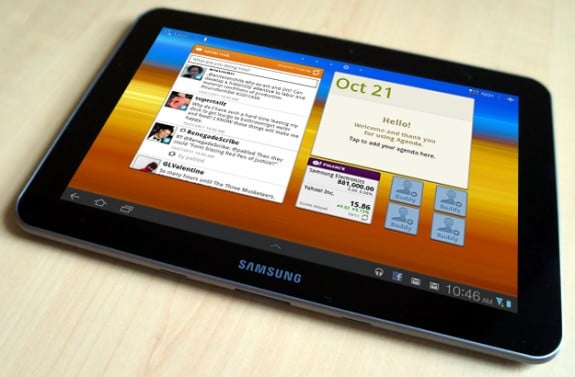 The software itself will bring a number of changes from the device's previous version of Android, Android Honeycomb, and the changes are going to be for the better.
Samsung Galaxy Tab 8.9 owners will now get the new user interface, the much improved Browser, better multitasking and a whole lot more.
We assume that the update will also come with a bunch of bug fixes and enhancements that should wipe out some of the issues owners were having on Honeycomb.
Of course, ICS could bring some bugs along with it too but that remains to be seen.
For now, just enjoy Android 4.0 Galaxy Tab 8.9 owners.