Samsung Galaxy Tab 8.9 Launching October 4th, Galaxy Player 4.0 and 5.0 on October 16th
In addition to the Samsung Galaxy S II HD that it announced earlier today, Samsung has also announced the release dates and pricing for the Samsung Galaxy Tab 8.9 tablet and Samsung Galaxy Player 4.0 and 5.0. And while it's unclear if the Samsung Galaxy S II HD will be coming to the United States, the other three are officially U.S. bound and will be headed to market this October.
We've known about the Samsung Galaxy Tab 8.9 for quite awhile now, even going hands-on with it all the way back at CTIA 2011. The Tab will be coming to stores on October 4th with two storage options. The 16GB model will cost $469 and the 32GB model will be $569. Both are Wi-Fi only and feature a dual-core T250S processor, 8.9-inch WXGA TFT display (1280×800 resolution) with Gorilla Glass, and a massive 6,100 mAh battery.
They will both ship with Android 3.1 Honeycomb with Samsung's TouchWiz UX over the top.
As for the Galaxy Player 4.0 and 5.0, they will be arriving a little later on October 16th and will be available for $229 and $269. The numbers signify the screen size. Both the 4-inch and 5-inch Galaxy Players will sport Android 2.3.5 Gingerbread, a 3.2 rear camera, VGA front facing camera, Wi-Fi and WVGA TFT LCD (800×480) displays.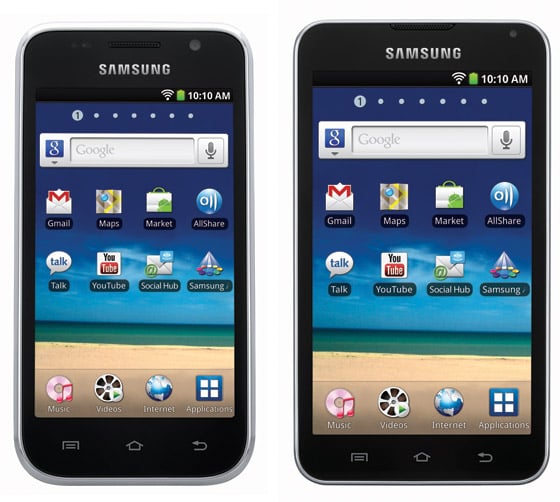 Both function like an iPod touch does. Market access for apps, music, Google Mobile Services, and more. They just can't function as a phone.
Noticeably absent from the announcement was Samsung's Galaxy Tab 7.7, a tablet that it announced back at IFA 2011. It's still unclear whether or not Samsung will be bringing it to the United States.