Samsung Galaxy Tab 8.9 Review
Samsung is one of the few Android tablet makers that has consistently delivered devices that look good, run well, and avoid the shortcomings rampant in this segment of the market.
The 8.9 inch Galaxy Tab is not the exception to the rule. Just like the 10.1 inch version released earlier this year, it combines a thin profile and light weight with good performance and a beautiful screen. But at $469, it's only $30 less than its big brother.
Is it worth that price? Read on to find out.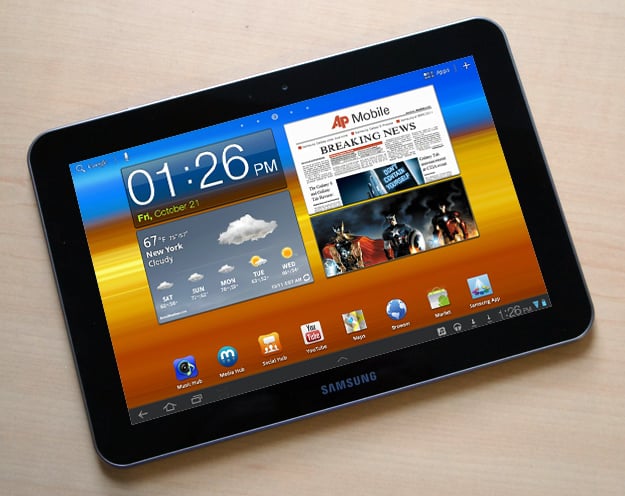 Pros

Light and thin
Beautiful, bright screen
TouchWiz makes the interface look better
Multiple keyboard and other input options
Decent audio quality

Cons

Expensive
Lackluster cameras
Design
The Tab 8.9 is nearly identical to the larger version, coming in at the same width (0.34 inches) but with a smaller 9.1 x 6.2-inch footprint. It still only has one connection port, the proprietary one on the bottom, plus the headphone jack up top.
At 1 pound, it's very light. In fact, the 8.9 inch form factor gives it a nice size advantage over the 10.1. Where the Tab 10.1 is just a little too big to pull out when standing in line or something, the 8.9 is just small enough for that. When using it to read my arm didn't get as tired, and I could more easily use it one-handed.

As an upgrade from the 7 inch form factor I found that magazine content looked even better and I didn't have to do as much zooming to read. Most 7 inchers also don't have the 1280 x 800 resolution, which means less scrolling on web pages and page turning in books.
This model only comes with one color choice for the back: Metallic Gray. The white back is no big loss — I've always preferred the darker color, myself.
The display itself is quite beautiful, offering rich colors perfect for watching movies. The glossy screen wasn't so great for dark screens in well-lit rooms, but at least the viewing angles are nice and wide.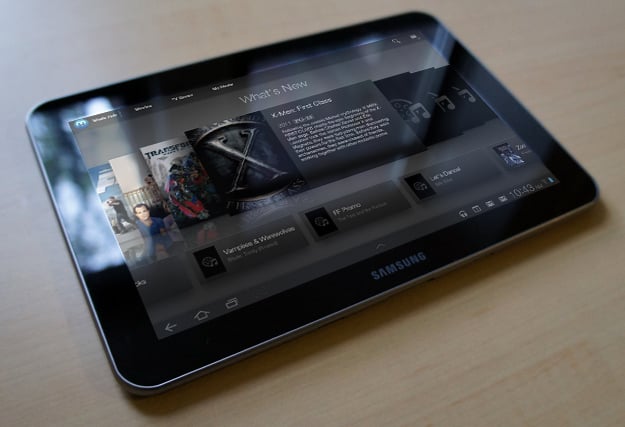 Software and UI
The Tab 8.9 runs Android 3.1 Honeycomb with Samsung's TouchWiz UX interface on top. TouchWiz provides a few benefits over the stock OS. To start, it replaces the Tron-esque UI elements in Honeycomb, such as the design and font on the bottom bar and Notifications area. It also includes a parcel of Live Panel widgets that go along with Samsung's pre-loaded apps, though not all of them are useful. I do like that you can resize many of  them to fit your needs.

Samsung is very proud of the Mini Apps Tray they created for TouchWiz. Tap the arrow in the center of the bottom bar to bring up a suite of apps you can access from any screen or app: Task Manager, Calendar, World Clock, Pen Memo, Calculator, and Music Player. These Mini Apps run in small windows that sit on top of others, which is more like a desktop experience.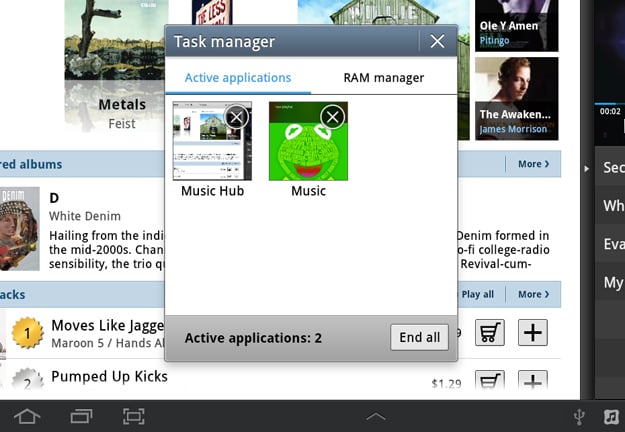 One of the better tweaks is to the Notification area, which places radio controls right at the top of the box so you don't have to tap twice to get at them.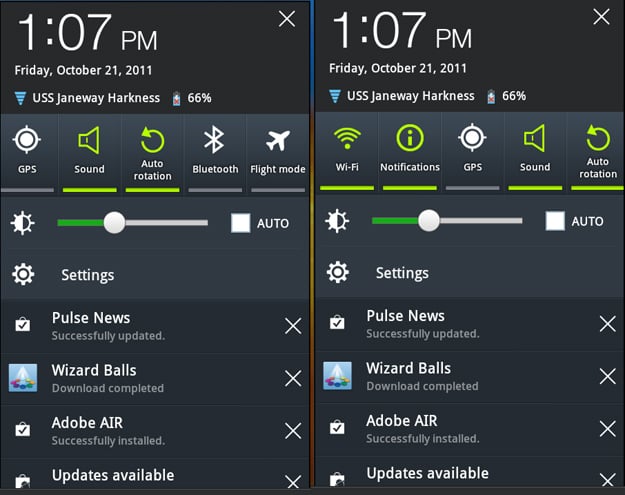 Keyboards
One difference between the offerings on the 8.9 vs. the 10.1 is the inclusion of some extra keyboards — the Samsung Keypad and the TalkBack Keyboard — alongside the stock Android keyboard and Swype.
The Samsung Keypad has some interesting goodies. To start, it has two sizes. People with different size hands will find one or the other more comfortable to use in portrait mode. In landscape, the Tab 8.9 is still a bit wide to make typing comfortable for people with medium or small hands, even with this feature.
The other nice thing about the Keypad is that it has a handwriting mode. Similar to the FlexT9 keyboard on the ThinkPad Tablet, users get a wide area to write out words with a finger or stylus.
I used a Kensington capacitive stylus to test and was surprised to find that the Samsung Keypad was more accurate than FlexT9 and recognized my handwriting about 80% of the time. It even recognized a mix of print and cursive. Overall, pretty impressive. That said, it's not quite accurate enough to make this my go-to input method.
The TalkBack Keyboard is part of the Accessibility offerings and will speak letters as you type them.
I prefer the Swype keyboard not just because of the tracing letters aspect, but also because it has so many alternate characters a long-press away. A must if you don't want to toggle between letters and symbols all of the time.
In addition, the Tab also has an enhanced Clipboard which will keep more than just the last thing copied. It stores multiple items (and screenshots by default) so that you can copy text or images from multiple apps, then paste them all into one document without having to go back and forth multiple times.
Media
Samsung bundles the Tab with its own Media Hub and Music Hub.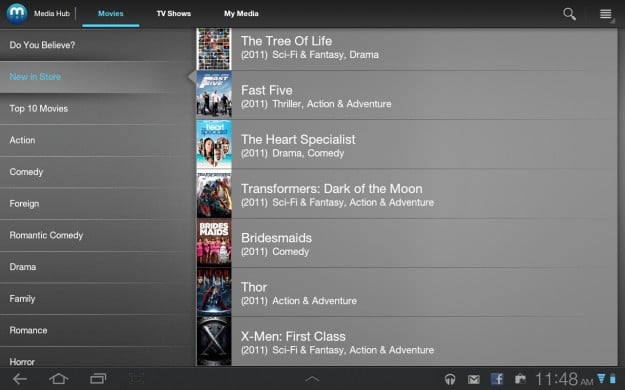 Media Hub offers movies to rent or buy plus TV shows. There's a decent selection of new movies and TV shows, though not as vast as you'd find on iTunes. Episodes start at $1.99, movie rentals are usually $2.99 – $3.99, and new movies are around $17.99 to own.
The media you own isn't completely trapped on the Tab — you can download it to other Samsung devices with Media Hub like the Samsung Galaxy S II and possibly Samsung connected TVs in the future. Samsung keeps track of what you purchase and allows you to download to other devices for free.
As I said, watching movies is great thanks to the screen, and Media Hub delivers HD video. Watching Thor even with the tablet propped up a few feet away still provided a good experience, and the speakers pumped louder volume than I would have expected.
Music Hub has 12 million DRM-free tracks on offer that cost $0.99 or $1.29 each for most. Thanks to the UI, searching and shopping for tracks is easy. It's also not bad for music discovery.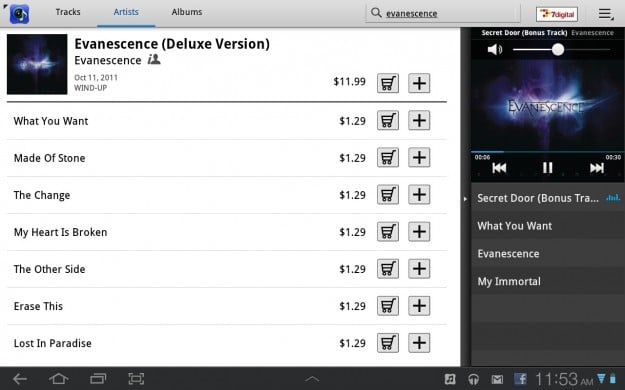 The audio quality from the speakers won't blow you away — they're on the tinny side and offer just enough bass to round out the sound — but also won't make you cover your bleeding ears in pain from how they butcher a song. The audio via the headphone jack is actually superior to the iPad and most iPods.
Performance and Hardware
The Tab 8.9 has an NVIDIA Tegra 2 CPU inside backed by 1GB of RAM. Just like most other Honeycomb tablets, the Tab runs well but occasionally throws some lag when running over a dozen apps at once. Most of the time when I encounter a misbehaving app it's due to it not being optimized for tablets (and this isn't often).
When playing games like Plants vs. Zombies, Fruit Ninja, or NFS Shift I experienced speedy framerates and excellent responsiveness. TouchWiz doesn't appear to impact performance.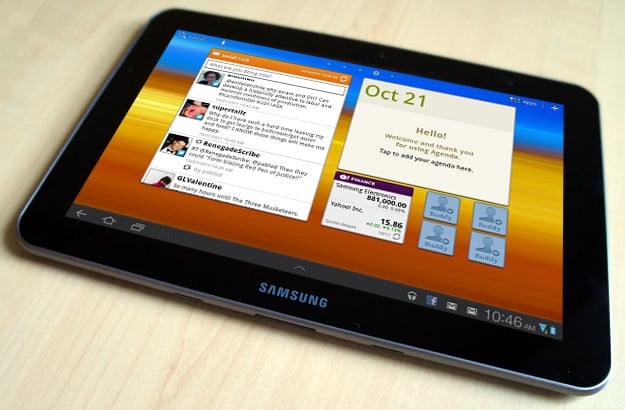 On our battery test (provided by LAPTOP Magazine) the Galaxy Tab lasted for 7 hours and 42 minutes while surfing the web over Wi-Fi with the screen at 40% brightness. In everyday use it lasted all day with the WiFi radio on with medium usage (playing games, surfing the web, reading magazines, listening to music) and brightness on Auto. With all radios off it was able to go up to two full days without needing a charge with light to medium usage.
Just as with the Tab 10.1, the cameras here are nothing to get excited about. The 3MP camera on the back takes somewhat noisy pictures inside and has a slow shutter speed. the 2MP front-facing camera is good enough for video chats, but you won't look great while doing them.
Apps
In the Android Market there are currently between 170 and 180 apps marked as optimized for tablets. The Tab isn't limited to these, and in my experience almost all of the other hundreds of thousands of apps in the Market run just fine on tablets.
Samsung included their own Samsung Apps store, which offers a smaller selection of the same apps. It's unclear how this is more useful than the Android Market or why owners should use it. The selection isn't all that inspiring.
In addition to the apps that come with TouchWiz, Samsung only pre-loaded a few others: Amazon MP3, Amazon Kindle, Words With Friends, Photo Editor, Polaris Office, Readers Hub, Social Hub, a File Manager, and AllShare.
Bottom Line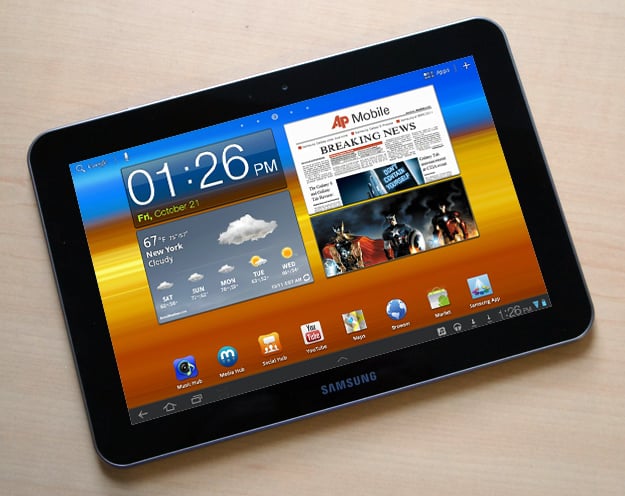 For $469, the Samsung Galaxy Tab 8.9 feels somewhat pricey since it's smaller than the Tab 10.1 and the iPad. However, it has the same guts as the 10.1, the same software, and the same capabilities. It's just a bit more holdable and portable than its big brother. If a 10-inch tablet is a bit on the big or heavy side for you, then the 8.9 will probably hit your Goldilocks zone.
The 7 inchers out there now (including the $399 Samsung Galaxy Plus and the $199 Kindle Fire) are even lighter and more pocketable, yet that difference in screen size is significant. 8.9 inches is better for reading magazines, working on documents, and watching video. If that's what you want to do with your tablet, then the extra money is well spent.
The Galaxy Tab 8.9 offers a good mix of entertainment and productivity features alongside good design and portability.
Samsung Galaxy Tab 8.9 Specs
Platform: Android 3.1 (Honeycomb)
Display: 8.9 inches / 1280 x 800
Size: 9.1 x 6.2 x 0.34 inches
Weight: 1 pound
CPU/RAM: Nvidia Tegra 2 (dual-core)/1GB
Connectivity: WiFi 802.11 a/b/g/n, Bluetooth 3.0
Cameras: Rear – 3MP Auto Focus with Flash; Front- 2MP
Battery: Li-polymer, 6100mAh
Storage: 16GB; 32GB
Price: $469; $569