Samsung Galaxy Tab 10.1 Accessories: Slip Cases, Covers, and Keyboards
Of all the accessories mentioned at Samsung's Galaxy Tab event today, the most exciting (and most useful) are the cases and covers. They don't quite reach the heights of the magical Smart Cover for the iPad 2, but they do nicely blend good looks, light weight, and functionality.
This is the case I use for my Galaxy Tab, and I like it because it's light and thin and fits snug around the device. I will admit to having an affinity for cases that open like a book.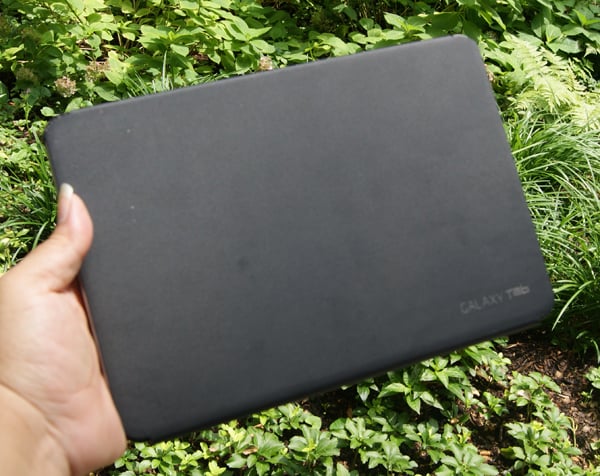 The case doubles as a stand with multiple angles for watching media or typing,  and closes securely thanks to a magnet in the flap. It would be nice if opening and closing the cover could trigger wake and sleep — alas, maybe in the next generation.
Though it surrounds the top and bottom of the Tab, there are cut outs for the headphone jack and camera/flash. The sides are open, so nothing covers the speakers. On the Wi-Fi version the power button and volume rocker are covered when the case is closed. On the 4G version these buttons sit on the side, so they're accessible at all times. I prefer the former arrangement as it cuts down on something accidentally hitting the power button while it's in my bag.
I like the feel of the Book Case as well: matte with a cloth-like/dimpled feel so you can get a good grip on it.
Overall, a really well-designed case that doesn't add much bulk or weight to the Galaxy Tab.
Premium Protective Case With Bluetooth Keyboard — $149.99
As I mentioned in my other post, the Galaxy Tab keyboard dock isn't exactly mobile-friendly. Sure, you could carry it around, but it's awkward and a bit heavy. Enter the Bluetooth keyboard case, which I got my first glimpse of today. It's similar in style to the Book Cover but with a keyboard plus more versatility on standing angles. I like the look of the keyboard case much more than the dock (possibly because white plastic has never enchanted me).
In my very short hands-on time with this case I noticed decent tactile feedback and well-sized keys. The case itself isn't too heavy, and maintains a slim line when closed. I'm looking forward to trying it out, especially as most iPad Bluetooth keyboard cases I've tried have been major let downs. I'd like to see what Samsung can do with this.
The case will be out in the next couple of months.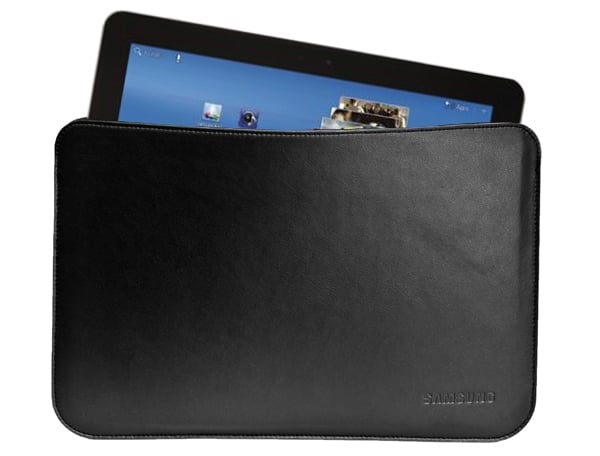 For those who don't want a cover but just a slipcase for protection, the Leather Pouch offers some understated style. It doesn't have any special powers or hidden functionality to wow you. That's all right, though. After all, even the conservative amongst us needs tablet protection.

This article may contain affiliate links. Click here for more details.