Samsung Galaxy Tab S2 Release Date Emerges
A few weeks back Samsung announced two brand new Android tablets for 2015 aimed at taking on the iPad Air and newest iPad Mini, called the Galaxy Tab S2. During the announcement no release date was offered up, but Samsung did state it would arrive in August, and now we finally have a release date for these two new Android tablets.
During the summer months multiple leaks suggested Samsung had a few new high-end Android tablets in the works to take on Apple's iPad lineup, and they were revealed at the end of July. Both tablets have a completely new design different from any other Samsung tablet, and are the thinnest tablets we've ever seen from the company.
Samsung calls the new Galaxy Tab S2 "class leading" with a new extremely thin and lightweight aluminum design. They added a better and more accurate fingerprint scanner and tons of power under the hood. After months of rumors and a few weeks wait, today Samsung confirmed the Galaxy Tab S2 tablets will hit South Korea on August 11th. Read on for more details.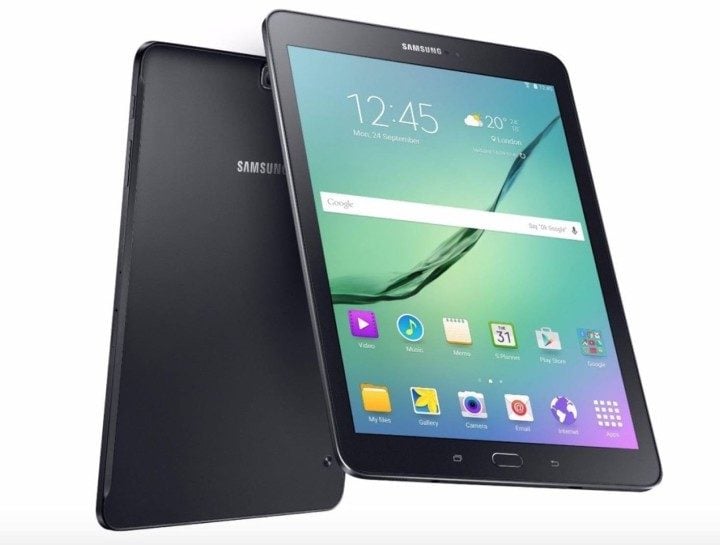 This year Samsung took a completely different approach to its Android tablet lineup in a move to directly compete with Apple, as well as follow Google's lead. Just like the iPad Air and Mini, and Google's recent Nexus 9, the new Galaxy Tab S2 is wider, and not as long. Offering up a 4:3 aspect ratio vs the long and skinny 16:9 look of every other Android tablet.
This is a move to enhance the reading and web browsing experience, as well as gaming, but doesn't make for the best video playback experience, as users will now have black bars on the top and bottom of videos. That said, Google did the same thing with the Nexus 9, claiming it makes them easier to hold for long reading sessions, among other things.
After being revealed on July 20th today Samsung confirmed the Galaxy Tab S2 will be available starting August 11th, but only in South Korea. They've yet to announce or confirm a release date in the United States, or elsewhere, but we're expecting more details and release dates any day now. Typically its tablets have a short exclusive in their home country, and arrive across the globe within a few weeks.
The Galaxy Tab S2 8 will cost KRW 599,000 ($513), while the larger 9.7-inch model will cost KRW 719,000 ($685). Prices will likely differ stateside, and we're expecting a more aggressive $399 and $499 price points to take on Apple's offerings.
Samsung promised an August release date, and we're expecting the new Galaxy Tab S2 to hit shelves in the United States around August 21st, which also happens to be the rumored release date for the upcoming Galaxy Note 5 smartphone.
Galaxy Tab S2 Specs
Samsung's new Galaxy Tab S2 comes with enough horsepower to make them some of the best tablets on the market, and will rival anything else available. They've integrated the same powerful internals as the Galaxy S6, which means users can expect smooth fast performance, great multi-tasking with multi-window mode, having two apps open at the same time, and much much more. Here are all the details.
Galaxy Tab S2 Specs
8 and 9.7-inch 2048 x 1536 Resolution Full HD AMOLED Display
8-core Samsung Exynos processor with 3GB of RAM
32 and 64GB of storage with a micro-SD slot for expansion up to 128GB
Android 5.0 Lollipop with Samsung TouchWiz UX (promise to Android M soon)
WiFi and 4G LTE options
8 Megapixel rear and 2.1 megapixel front cameras
Fingerprint scanner and sensor for security
Dual bottom facing speakers
Aluminum design
5,870

mAh

and 4,000

mAh

battery
5.6mm thin
As you can see from the impressive list of details above these new tablets are amazingly thin being only 5.6mm thick. They're also the lightest tablets in each respective size category being lighter than the iPad Mini 3 and the new Air. That being 265g for the 8-inch model and 389g for the 9.7-inch variant.
Samsung kept the same aluminum design, added a better fingerprint scanner, and tossed in the powerful 8-core Samsung Exynos processor.
All of this is a move to hopefully keep Samsung's Galaxy tablets at the top of the Android tablet market, one that saturated, all while trying to convince more iPad users to try Android tablets. Sadly we still don't have a release date for the United States, but one should be announced soon, and we'll update as soon as we know more. Expect the impressively thin new Galaxy Tab S2 to be available before the end of the month.

As an Amazon Associate I earn from qualifying purchases.