Samsung Gear A Smartwatch: 5 Things to Know
Samsung is no stranger to smartwatches. In fact, rumor has it the company is set to release the Samsung Gear A, its seventh smartwatch, later this month. The company has an event scheduled for August 13th where we'll likely see the new Galaxy Note 5, the Galaxy S6 Edge+, possibly the new Galaxy Tab S2, and the highly rumored Gear A "Orbis" smartwatch.
One of the first Google-powered Android Wear smartwatches ever sold was the Samsung Gear Live, and since then the company has continued to release different types of "smart" watches, but many don't run Android. The new Samsung Gear A will run Tizen, not Android, and we could see it next week.
While we still don't know too much about the Samsung Gear A, the company did confirm plenty last month, not to mention a slew of rumors have been floating around. With all the attention on the new Galaxy Note 5, here we want to take a look at the Gear A and everything buyers need to know.
Samsung's first smartwatch options didn't run Android, then when Google debuted Android Wear for the smartwatch, they gave it a try. In the end though, Samsung ditched Android in favor of Tizen and has continued to improve its options. Last year they debuted the new Galaxy Gear S with a curved display, and this year rumor has it Samsung has an even better smartwatch in the works to take on the Apple Watch.
Codenamed the Samsung "Orbis", the Gear A smartwatch will integrate plenty of unique features that will hopefully make it contend with the Apple Watch, and anything else that's released by the Android competition later this year and in 2016. One of the biggest aspects is the fact that it will be completely round, and have a rotating dial for improved controls. Here's what we know so far based on rumors.
Design
Back in April the Samsung Gear SDK was released, which confirmed the next Samsung smartwatch would be round. The company released developer tools hoping that tons of watch faces, apps, games and more would be built all summer, and ready by the time it was released.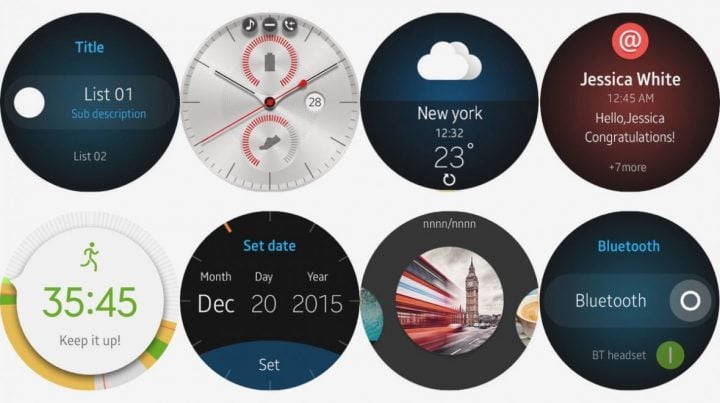 According to various leaks, the SDK, and the natural evolvement of smartwatches as of late, the new Gear A will be completely round, ditch the curves from the Gear S, and have some neat new features integrated inside. And while we don't know too much about the design, Samsung has confirmed that similar to Apple's digital crown, the rotating bezel around the 1.13-inch display will be a key feature. That said, we don't know anything else about watch strap offerings, the clasp, or anything else until Samsung reveals it all on stage. It will surely have some sort of premium aluminum design, but we'll have to wait and see.
Rotary Bezel
Last week Samsung confirmed the rotating bezel, as reported by SamMobile, and the website also had tons of other information to share. They've been revealing exclusive content for weeks, and the most important details are the specs and this rotating bezel.
According to what we know so far, the rotating bezel on the Gear A will hopefully make Samsung's new smartwatch easier to control than anything else available, including Apple's watch. The rotating bezel around the screen will be classy, give it a traditional watch look and feel, yet offer tons of intuitive controls.
The rotary bezel will likely be able to scroll through apps and lists, scroll down emails or text while browsing, zoom, turn up the volume or brightness and much more. Basically allowing for more control without covering the small display with your hands or finger. We expect Samsung to put a lot of effort and emphasis on the rotary bezel, and compare it to Apple's digital crown.
Specs
Another important aspect of the Samsung Gear A will be the specs, and the battery life. This year we're hearing it will have a slightly smaller display, but with most of the controls being with the rotary bezel that shouldn't be too much of a concern. Here's the full details, which were leaked weeks ago by SamMobile.
Samsung Gear A Specs (Rumored)
1.18-inch Super AMOLED 360 x 360 resolution display
1.2 GHz Dual-core Samsung Exynos Processor & 768MB of RAM
4GB internal storage
250

mAh

battery (smaller than the Gear S)
3G, WiFi, Bluetooth, gyro, GPS, barometer and heart rate sensors
Possible IR sensor for remote
Digital Crown
Samsung Pay
Wireless Charging
more
The screen and battery will both be slightly smaller than its previous smartwatch, which means we could see similar or slightly better battery life, not to mention improvements with the chipset and Tizen could yield improved battery life. We also have the same 4GB of storage, meaning most the apps will reside on your Galaxy Note 5, not the smartwatch itself.
We've also heard reports of a biometric sensor that will help make secure wireless payments, not to mention Samsung recently purchased LoopPay, a mobile wallet payment system similar to Apple Pay and Google's upcoming Android Pay. A few reports also suggest the Gear A will have a digital crown similar to the Apple Watch as a power button, to further make controls easier, and for selecting the time and other things while navigating the device. It's all about keeping our hands off the small screen, to make it easier to use.
Features
For now we still don't have too many details about the new Samsung Gear A smartwatch, but it's clear the company has big plans for it. We're already seeing a lot about the rotary bezel in the SDK, tons of support for S-Health in terms of fitness, and a few popular apps like CNN, Yelp, Royalty Card app FidMe which will likely work with Samsung Pay, and much more.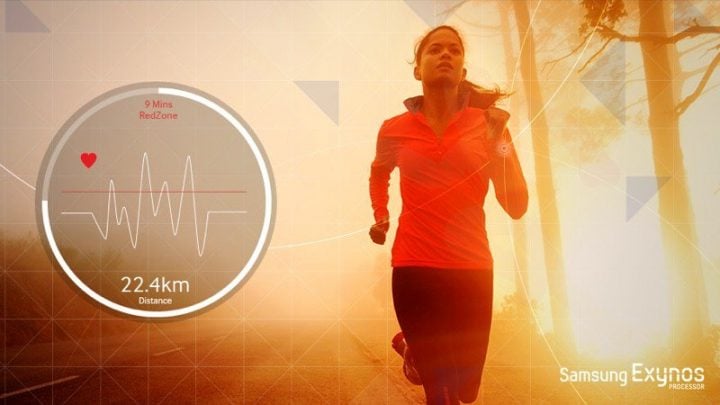 The Samsung Gear A is rumored to support wireless charging similar to the Moto 360, rather than users having to clip it into some odd dock like previous watches, and could have 2 or 3G for phone capabilities, but will likely serve as an addition to your Samsung smartphone. There's also a chance Samsung will equip the Gear A with a camera, similar to the Gear 2, but that's yet to surface in any leaks thus far.
There isn't much to go on yet, but if Samsung can deliver everything mentioned above, make wireless payments and health easier with the Gear A, add a IR sensor for remote capabilities like many of its smartphones, and improve battery life all while keeping the price reasonable, this could be the smartwatch to buy in 2015. 
Release Date
Original rumors pegged the Samsung Gear A to be announced in February at Mobile World Congress, and released sometime in April, or this summer at the latest. However, that obviously never happened and now it looks like many are expecting it to be revealed next week on August 13th, and released before the end of the month.
All rumors are pointing to the new Galaxy Note 5 being released around the globe on August 21st, and the smartwatch could come bundled with it, not to mention the highly rumored Samsung Galaxy S6 Edge+.
If true, we could see two new Samsung smartphones, a new Samsung Gear A smartwatch, and Samsung's Galaxy Tab S2 all hit shelves in August.
Gear A Price
Last but not least is the price. Again, we don't have too many details yet about what all is going to be offered from the Gear A, what types or styles of straps will be available, so it's hard to suggest any potential price.
That being said, most likely Samsung will look to offer the Gear A at an aggressive price to take on the Apple and Android competition. This means a similar $249 price tag as the Moto 360, or possibly slightly higher at $299 due to the improved features, and potentially multiple different leather, plastic and metal watch straps that will accompany this new watch.
If rumors are accurate, we'll have all the details next week live from New York City on August 13th. Stay tuned.

As an Amazon Associate I earn from qualifying purchases.