Samsung: Knox Security Suite Won't Arrive in Time for Galaxy S4 Launch
When I had reviewed the Galaxy S4 for Sprint Nextel's U.S. network, I had noticed the curious omission of the Knox security suite that Samsung is actively promoting to gain enterprise and government customers to adopt the phone, and now we know why. The Galaxy manufacturer has confirmed that its Knox suite won't be made available in time for the launch of the Galaxy S4 smartphone, which is coming to U.S. by the end of this week on some carriers.
Knox, which was designed around the bring-your-own-device to work is meant as a software suite that helps allows users to use a single smartphone for work and personal needs, while at the same time safeguarding the work information and making sure that the work side stays secure. It's essentially like having two separate partitions.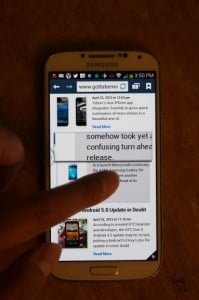 Samsung is only saying that the suite won't be available until a later date, but the New York Times is reporting that this date may not be until July. Reportedly, Samsung still needs more time to conduct further tests.
Here's what The Verge says Knox will be beneficial to enterprise customers:
Samsung provides its own app-signing process for software it deems to be safe as well as limiting inter-app communication to Knox apps. The software can also continuously monitor for intrusions, even disabling the kernel and powering down the device if an attack is detected.
Knox, as part of Samsung's SAFE program to bring Android into the corporate environment, was designed to compete against BlackBerry Balance, which offers similar capabilities.
"All the Knox framework components come standard on the device, with full-feature activation by solution providers and distribution channels to become available at a later date," the company said in a statement.

As an Amazon Associate I earn from qualifying purchases.