Samsung Nexus Two Rumors Turn Out to be a Verizon Android Phone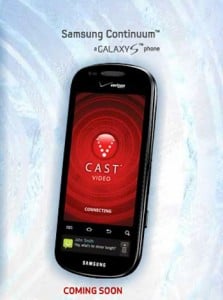 After Google had said that it would be discontinuing future iterations of its mobile phone branded line following the fact that the company says that the Nexus One had achieved its purpose, rumors had recently been swirling that Samsung may introduce what could be the next generation developer phone, called the Nexus Two, which would make it a stock Android OS device that would be left opened for development. However, Samsung executives have recently debunked said rumors, stating that it "simply is not true."
According to Samsung Hub, the phone that will be launched by the Korean manufacturer on November 8th would be an Android phone slated for U.S. carrier Verizon Wireless called the Samsung Continuum, which had been rumored to debut on November 11th in recent days. Leaks of the device show that it has a secondary smaller screen just beneath the main display, and is shaped like a Samsung Galaxy S smartphone. The purpose of the secondary display is to serve as a ticker–displaying weather, date, time, news, and other relevant information without the user even turning on the main display. Whether developers take advantage of the novelty ticker feature is unknown at this time, but if successful, it could bring a whole new class of widgets and applications to the secondary screen.
Most recently, a full comparison chart of the Samsung Continuum had also been leaked out and was spotted on Droid-Life.

This article may contain affiliate links. Click here for more details.