Samsung: No Android 4.0 'Value Pack' for Galaxy S
There has been quite a bit of commotion surrounding Google's Android 4.0 Ice Cream Sandwich update and Samsung's Galaxy Tab and Galaxy S devices. And now, it would appear that the pitchforks might come out again as a rumored Android 4.0 'Value Pack' has been shot down by the company itself in a statement made to The Next Web.
According to Samsung, there are no plans to release a 'Value Pack' for the Galaxy S – and we assume that means it won't be coming for the Galaxy Tab either, which would have brought certain elements of Android 4.0 to both the tablet and Galaxy S branded smartphones. It would not be a full update to Android 4.0, but instead bring features to the current Gingerbread operating system.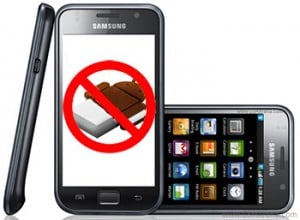 Samsung had offered a similar 'Value Pack' experience to some of its older Bada OS smartphones in the past which seemed to point to this being a real possibility.
However, that appears to be out of the question now, a sharp blow to those that may have started hoping for a miracle.
So, those of you with an original Galaxy Tab or a Galaxy S device (T-Mobile's Galaxy S Vibrant still doesn't even have Gingerbread) are just going to have to find another route to get Android 4.0 on your device.
Fortunately, the Galaxy S development community is a thriving one and you should be able to cook up something unofficial if you want to badly rid your hardware of Gingerbread.
Bummer, but somehow, we think you'll survive.