Samsung Pay Arrives for Chase, Mastercard & More
Since first being released earlier this year, Samsung Pay has only been available for select banks, credit cards, and those with a VISA or AMEX card. However, the most accepted wireless mobile payment solution just got even better, as today Samsung added support for eight banks or Credit Unions, Chase, Mastercard and more.
Similar to Apple Pay or Android Pay, those with any of Samsung's flagship smartphones released in 2015 can make payments for goods in the United States simply by using their smartphone. Samsung Pay works at 95% of all stores and payment terminals, instead of only a small few select locations like Apple Pay.
Read: How to Use Samsung Pay on the Galaxy S6, Note 5 & More
Apple and Android Pay only work with NFC, and require stores to have new updated payment terminals in order for users to make wireless payments with their smartphone. Samsung Pay uses NFC, but is also backwards compatible with older swipe-based magnetic terminals throughout the United States. It's the best wireless payment system, but needed to support more banks, and now it does.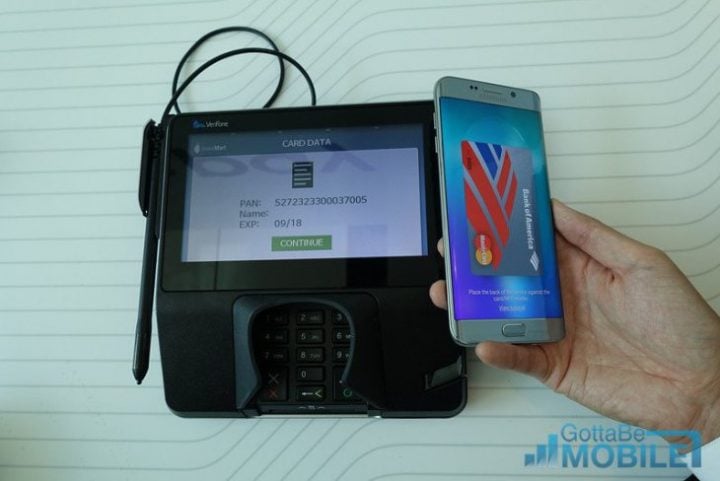 At launch Samsung Pay only worked on a few carriers in the United States, and only 3-4 banks like Bank of America, or those with a VISA card. Anyone with a different bank, Mastercard, or others weren't able to use this impressive new technology. Until now.
However, last month Samsung Pay finally launched on Verizon Wireless, making it available on all four major carriers in the United States. Updates rolled out allowing those with the Galaxy S6, Galaxy S6 Edge, Galaxy Note 5, Galaxy S6 Edge +, and even the Galaxy S6 Active all able to use Samsung Pay.
The only problem, was the majority of Samsung smartphone owners didn't have a supported bank or credit card. Below is an image of the previously supported banks or cards, which isn't very many choices.
Today though, Samsung announced 8 more banks, as well as support for Chase and Mastercard. Opening Samsung Pay to millions of users around the United States.
As of this morning Samsung Pay will now work with MasterCard, as well as Chase Bank. This includes Chase credit, debit, and Liquid cards. Mastercard also is supported, with new banks including: Citizens Equity First Credit Union, Randolph-Brooks Federal Credit Union, Security Service Federal Credit Union, State Employees' Credit Union, SunTrust and Virginia Credit Union. Samsung Pay also now supports Navy Federal Credit Union Visa credit and debit cards.
"With expanded support from eight additional issuers, including Chase and SunTrust, we look forward to building even more momentum around Samsung Pay," said Injong Rhee, EVP of Samsung Electronics, Global Head of Samsung Pay.
Read: Android Pay vs Samsung Pay: What's the Difference
Samsung Pay works in more places than any other mobile payment standard available today, and now supports even more banks and cards. The company isn't stopping here though, and has confirmed they'll continue to add more banks and trusted partners over the coming weeks, and before the end of the year.
If you haven't tried Samsung Pay yet, click the how to at the top of the page, set it up, and give it a try today. With more support than ever before, Samsung Pay is paving the way for mobile payments in he United States. Stay tuned for more details on additional supported cards and banks in the near future.