Samsung Pay Updated with Gift Cards & More Features
Earlier this year Samsung Pay was announced as a major wireless mobile payment solution aimed at taking on Apple Pay, and even the new Android Pay system. Which allows smartphone owners to pay for goods all using their mobile phone. And while Samsung Pay is already the best mobile payment method on the market, a huge update arrived this week with tons of changes users need to know about.
After being released in September, Samsung Pay only worked on select carriers in the United States, with a few specific banks, and only a few smartphones like the Galaxy Note 5, Galaxy S6 and others. Now it works for almost everyone, and this week received an update allowing for gift card payments, public transportation payments and much more.
Read: 3 Good Reasons to Use Samsung Pay
In November Samsung added Verizon to the support list, as well as the Galaxy S6 Active, and support for Chase, SunTrust, Mastercard and more. Making it one of the most widely available wireless payment methods on the market. Now though, it's even better, and we have all the details below.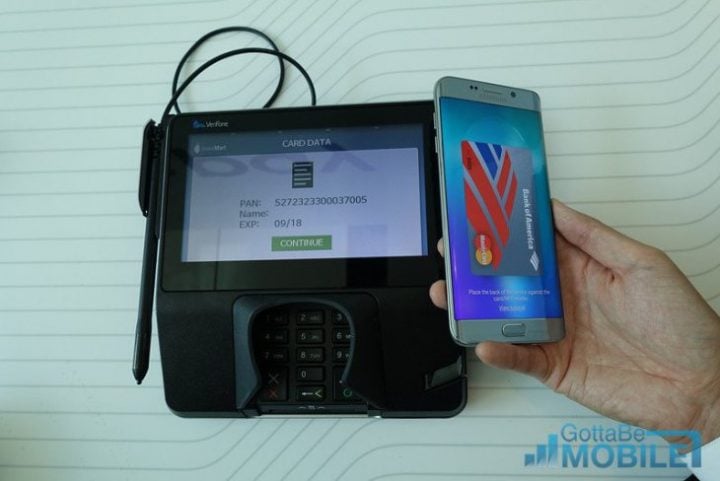 What makes Samsung Pay so special, and better than both Android or Apple Pay, is the ability to work with older terminals in the United States. Rather than only work at select stores like Starbucks with updated terminals that support wireless payments. Samsung Pay is also backwards compatible with old magnetic stripe-based "swipe" terminals. The old fashioned way where users swipe their credit card.
This means those with the Samsung Galaxy S6, Galaxy S6 Edge, Galaxy Note 5, Galaxy S6 Edge+, or the Galaxy S6 Active can use Samsung Pay to replace their wallet, and pay for goods at nearly 95% of all stores throughout the United States.
If that wasn't good enough, here's what they announced yesterday.  Samsung Pay can now be used to wirelessly pay for public transportation in Korea, and that same feature will be coming to the US and other regions shortly. Allowing users to upload pre-paid transit cards to their phone, and swipe to take the train, subway, and more. Launching in their home country of South Korea first, with Cashbee and T-Money platforms being supported for now.
We can expect this same awesome additional feature to rollout in other areas in the near future, and hopefully big cities like NYC, SF, and others in the United States.
Then, to make things even better, Samsung Pay now supports all those gift cards users will be getting during the holidays, and loyalty and reward cards will be up next. The update today brings support for more than 50 global brands that offer gift cards. Like Babies"R"Us, Toys"R"Us, Nike, Regal Entertainment Group for movie theaters and more. Users can pay for goods with gift cards, or buy them right inside the Samsung Pay app and send one to friends and family.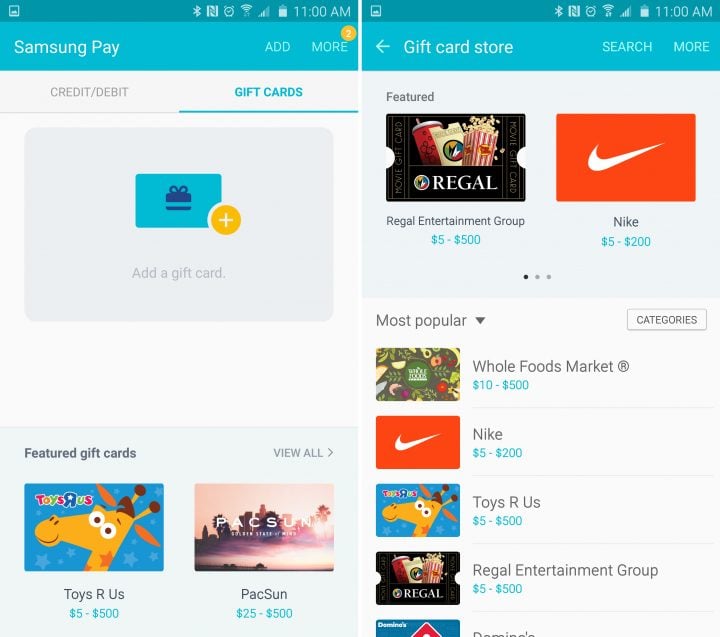 In additional to these two huge features that makes it the most complete mobile payment solution on the market, the app was slightly redesigned with additional security, and an improved layout. Users will see a new card-style layout for easy navigation and flipping through cards, credit cards, and gift cards, as well as a new option to add a secondary pin-code for security, on top of the fingerprint scanner security method.
The update is available for all of Samsung's flagship smartphones released in 2015, and users should be receiving the notification today via Samsung's update app, not the Google Play Store. Accept the new Samsung Pay framework and Samsung Pay update, and the changes will be applied.
This is being made available just in time for the holidays, where millions of users will get Gift Cards to many popular retail stores during Christmas. Now all of those can be instantly loaded to a Samsung Galaxy device by scanning it with the camera, and tapping to pay for goods with a credit card or a gift card. Stay tuned for more details, loyalty cards and more in the coming months.

As an Amazon Associate I earn from qualifying purchases.