Samsung: Quad-Core CPU Required for Android 5.0
In a leak that detailed that the Android 4.2 Jelly Bean software update will be the last update to be pushed to Samsung's dual-core Galaxy line of Android smartphones and tablets, the company may essentially be saying that for Android 5.0 and beyond, a quad-core CPU may be required.
According to a post on Sam Mobile, the Galaxy Tab 2 models will be getting Android 4.2.2 Jelly Bean at some point in the future, but that will be the last software update for the tablet. It's been previously rumored that current dual-core smartphones and tablets will end at the Android 4.2.2 software update.
The Galaxy Tab 2 by Samsung will receive Android 4.1.2 and end with Android 4.2.2. Samsung will no longer support the Galaxy Tab 2 after the Android 4.2.2 update. The updates must be done before the end of September. The issue with Samsung's Exynos processor has been resolved and Samsung has, once again, started to test Android 4.1.2 Jelly Bean firmwares for the Galaxy Tab 7.7 (GT-P6800) and Galaxy Tab Plus (GT-P6200).
More recent Samsung devices have quad-core CPUs. The international edition of the Galaxy S3 came with a quad-core Exynos CPU while the U.S. variant contained a dual-core Snapdragon chipset. The Galaxy Note 5.5-inch phablet launched with the quad-core Exynos and Samsung's Galaxy S4 flagship will debut with the Exynos 5 Octa internationally and a quad-core Snapdragon 600 CPU in select markets with LTE chipsets.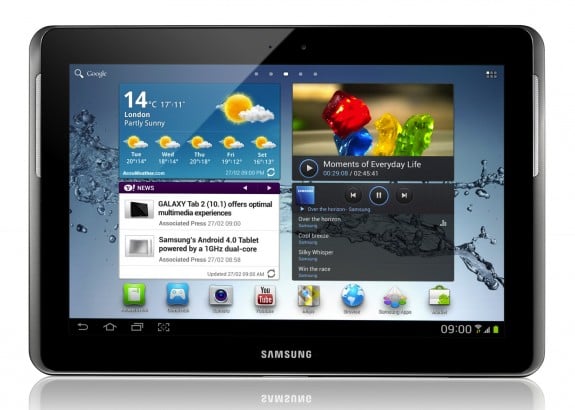 Samsung is speculated to be unveiling its Galaxy Tab 3 lineup later this year. Those tablets are rumored to come with Android 4.2 Jelly Bean out of the box, but will be getting a software update to Android 5.0 Key Lime Pie in the future. The Galaxy Tab 3 will likely compete with the iPad 5 from Apple and new Nexus tablets from Google.
It's unclear though if the cut-off for Android 5.0 Key Lime Pie with quad-core processing is part of Samsung's own internal policies or if it stems from Google. It is anticipated that Google will detail specs around Android 5.0 at the Google I/O developer conference in mid-May. The venue may see the announcement of a new Nexus 5 smartphone, new Nexus tablets, and potentially news about Motorola Mobility's new X Phone products.
If in fact the quad-core requirement for Android 5.0 comes from Google, then other manufacturers will not be able to upgrade their dual-core smartphones or tablets beyond Android 4.2 Jelly Bean as well.