Samsung Responds to Apple with Its Own Lawsuit Claims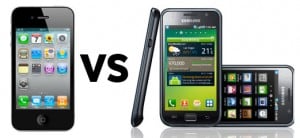 Former friend, now foe, Samsung has filed a lawsuit against Apple following Apple's lawsuit against the Korean giant for patent infringement.
The suit, however, isn't directly in response to Apple's lawsuit, which alleges Samsung had infringed on the design and OS look of its products with the Galaxy line of smartphones and tablets. Instead, Samsung's lawsuit focuses on cellphone radio transmission technologies. Samsung had dismissed Apple's claims and the company's head says that Apple is just attempting to restrain Samsung's growth. The company had quickly emerged as a leading provider of Android smartphones and had quickly developed the 7-inch Galaxy Tab in a little over half a year since the original iPad was released to challenge Apple.
In a prepared statement, Samsung says, "Samsung is responding actively to the legal action taken against us in order to protect our intellectual property and to ensure our continued innovation and growth in the mobile communications business."
According to the Wall Street Journal, the latest Samsung suit alleges that Apple "infringed on patents that the South Korean company holds for transmission optimization and reduction of power usage during data transmission, 3G technology for reducing data-transmission errors and a method of tethering a mobile phone to a PC to enable the PC to utilize the phone's wireless data connection."
The lawsuit is interesting as Samsung's non-mobile businesses are close partners to Apple. The computer provides touchscreen, memory, and other components to Apple. Samsung also manufactures the Apple A4 chip inside the iPhone 4 and original iPad using Apple's designs. In a statement to the Wall Street Journal, Apple COO Tim Cook acknowledges the partnership and Samsung's role in the electronics space with respect, but says "separately from this, we felt the mobile communication division of Samsung had crossed the line, and after trying for some time to work the issue, we decided we needed to rely on the courts."
Previously, while Apple and Google had enjoyed a close business relationship, the two companies had become more strained as Google and Apple are more closely competing with each other in the mobile space. It seems that Apple and Samsung may be headed into the same direction with their relationship.

As an Amazon Associate I earn from qualifying purchases.