Samsung Series 5 Ultrabook Coming To U.S.? Pre-Order Page Says Yes.
Last month Samsung debuted their Series 5 ultrabooks to the world, though they were only on sale in Korea. Given the late in the year launch, many assumed that if they were coming to the U.S. we might not hear about it until at least CES. But it looks like someone forgot to tell the retail partners.
J&R's Series 5 product page is now live — the 13.3-inch version, at least. It's listed at $899 with a Core i5 Intel processor, 4GB of RAM, and a 500GB hard drive. Yes, hard drive, not SSD. It does sport a 16GB SSD where the operating system lives, which Samsung says will keep the laptop speedy (just as Acer promised with their similar setup).
Other specs include a 1366 x 768 resolution, integrated graphics, WiDi, HDMI, plus USB 2.0 and 3.0 ports. At 12.4 x 8.6 x 0.58 inches the Series 5 remains ultrabookish despite the traditional storage drive, plus it only weighs 3.24 pounds.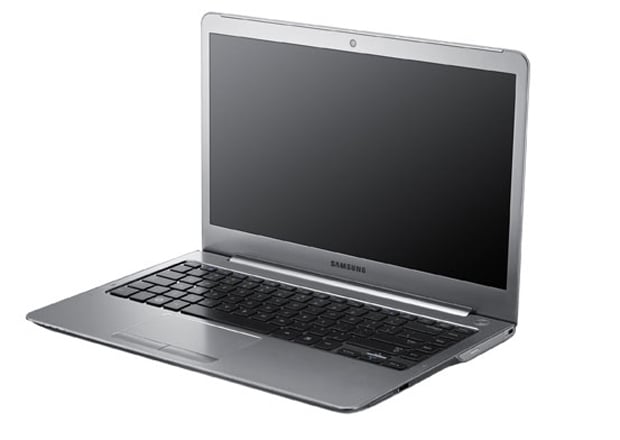 Contrast this to the 14-inch version of the Series 5 (also released in Korea last month) which is 0.82 inches thick and includes an optical drive plus an option for a 1TB hard drive. We're edging out of ultrabook territory there, but that's still a pretty sweet combo.
Samsung is offering 128GB SSD options for both models in Korea, so I suspect we'll see the same here in the U.S. when the laptops are officially announced and detailed, most likely next week during CES.
Given that Samsung made a sweet ultrabook before there was a name for them (Series 9, anyone?) I have high hopes the Series 5 will be just as impressive when we get our hands on it. From the looks of it the design is minimalist but not boring and features aluminum for strength and style.

As an Amazon Associate I earn from qualifying purchases.