Samsung Shows Off SideSync in New Video
When Samsung had announced the new ATIV branding for products running Microsoft's Windows 8, Windows RT, or Windows Phone operating systems, it said that SideSync would be a pre-loaded app that would allow smartphones to easily connect. The company had been quiet on what SideSync will do and how it will work, but now it is breaking that silence by releasing a new video to detail some of the features of SideSync.
https://youtu.be/HVvczhM5KxI
SideSync will be pre-loaded on Samsung's ATIV line of Windows products and users of an Android phone could download the companion SideSync app on Google's Play Store.
Like Apple's iTunes, SideSync will automatically backup and synchronize files when you connect your Android phone to your PC.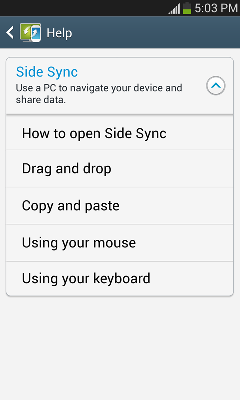 With the app, users can also share the keyboard and mouse on their PCs with their phones. Users can even copy and paste text between a PC and an Android phone to allow users to extend their workspace. Users can drag a file from the PC to the Android phone in a manner that's akin with working with a secondary display or extended desktop.
You can even see your phone on your PC screen and choose to interact with your Galaxy phone virtually from on your PC without having to touch your phone if you so choose. This feature is similar to screen mirroring, but can allow you to have more control of your phone.
At this time, SideSync is coming preloaded on an ATIV PC device, but it's unclear if Samsung will extend the desktop app to other brand PCs, notebooks, or other brands of Windows tablets.

As an Amazon Associate I earn from qualifying purchases.