Samsung Trademarks Suggest More Eye Tracking Technologies
Samsung had filed for trademarks for 'Eye Scroll' and 'Eye Pause,' suggesting that the Android smartphone-maker is exploring new eye tracking technologies for its mobile devices as part of a plan to refresh the Nature UI overlay on top of Android. Nature UI is a refresh of the Samsung TouchWiz user interface that debuted on the Galaxy S3 and brought features like Smart Stay to keep the display on if the front-facing camera detects your eyes are looking at the display.
The new eye tracking trademarks were posted on Sam Mobile.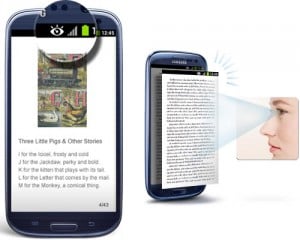 As the trademarked names suggest, Eye Scroll may use the same front-facing camera on a Galaxy smartphone to track movement of a user's eyes when reading a long webpage, for example, and automatically scroll the screen upwards so you don't have to use your flingers to scroll. Eye Pause could pause the scrolling, or it could be used to pause video playback. The exact features are still unknown at this time.
On the Galaxy Note 2, Samsung had added a second eye tracking feature called Smart Rotation. The feature allows users to control the automatic rotation of the display based not just on the accelerometer, but also combines the orientation of the user's face to determine if it's appropriate to rotate the display. This is good for users who may be reading sideways in bed, for example, or on a couch.
Samsung has been exploring more ways to maximize existing hardware features, such as the front-facing camera, to deliver value to consumers and if it can control scrolling long pages or lists through the Eye Scroll feature, it would help Samsung differentiate itself further from other manufacturers and platforms.
It's unclear if the Eye Scroll and Eye Pause feature will land on the Galaxy Note 8.0, the new Galaxy Tab 3 7.0 and Galaxy Tab 3 10.1, or even the much rumored Galaxy S4 flagship smartphone–all of which are expected to debut this year.
As Samsung also makes computers and netbooks, these eye tracking features can also expand to other computing segments beyond phones and tablets.