SAP Playing with Fire…and Other Consumer Tablets
AP, the giant enterprise software company from Germnay, isn't the first name that comes to mind when you think about potential Kindle Fire customers, but its CIO was playing with one when I met up with him at CES 2012 in Las Vegas. We chatted about why more and more consumer devices are making it into large enterprises.
The Kindle Fire hasn't been formally deployed at SAP, but Bussman and his colleagues are exploring how affordable Android devices like the Fire can be used to access large data sets and reports. He noted that his company can't ignore the Kindle Fire since it's quickly become the second best selling tablet since it was launched late last year.
Many people argue that media tablets such as the iPad are good for little more than playing video games and watching movies. But there are countless examples of business professionals using iPads to get real work done. In less than two years, SAP has issued 14,000 iPads to its employees and is in the process of rolling out 1,000 iPads per month.
Though Bussman has deployed thousands of iPads at SAP, he's giving Android devices a lot of attention these days. In addition to the Kindle Fire, he was carrying a Samsung Galaxy Tab 10.1 and Galaxy SII phone. He pointed out that phones like the SII have closed the gap on the iPhone in terms of usability and that the lower price points make Android phones attractive. Android's security, a primary concern at large organizations, is also being improved thanks to newer versions of the OS and third-party vendors, including SAP.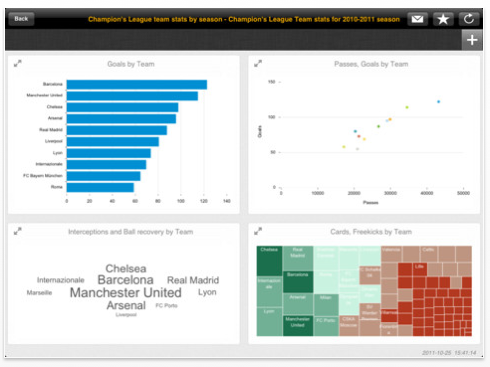 Companies like SAP don't dole out iPads so their employees can play Angry Birds and update their Facebook statues. SAP's business apps let smartphones and tablets tap into powerful servers and terabytes of data.Sales people to update their sales forecasts and for managers to quickly analyze terabytes of data with a few taps and swipes. Managers can approve employees' purchase requests and paid time off by launching an HR app and tapping a couple of buttons. Android and iOS apps can be used in lieu of clunky business applications and overly complex web apps.
Despite the prevalence of tablets and smartphones at SAP and other large businesses, Bussman noted that the notebook isn't going anywhere. Editing documents and presentations is still physical-keyboard territory. Until there's a much better way to edit office documents on a tablet business people will have to lug their notebooks on business trips out of necessity.