Sense UI Gets Revamped on HTC Bliss Lock Screen
It looks like the HTC Bliss will get a new version of the HTC Sense user interface, which will be a refinement of the most current Sense UI that's found on flagships like the HTC Sensation 4G and the HTC EVO 3D smartphones. The new lockscreen UI has been uncovered by XDA.cn and depicts a newly refined weather widget on the lockscreen along with some changes to the way applications are unlocked.
Rather than quickly launching apps–there are four app shortcuts that are user-customizable on the lock screen–by dragging them into the loop, users can now have access quickly to two app buttons at the bottom of the lock screen. The first button, on the lower left, will give users access to the Android app drawer when activated it appears.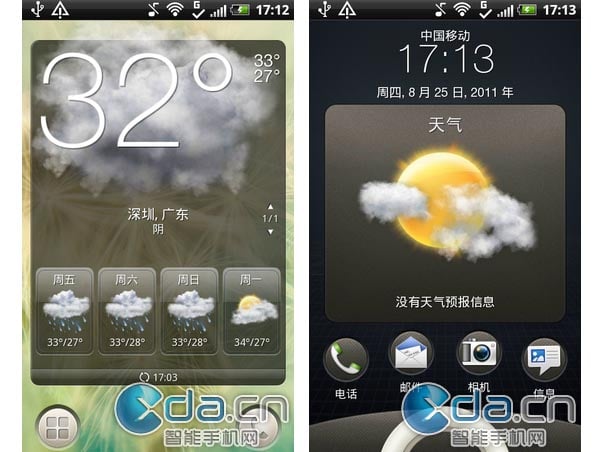 The second lock screen button, placed in the lower right, will give users quick access to the phone and dialer.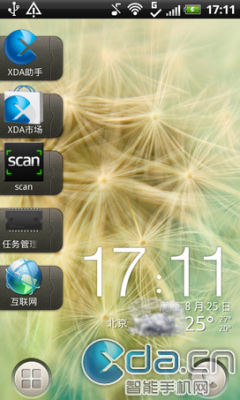 There are other UI changes as well, and unlike Sense 3.0 found on the new dual-core flagships, it is said that the Sense 3.5 for the HTC Bliss smartphone will be compatible with older hardware running on single-core processors; currently HTC says that Sense 3.0 is limited to more powerful hardware and isn't compatible with older hardware. As the Bliss is rumored to be designed for women, it's unclear if Sense 3.5 will make a universal debut on other smartphones not targeted at the female demographic in the future, or if HTC will even make the UI be available as an update for older smartphone models, like the HTC Thunderbolt or HTC EVO 4G.
Also, there's rumors that a shopping app and tracker app for diet and calories will be included as well.
The phone is rumored to be coming to Verizon Wireless. In the past, we've also seen a docking accessory being rendered as well for the HTC Bliss, which we've lovingly referred to as the Droidette.