Settlers of Catan goes digital and multi-touch on Microsoft Surface
The widely-popular board game Settlers of Catan has gone high-tech with an officially licensed version of the game set to debut at Gen Con Indy 2010 on Microsoft Surface. Combining real dice, in-person players and virtual everything else, this is one of the most robust uses of the technology yet.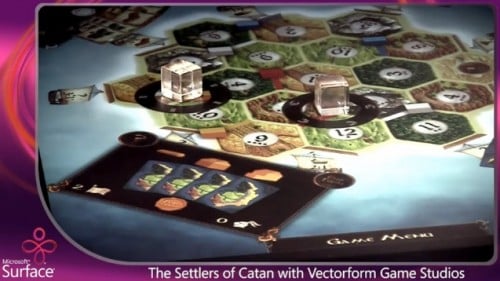 Per the YouTube description (video below), this beta version of the game was developed by Vectorform Game Studios in association with Mayfair Games as the official version of Settlers of Catan for Microsoft Surface. It is set to be shown at Gen Con Indy 2010, the biggest gaming convention in the U.S. I'm sure it will be a huge attraction, though possibly still not as big a lure as booth babes or female cosplayers.
The game includes a few physical accessories, including dice that are automatically read by the Surface and shields that allow you to view your cards without showing them to everyone else at the table. This helps maintain enough of the physical interaction so it doesn't feel entirely flat, while still eliminating some of the mundane aspects of the game, such as setup and cleanup. Very impressive work.
https://www.youtube.com/watch?v=sdUFT01vzyI

This article may contain affiliate links. Click here for more details.