Sharp Launching Sidekick 4G Competitor for AT&T?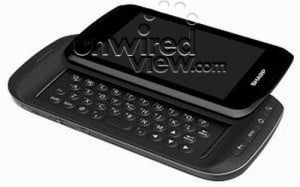 A new leaked photo for a Sharp-made device was originally thought to be yet another Sidekick variant for T-Mobile USA, but it turns out that the Sidekick alum may be releasing the Android smartphone with the familiar form factor for rival AT&T.
Sharp is no stranger to the Sidekick brand as it has made several generations of devices for T-Mobile USA. However, as T-Mobile sometimes carry more than one Sidekick model in the same generation, and made by different manufacturers–Motorola was last introduced into the Sidekick mix–it was originally thought that the Android-powered device with the familiar beveled sides and sliding keyboard form factor would also be a Sidekick-branded device for T-Mobile.
However, as Unwired View uncovered, the device is missing traditional Sidekick features–one noticeable feature that is absent is an optical trackpad or trackball for navigation and also the screen doesn't appear to tilt up an angle–and comes with support for AT&T's radio frequency, suggesting that the device may be geared towards AT&T and not T-Mobile.
Though T-Mobile recently retired its Sidekick devices on Danger's operating systes, it did recently launch the Android-powered Sidekick 4G made by Samsung.
Details on the device, including release date and pricing, are scarce, but the specs that are known suggest that this is a mid-range device targeted at the youth market, and may come affordably priced as such. It has a 3.2-inch HVGA display, compared to the WVGA screen on the Sidekick 4G, and will come with WiFi, GPS, and rear camera.
With a similar form factor, AT&T also recently announced the Pantech Crossover, which promises to be slightly more rugged with a more sporty color tone.

As an Amazon Associate I earn from qualifying purchases.