Shazam App Update Hints at Android 3.3 in Android Market
An update to the Shazam music identification application on Android Market hints at the forthcoming Android Honeycomb 3.3 system update. While Google is currently working with manufacturers on releasing Android 3.2 Honeycomb to the public–many current Honeycomb slates are running Android 3.0 or Android 3.1 today–and the attention has recently been shifted to Android Ice Cream Sandwich, not much is known on what Android 3.3 will deliver.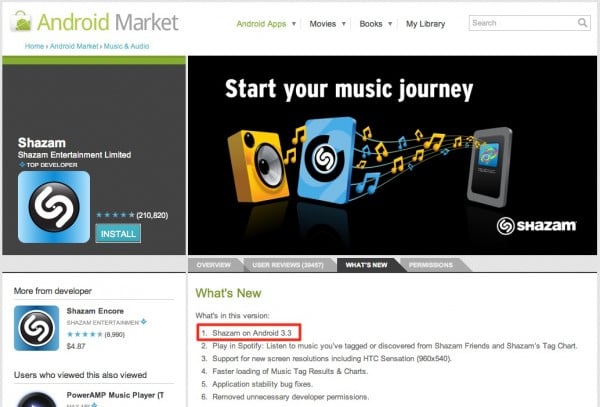 Currently, with Android 3.2, the Honeycomb operating system should be able to make its way down to 7-inch slates. Previously, it was speculated that the reason why we haven't seen 7-inch tablets running anything higher than Android 2.3 Gingerbread is because there were some app compatibility issues with some native apps that don't scale right to a 1024 X 600 display on a 7-inch screen. However, Android 3.2 is believed to be the first release of Honeycomb that will fix this and we should see tablets such as the Acer Iconia Tab A100 on the market soon.
Then, with Ice Cream Sandwich, Google is believed to be merging the best features of Android Gingerbread for smartphones along with Android Honeycomb for tablets. Ice Cream Sandwich is believed to be a universal build of Android that will be deployed on both tablets and smartphones.
So what exactly is the Android 3.3 that's being mentioned by Shazam? There isn't much information that's known about 3.3, other than the fact that it exists per Shazam's description. That said, when Droid-Life tried to access the app update on their Android 3.1 Honeycomb and Galaxy Tab, they weren't able to see it, nor were some readers who were on Android 3.2 on their Eee Pad Transformer.

As an Amazon Associate I earn from qualifying purchases.