Shocking Incident Puts a Question on Safety Where Children and Tech Mix
Many of us don't think twice about plugging our phones and tablets in to charge at night and later remove the phone and tablet from its charger once power is fully replenished in the morning. Charging has become a common fact of life, and is a daily or near daily ritual for many smartphone owners. However, you may want to think twice about safety when it comes to charging your smartphone where children are concerned. At least this is the lesson that one U.K. father is learning.
Eight-year-old Chloe Gillooley had asked her 34-year-old father to unplug her iPad tablet for her. Fortunately, it was the father who had done so, as when Tim Gillooley reached to unplug the tablet, he was shocked. The shick was so massive that it sent him flying all the way across a room, and the severity of the incident left him with blackened fingers.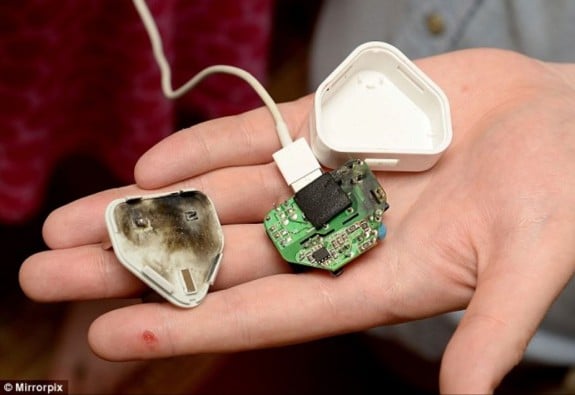 Fortunately for Tim, he had survived the incident, unlike an earlier incident of a death due to shocking in China. However, what Tim realized later is that had his daughter Chloe unplugged the tablet, the shock may have been strong enough to kill her.
"There was a huge bang and it blew me across the room. I was in shock," Tim said. "I was hysterically laughing for about two minutes. It was a bad shock that went down my arm. My mum was panicking and Chloe burst into tears. Nine times out of 10, Chloe would have gone to get it herself. I think it would have killed her."
Since earlier incidents of shock were reported in China, Apple had proactively responded with a charger replacement program. The company maintains that most of the time the shocks were a result of shorts in after-market or counterfeit chargers. Apple had since been offering a trade-in program in a number of countries where users can turn in their questionable charger and pay a $10 fee to receive an official charger.
In this U.K. case, Apple is still investigating the claims and has asked the family to send in their chargers. According to Phone Arena, Tim and his family had initially worried about some charging incident, and when he brought in his tablet and charger to a Liverpool Apple Store, Apple staff told him there were no issues with either items. Tim also bought an official Apple Lightning cable. It's also unclear if there were quality issues that had occurred when Apple had switched to the Lightning cable from its older 30-pin dock connector.
At this point, it's unclear which item(s) are responsible for the shock.
Fake chargers, faulty third-party chargers, and unofficial batteries have resulted in burns, explosions, and fires on other smartphone products alone. Apple is not isolated in this tech problem.
Given the dangerous incident, Gillooley is afraid to let his daughter use her iPhone now. The incident serves as a reminder that as useful and innocuous as smartphones and tablets are in our daily lives, we should still take precaution every day when charging our devices.
Also, since this incident is occurring so close to Apple's September 10th event that's widely believed to be for the introduction of the new iPhone 5S and iPhone 5C models, it's unclear if issues with shocks will mute sales of Apple's new iPhone models.

As an Amazon Associate I earn from qualifying purchases.