Should I Trade My iPad for iPad mini?
Now that Apple finally announced the new iPad mini and iPad fourth generation many users might wonder if they should trade up?
We answered that for the iPad 4th gen here. Now lets consider whether the iPad mini is worth trading up for.
The answer depends primarily on how the owner uses the iPad. Let's look at readers, gamers, surfers, and content creators. Also, the kind of iPad the user currently owns will affect the decision.
Readers, gamers and some web surfers should consider selling their iPad and buying a new one. Content creators and people who surf sites that barely fit the larger iPad screen, shouldn't bother. It also makes more sense for original iPad owners than it does for iPad 2 or New iPad owners. Let's take a look at the way people use their iPad and explain why.
Readers
Many people use their iPad primarily to read books and magazines, email and their favorite text heavy websites. For these people, going with the iPad mini makes a lot of sense.
Although it doesn't come with a Retina display, the smaller size feel more comfortable for people who read for a long time at a single setting. The 7.9″ form factor will feel more like a book in both size and weight. The iPad mini only wieghs .68lbs for the Wi-Fi only and .68 for the LTE version so the user won't get as fatigued while reading. The extra weight of the larger 10″ iPad makes a difference when comparing it to a 7″ device.
https://youtu.be/qL0UlqpfuQc
Gamers
The new 7.9″ iPad mini will make gaming better for most users. Some games work better on the large screen. Others work fine on a small smartphone screen. But Most will work well on this form factor. For people who enjoy gaming on the smaller iPhone screen, the iPad mini will feel much larger. If gaming on the iPad feels cramped then don't bother. For those who've never gamed on a touchscreen, try it out in an Apple store before making a purchase. Certain games don't translate well to a touchscreen. It feels strange controlling a first-person shooter for some of us, especially after years of using physical controllers.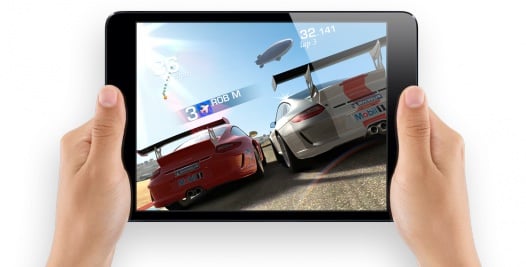 Web Surfers
People who spend a lot of time online at multimedia heavy sites, should think hard before moving to the iPad mini. Most websites look great on the larger iPad, but some still suffer on the small screen of a tablet compared to a computer. For example, editing a web page run on WordPress gets annoying on an iPad. The editing box gets truncated on the right especially when adding images.
For those concerned about how their favorite sites will look, stop by a local electronics store to see how well those sites look on other 7″ devices like the Kindle Fire HD or Nook. If users don't see the above issue on their iPad, they won't likely see them on the iPad mini.
Content Creators
People who do a lot of typing on their larger iPad with a Bluetooth keyboard or the onscreen keyboard will likely not like the smaller screen of the iPad mini. It should work, but the smaller screen makes a big difference. It's hard to type efficiently on a 10″ iPad screen. The smaller iPad mini screen will only exacerbate this issue. Also, users don't see as much of their documents on the smaller screen. Finally, using a keyboard large enough to use comfortably for typing makes the smaller size of the iPad mini less valuable since the typist must carry the tablet and the keyboard.
Users may turn to the ZaggKeys MINI 9 or ZaggKeys MINI 7 iPad Mini keyboards for a better mobile typing experience,  but these will make for a larger overall gadget to carry.
Those who edit video or photos on their iPad will also suffer on the smaller device. If someone spends a lot of time in content creation, I think the iPad mini will limit their creativity too much and they should avoid it.
Cost of Upgrading
Users who plan to sell their old iPad to buy the new one should sell quickly. The sooner they offer it on eBay or sell to places like Gazelle, eBay Instant, Nextworth or Amazon, the more money they will get for their old iPad.
For example, selling a 16GB New iPad with Wi-Fi only in good condition brings $300 on Nextworth. That defrays most of the cost of the $329 iPad mini.