Simple Brings Its Banking App To Android
Simple, the startup that hopes to replace a traditional bank, today announced that it finally has a native Android app for its users.
For those who haven't heard of Simple, the company hopes to replace the traditional bank by giving users everything they'd need from a bank online. The company's apps can track expenses and help users set goals for saving money as well as tell them how much money they have that's safe to spend between paychecks.
Simple also provides its users with a Visa Debit card for their account, which is the only physical object they'll receive from Simple.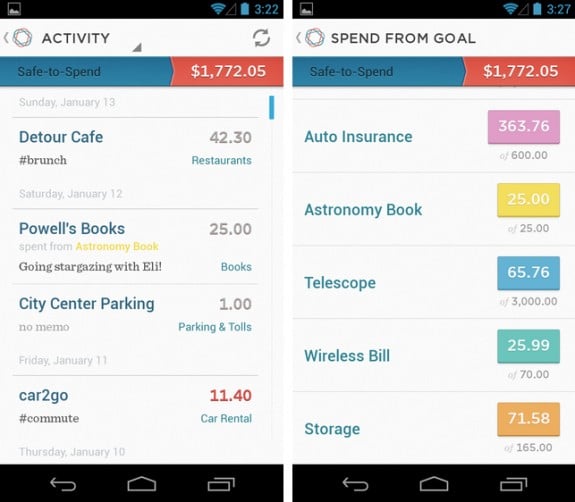 Previously Simple only offered an app for iPhone users, forcing Android users to use the company's mobile website. Today Android users finally have a Simple app of their own in the Google Play Store, and it's not just a straight port of the iOS version.
To create its Android app Simple partnered with Two Toasters, the design firm that also build apps for Airbnb and ShopKick. The companies built the app from the ground up for Android, which means it looks at home on the platform while still offering its own unique design.
With Simple for Android users can view their available balance and previous transactions. The app will also place the locations of transactions on a map so users know where they spend the most money.
Simple for Android also lets users take photos of checks, eliminating the use of a physical bank location or an ATM. Users who prefer and ATM can use the app to find ATMs that Simple users can use with no fees.
Users that want to use Simple as their bank have to sign up and wait for an invite. Android users who already received an invite can sign up from the invitation email.

This article may contain affiliate links. Click here for more details.