Simple iPhone App Helps Kids Create Stop Motion Movies with Legos
Lego DC Super Hero Movie Maker is an iPhone app that helps kids create stop motion movies of their favorite DC hero and villain Lego characters. This stop motion animation app has a kid-friendly interface and background music tailored to fit superhero scenes.
Anybody can use the Lego DC Super Hero Movie Maker app, but it has a simple interface that's designed for kids. There's also guides included so kids can learn how to shoot photos on their own. Even without the guides the app is simple to use. Kids just need to take a photo of their Legos in action and move their characters slightly before taking additional photos. After repeating several times, kids will have enough frames to stitch together into a movie.
Kids don't have to worry about making mistakes as they shoot since they can delete unwanted frames later.  Kids can get more creative by adding filters and soundtracks to their action movies.  One issue is there are only five available soundtrack and kids cannot add their favorite songs from iTunes.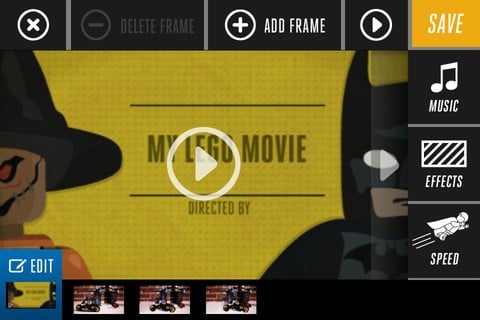 The app saves the finished movie to the iPhone's camera roll. From there it can easily be uploaded to YouTube and other sharing sites.
It's not the most fully featured stop motion video app we've seen, but it's free and there are no in-app purchases, which means kids won't bug their parents to pay for add-on features. It's nice and simple, just the way we like to see single-purpose apps. Kids that already have DC Super Heroes Lego sets aren't the only ones that will enjoy this app. The music and effects will mesh well with any action figure.